June 2, 2006
Cost of Living
Movie Review By: sfam
Year: 2005
Directed by: Jonathan Joffe
Written by: Jonathan Joffe
Length: 11 Minutes
Degree of Cyberpunk Visuals: Low
Correlation to Cyberpunk Themes: High
Key Cast Members:
Dying Man: William B. Davis
Sales Associate: Andrew Kirvanek
---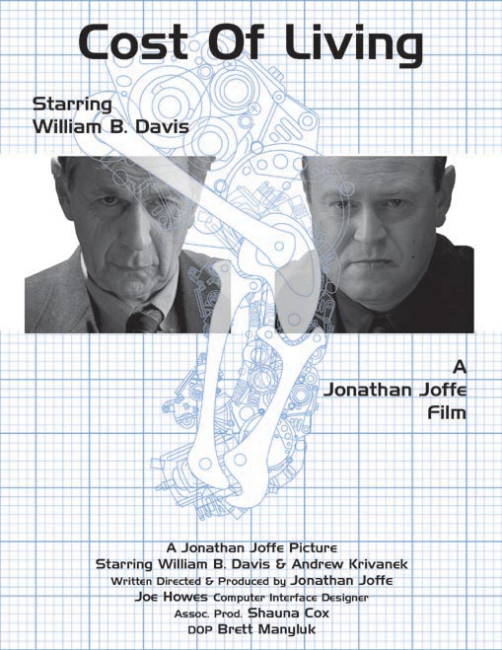 Overview: While at Balticon last weekend, I saw this wonderful cyberpunk short at the Balticon Film Festival. I still don't know if it won or not, but Cost of Living was my second favorite (and only cyberpunk film) of the 12 mostly terrific short films shown (my favorite was a very emotional deep space scifi short film called Microgravity). Cost of Living has great production values, and goes with a light-gray/white dominating color scheme. Often, we find white in cyberpunk movies representing high-tech methods of dehumanization - Cost of Living definitely adheres to that convention.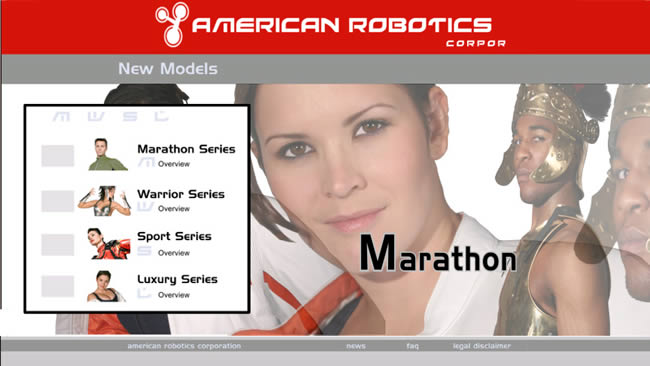 The Story: Cost of Living takes place in a near-future time where body replacement has become all the rage. Brains are removed from their human hosts and placed into a cyborg body. Cyborg body part companies now compete on features and price, and have a range of models available, not unlike a car dealership might. A dying man, played wonderfully by the X-Files smoking man, William Davis, comes into the showroom floor of the lowest priced cyborg dealer. After going through the models, he quickly lets the salesman (Andrew Kirvanek) know that price is his driving factor. After settling the low-priced base model (the Marathon Series), they discuss financing. In the end, the dying man doesn't have enough money. The salesman then poses him the option of, in effect, working off the cost of the new body. In essence, the deal is he would become a slave of the corporation for the next 100 years, working 14 hours a day for 6 days a week. In the end, the choice becomes 100 years of slavery or death. The set-up is very well done, and Davis especially really sells the dilemma. What would you choose?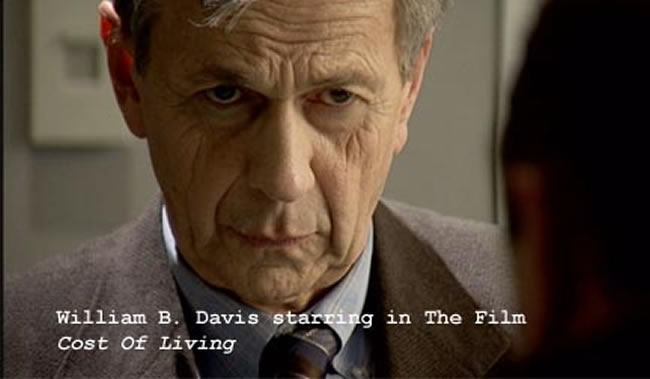 The Bottom Line: The film maker, Jonathan Joffe, taglines this film short with the question, "How much would you pay to live forever?" In essence, this actually becomes an optimistic view of the future Joffe poses. Considering the cyborg body the dying man will be receiving is bottom of the line, one is left with the question, "Will the low-end body last more than 100 years, or does it magically expire at that time, forcing the dying man to get yet another 100 year term?" This short film really does capture the essence of cyberpunk in showing unchecked corporations holding sway over humanity itself. An inside joke, having the X-files' William Davis - the Smoking Man - dying of cancer is just a terrific little bonus!
While somewhat predictable, Cost of Living is wonderfully executed and well worth a watch. I don't know where to point you to in order to see this short film - it doesn't even have an IMDB film reference. I'm emailing Mr. Joffe about this - hopefully we'll see him respond here (EDIT - Mr. Joffe responded - see the trailer in the comments).