2012
06.05
Our own Moonlit has been slaving over a hot keyboard and has recently put his TNXT server up for the world to see, and at ChannemEM!
For those who don't know the joys of Teletext, read up on the Wikipedia article and learn about this awesome bit of tech native to the UK. Want the short version? Teletext is a television information retrieval service started in the 1970s, offering a variety of information such as TV schedules and weather. And now, ChannelEM is the first IPTV channel to bring Teletext into the internet age (at least we're pretty sure it is).
You can connect by telnet:
Server: tt.channelem.net
Port: 5500
Moonlit recommends using PuTTY on the Windows platform and standard telnet on others. Make sure you switch to codepage 437 to make the graphics look at their best and the XTerm color scheme if you have it. We'll see about implementing a web-based telnet client soon.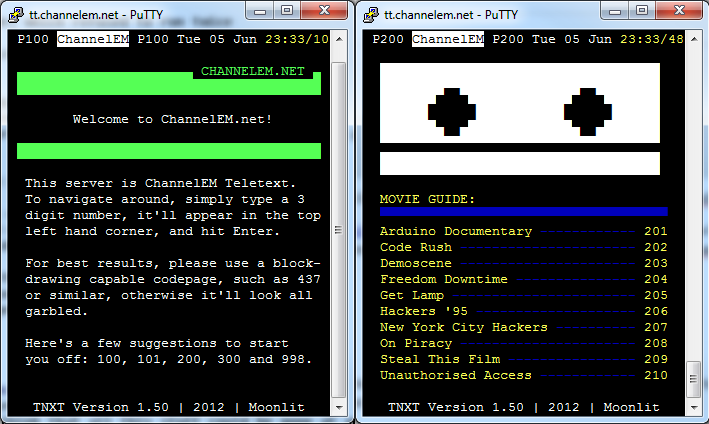 ChannelEM TNXT Screenshots
Right now functionality is basic, but don't fret! New pages are on the way. Feel free to try some of the sample pages, and look around for a few easter eggs.