March 22, 2010
Repo Men
Movie Review By: Mr. Roboto
Year: 2010
Directed by: Miguel Sapochnik
Written by: Garrett Lerner & Eric Garcia (based on his novel The Repossession Mambo)
Degree of Cyberpunk Visuals: High
Correlation to Cyberpunk Themes: High
Key Cast Members:
Remy: Jude Law
Jake: Forrest Whitaker
Beth: Alice Braga
Frank: Leiv Schreiber
---
New Eye: $345K
New Heart: $975K
New Liver: $756K
New Kidney: $524K
Not Making Payments for 90 Days:
YOUR ASS!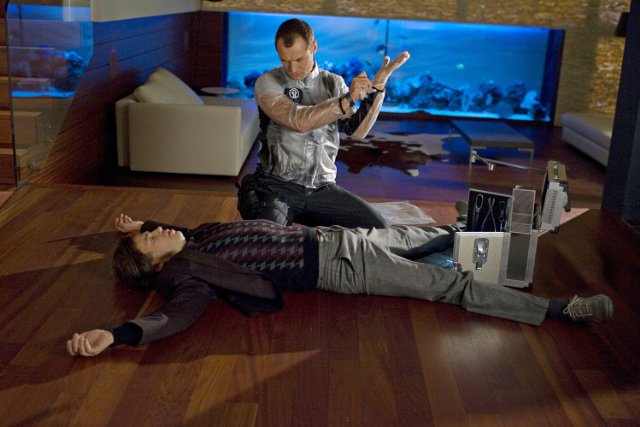 "Relax, it's totally painless! I won't feel a thing! Besides, once you're dead you won't even notice."
Overview: The timing of this movie's release is eerie. Originally scheduled for April 2, it was instead released March 19, the same weekend that the US Congress scheduled a vote on Health Care Reform. Coincidence? Maybe, but this film could be considered a vision to what could happen if HCR fails (or succeeds, depending on how you want to look at it). No, cities won't turn into a Blade Runner landscapes, but a corporation does finds a way to make its "customers" live on borrowed time… literally and figuratively… while they profit.
The Story: Megacorporation "The Union" has apparently cornered the market on artificial organs, or "artiforgs." This, plus a (continuing) global economic meltdown, has made such implants a very expensive purchase, even to save a life. To make them affordable to those who can't buy outright, The Union has financing plans available similar to today's car and/or home loans. But there is a downside to such financing; Fail to make a payment for 90 days, and The Union will send repossession men to retrieve the organ. The organs have an RFID-style tracking system installed, so repo men can track down the delinquent, cut them open, and retrieve the organ. Remy (Jude Law) and Jake (Forest Whitaker), former schoolmates and soldiers, are The Union's best repo men.
Remy has a wife and a son, and lately, she has been pressuring Remy to switch from repossession to sales which doesn't pay as much but would allow him to spend more time with his family. During one repossession mission, a defibrillator malfunctions and nearly kills Remy. He awakens in a hospital with a Union financed Jarvik artiforg heart… and the bill for it.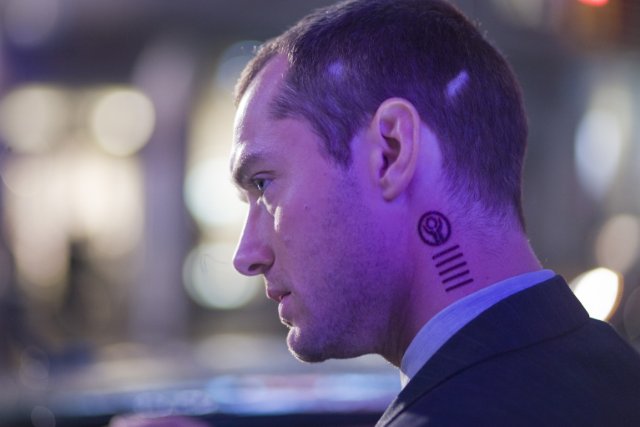 The Corporate Brand: Not just for salarymen.
Tin Man. A new heart wouldn't necessarily be the end of the world, but when Remy tries a repossession he couldn't go thorough with it. Physically, his normally steady hands start shaking, and mentally his tell-tale heart can be heard. It's as though losing his heart actually gives him a heart; Losing part of his humanity made him more human. His new Jarvik heart must have had an empathy attachment, since he is now unable to do repossessions… or even sales as his graphic descriptions of repossessions scares customers.
Unable to make money, Remy soon finds himself being hunted by repo men, including his friend Jake.
The cat in the… box? At a couple of moments in the movie, Remy refers to an experiment where a scientist places a cat inside a box with a machine that emits poison gas at some point. We are simultaneously alive and dead, was the scientist's conclusion, but Remy didn't understand what that meant until he was being hunted himself, and found himself identifying with the cat:
We can either lick our paws and wait for the inevitable, or we can fight and claw our way out of the box.
Remy chooses to fight his way out, and hopes to liberate other repo targets from the system.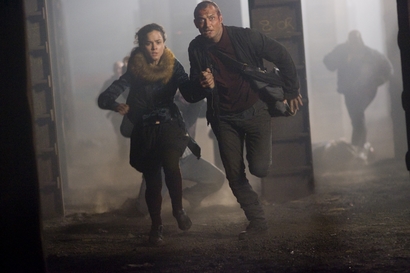 "Welcome to your world, repo man."
OK, should be go see it? There's not much new to see. In fact, some of the city scenes could be confused for Blade Runner, only without the spinners flying about. There is the contrast of the sterile environs of The Union's offices (especially the "clean room" that doesn't stay clean) and the run-down part of town known as the "black hole." There's also Beth, the woman who is almost nothing but artiforgs, including enhanced eyes and ears. And of course, The Union and its payment-and-repossession program that can be called predatory. Pretty much standard issue cyberpunk stuff.
UPDATE: After having seen Repo! The Genetic Opera, I can say there is not much similar between these two movies. With Repo Men's cyberpunk tomes vs. Repo!'s goth atmosphere, we can keep this at 5 stars.
Conclusion: Can't really say Repo Men is a great movie, or even a good one. It does it's job well enough, but lacking originality, the current politics with health care reform… and some obligatory operational blood… may be enough to turn many off. Adequate enough to waste a couple of hours on, but only IF you're not into operas.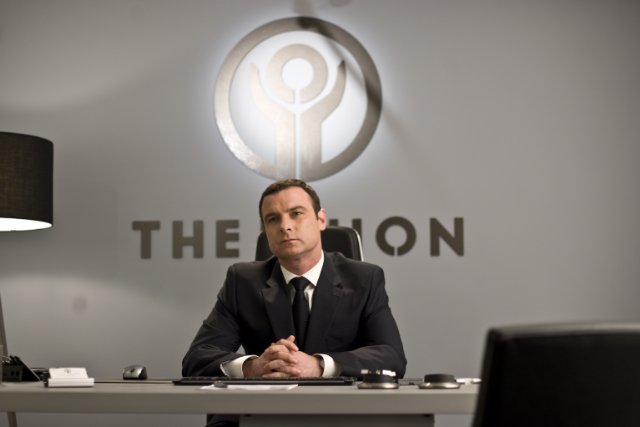 "You owe it to your family. You owe it to yourself."