July 16, 2006
A Scanner Darkly
Movie Review By: SFAM
Year: 2006
Directed by: Richard Linklater
Written by: Philip K. Dick (Novel) Richard Linklater (Screenplay)
Degree of Cyberpunk Visuals: Medium
Correlation to Cyberpunk Themes: Medium
Key Cast Members:
Bob Arctor: Keanu Reeves
James Barris: Robert Downey Jr.
Donna Hawthorne: Winona Ryder
Ernie Luckman: Woody Harrelson
Charles Freck: Rory Cochrane
---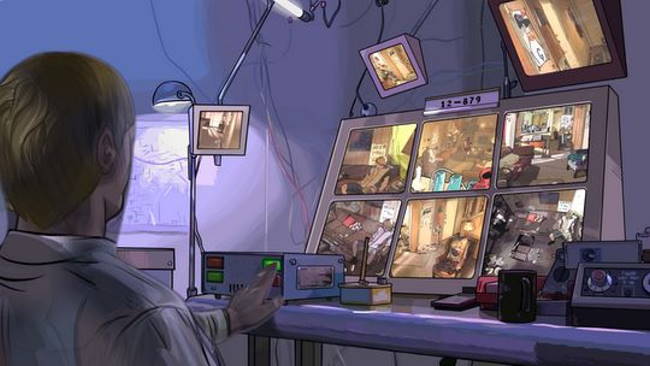 Overview: In a very faithful adaptation to Philip K. Dick's story of the same name, Linklater treats us to an interesting, slow moving story about abuse – abuse of power, drug abuse, abuse fo friendships, and abuse of the self. While most of the publicity about Scanner Darkly is about the rotoscoping technique used, the story itself is good enough that it probably could have worked in live action as well. A Scanner Darkly is engaged in a slow-opening process – hopefully you all get to see soon in a theater near you.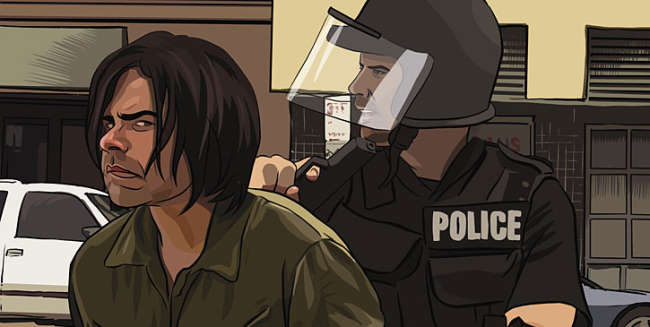 The Setting: Seven years into the future, a drug known as Substance "D" has transformed society. People are divided into addicts and those who haven't taken Substance "D." Society is quickly collapsing. In response to this threat, the government has transformed the society into a surveillance state, where neighbors spy on neighbors, and personal freedoms have been minimized. Everything is organized for instant observation – license plates are now bar-coded, and security is all DNA based. Trust has all but vanished in the world where Scanner Darkly resides. In its place, we have people who are constantly concerned about each other's ulterior motives, and think nothing of stabbing someone in the back if only to win short term gains.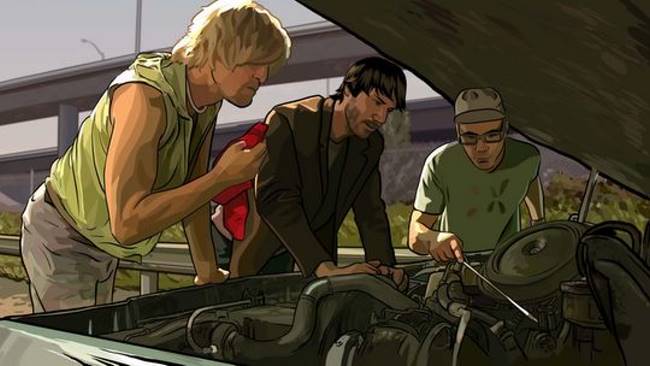 The Story: Scanner Darkly takes place seven years into the future and follows the plight of a close-knit group of addicts living outside of Anaheim, California. Bob Arctor (Keanu Reeves) is works as a reluctant undercover police officer (called "Officer Fred" at work), who lives with group of addicts that he eventually needs to perform surveillance on. Bob no longer believes in what he is doing, but still goes through the motions. At work, all the police wear "scrambler suits" to ensure nobody knows who they are. As the story progresses, we get to see the absurd lives that each of the addicts lead. Bob's girlfriend (Winona Ryder) is a coke addict who freaks out if touched; his friend Charles (Rory Cochrane) sees insects crawling over him at all times, and his two room mates are clearly fried beyond all recognition.
Unfortunately for Bob, his addiction is growing too. His grasp on reality starts to weaken as the hallucinations increase. He starts seeing his room mates as huge insects. Worse, one of his room mates (Robert Downey Jr.) visits the police department to narc on Bob. Bob, as the disguised Officer Fred, has the task of taking down his room mate's statements and investigating them. As the movie proceeds, Bob becomes more disillusioned with his job and life, and begins to realize that he is losing his humanity.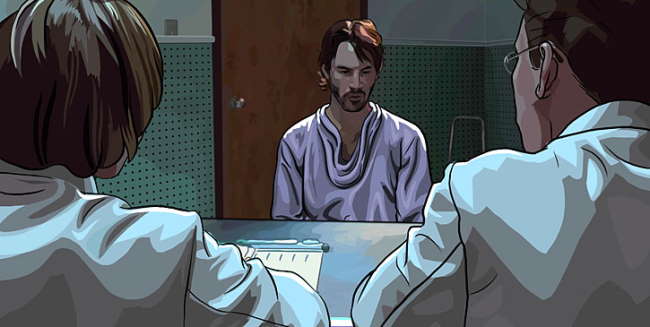 An Excersize in Duality: Scanner Darkly sets a number of issues up in a duality. We have left brain – right brain separation as a side effect from extreme exposure to Substance "D," we get surveillance and security opposing personal freedoms, and the two doctors treating Bob overtly represent the left and right hemispheres. Everything in Scanner Darkly is about dualities of tension, and the descent of humanity in the face of this tension.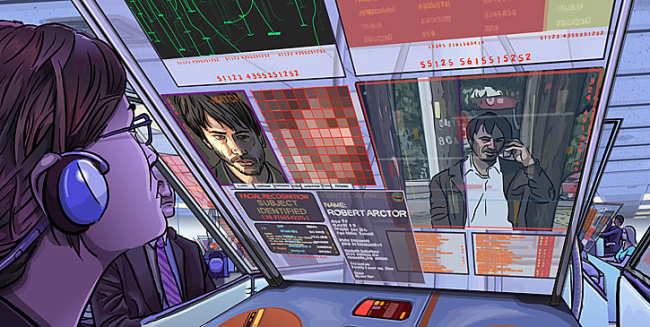 The Paranoia: A Scanner Darkly delves into the paranoia mindset that develops when drug use combined with an out of control surveillance society has taken hold. Personal rights and individual freedoms are significantly subordinated in a society where the government is after the supposed drug barons. One begins to question, however, whether the drug barons themselves are just yet another tool by the government to gain complete control over the population. The idea of government abuse of power permeates virtually every scene. The ranting sessions within the drug addict group are all based on paranoid delusions about what the government is currently doing to them. Worse, some of their "paranoid delusions" end up being true!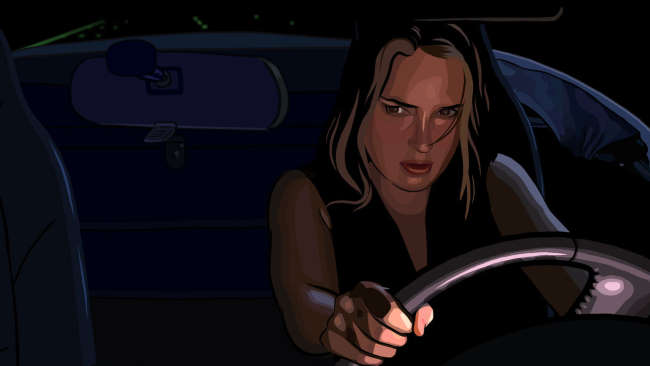 Drugs Are Bad, K? Scanner Darkly pounds this message in as many ways as possible. Wanna screw up your perception? Substance "D" is for you! But don't worry, its effects are not always permanent, just most of the time! Within the addict group, we see different people in various states of insanity. The message is clear – once you're on this stuff, the descent into insanity is all but assured.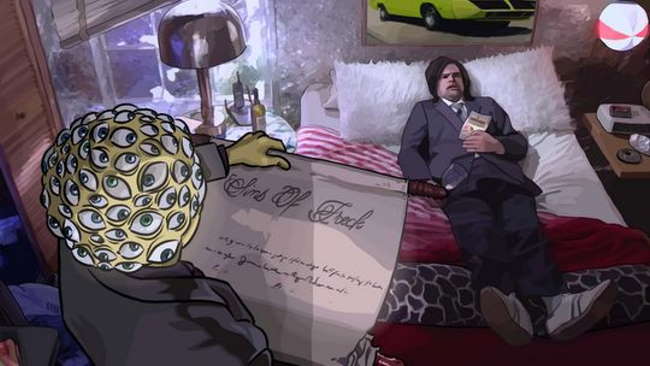 The Rotoscoping: The rotoscoping in Scanner Darkly works well as a device to create an atmospheric, otherworldly film, even though most of the scenes almost came off as red-neck central. Unlike Waking Life, where the hand drawn animation on top of live action is wildly uneven (on purpose) with the characters, for the most part the rotoscoping just gives it an ambiance. Also, the rotoscoping provides a wonderful base for the various hallucinations that happen in the course of the movie. Linklater's rotoscoping technique seems to work best when there isn't that much action on-screen. In some of the movement scenes (car riding, running, etc.), there is almost no difference between the rotoscoping and live action. There was also a lot of variances with the black lines around the faces – mostly this was pretty subdued, but in a few scenes, the black lines almost dominated the scene.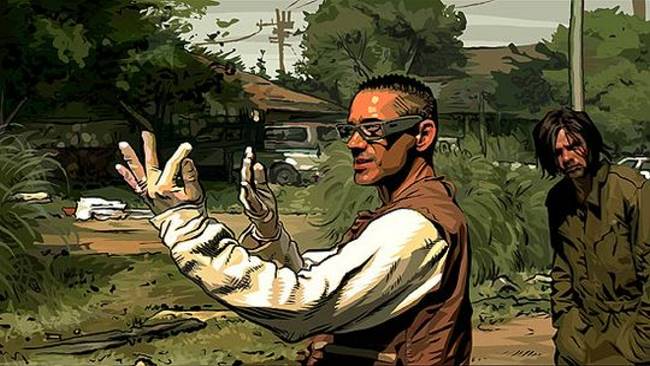 The Acting: For the most part, the acting is terrific in Scanner Darkly. Robert Downey Jr. especially shines, but Reeves' performance fits perfectly for a man overtaken by events. Winona Ryder has some pretty solid moments (especially at the end), as does Woody Harrelson and Rory Cochrane. The better scenes usually involve Downey and another character involved in truly bizarre conversations. Some with Downey and Harrelson in particular are pretty funny.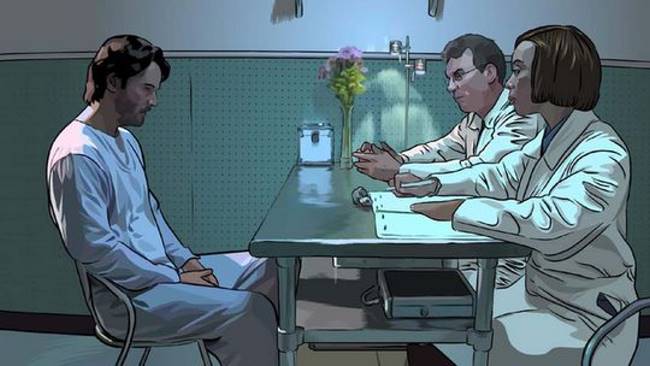 The Bottom Line: A Scanner Darkly is a movie with great acting, interesting discussions and a very powerful ending. That said, some parts of Scanner Darkly come off as overkill (the drugs are bad part, for instance), whereas others could easily have benefited from more elaboration. Still, these are minor complaints, as the overall movie has terrific acting, a great score (by Radiohead), and an interesting, well constructed message. Fair warning though - this is NOT an action movie. The vast bulk involves people milling around and talking, without any real action ever taking place. As long as action isn't necessary for you to enjoy a good cyberpunk flick, give Scanner Darkly a try.