April 2, 2012
Ultrawired: Dope Stars, Inc.
Music Review By: Mr. Roboto
Year: 2011
Artist: Dope Stars, Inc.
Written by: Victor Love
Label: N/A
Download / order from DSI's site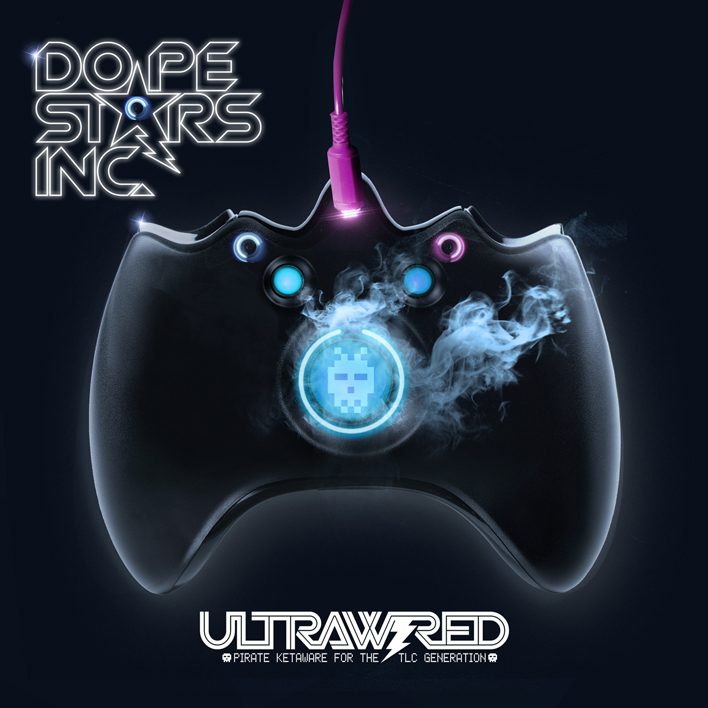 Ultrawired - Pirate Ketaware for the TLC Generation
Track Listing:
1. Better not to joke - 3:51
2. Save the clock tower - 4:01
3. Cracking the power - 3:05
4. Banksters - 2:44
5. Lies Irae - 3:35
6. Blackout - 3:23
7. Get young - 4:10
8. No life belongs to you - 4:02
9. Two dimensional world - 4:08
10. Run motherfucker run - 2:51
11. Pwning the network - 3:44
12. We are the new ones - 4:09
13. Riding Ufos - 4:04
14. Thru the never - 4:54
---
Overview:
DSI's latest takes the path that Radiohead started, and Nine Inch Nails followed.
Ultrawired
was made available from the band's site via torrent and file sharing, with physical purchase and PayPal donation options available. Seems appropriate for a band known for its cyberpunk sound and themes with images of underground hackers and other wired warriors working against the corporations.
More than that, this is a salute to the birth-era of cyberpunk and those inspired and motivated by those heady 80s technologies. From the press release:
An album inspired by the 80's and early 90's imagery, icons, idols and attitude. A shiny manifesto for the generation who lived in the era of technolgical revolutions. Starting from the arcade maniacs, and Back to the future followers till the social networks addicts and wikileaks rebels. The music will be a cocktail of sounds that mix the modern and futuristic approach of Dope Stars Inc. with the sounds and atmospheres of the 80's & early 90's music. Breaking any stylistic rule: Hard-techno, Rockabilly, Indie-electro, Punk-Metal, Retro-games music, Synth-Pop and Rock'n'Roll are just a few of the influences embodied in the new album. No way to put it into a precise category. A set of 13 (14, actually) songs made of different individual souls.
Better not to joke. We want the music for the rich and poor / hey you cannot block it anytime, so says this salute to file sharing, kicking off the ass-kicking with a solid beat.
Save the clock tower. There should be little doubt what this tune honors. Starting off with an electronic riff before rocking out, this track would have Doc Brown cranking the volume in his DeLorian while traveling the skyways.
Cracking the power. A warning to those who seek to silence the voices on the web, DSI is ready to fight back with this number. After all, We're a mass of geeks ready to fuck you. You have been warned.
Banksters. Ironically, for a track that came before the Occupy movement, they seem to have the idea of what to do with the banksters (Shoot the bastard). This track has a speed/thrash feel to it.
Lies Irae. Giving props to WikiLeaks and their supporters (Gonna be the leak of this age), this track opens with an operatic tone before the ass-kicking starts with symphonic hits following throughout.
Blackout. You think Victor Love may have heard about reports of hackers causing blackouts? Sounds like it on this track.
Get young. For you old-school video gamers (arcade vets like myself), this one may have you dusting off your old Atari 2600 or booting up MAME to relive those memories of your nth key Pac-Man patterns. You modern console-jocks may not understand it now, but you'll figure it out… if you haven't already. Videogames make you feel, just make you feel good. Needless to say, this is my pick.
No life belongs to you. The message is fairly simple; Nothing new yet another rich fight for the oil and the human rights. Humanity has been treated like a commodity like petrol, but the corporations are going to learn otherwise.
Two dimensional world. A slower paced tune about… Facebook? It seems to be about Facebook, or possibly about some bloggers out there. Backup your tracks / backup your face / who gives a fuck of the crap that you say. Might be a good thing I haven't fallen for FB's hype.
Run motherfucker run. The Running Man in music form. You got a stalker in the back of your brain / you're in a fucking TV battle game.
Pwning the network. A little hacking action going on, I can tell I'm gonna get some lulz today. The pace is a little fast for my liking though.
We are the new ones. Another declaration of youthful rebellion, featuring Mario Savio's "Bodies upon the gears" speech. Kind of catchy, even for this old fart.
Riding Ufos. A slower paced tune about the want of knowing what others know and are trying to keep secret (we want a rich and global existence / give us the knowledge of your world), and of changing their minds about their wrong ideas (shame on you / to keep all this nonsense / now you can not swear / let it be now or a fleet/ /is gonna take down your beliefs).
Thru the never. About as close to a power ballad as I've heard from DSI, an invitation for self-introspection (Take a night to know yourself / take a night to know your thoughts / just to ride a dream) and a chance to let the hope be back into your soul. Just what the cyber-doctor ordered.
Conclusion: DSI has been putting out some good cyber-rock since their formation in 2002. Ultrawired keeps that streak going with a Ketaware selling-strategy that the RIAA needs to take note of. Based on this CD, DSI has the ability to be around for some time.