December 7, 2010
Transverse City: Warren Zevon
Music Review By: Mr. Roboto
Year: 1989, 2003
Aritst: Warren Zevon
Written by: Warren Zevon (All tracks) & Stefan Arngrim (Transverse City & Networking)
Label: Virgin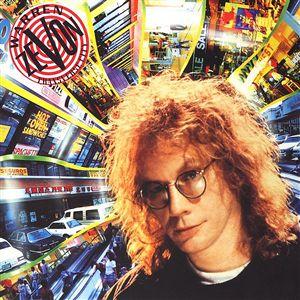 "As time goes on Transverse City looks less like science fiction and more like home.
"I received Warren Zevon's Transverse City back in 1989 when it originally came out, but I confess I only really got it recently. The fact that it took more than a decade for this fine album to sink in my say something bad about me, but it also says something great about the foresight and ambition that marked Warren Zevon's work on Transverse City. Having taken a long, hard and inspired look at himself on his 1987 comeback effort, Sentimental Hygiene, Zevon seemed ready here to take on the world at large with this trippy song cycle that suggested the intellectual influence of Philip K. Dick and George Orwell, and the musical influence of everything from Kraftwerk to Igor Stravinsky, with a little refried California rock and a bit of British art rock thrown into the potent, dense mix. With characteristic guts, Zevon dared to combine a cyberpunk concept, a mindbending modern soundscape, and a crowded house of well-known musical guests from Neil Young to Chick Corea, Jerry Garcia to Dave Gilmour. The resulting album didn't become a big hit, but its futuristic songs here have already stood the test of time." - David Wild, 2002 (From the 2003 liner notes).
Track Listing:
1. "Transverse City" – 4:19
2. "Run Straight Down" – 4:05
3. "The Long Arm of the Law" – 3:47
4. "Turbulence" – 4:08
5. "They Moved the Moon" – 4:31
6. "Splendid Isolation" – 4:35
7. "Networking" – 3:02
8. "Gridlock" – 4:34
9. "Down in the Mall" – 4:28
10. "Nobody's in Love This Year" – 4:17
11. "Networking (Acoustic Demo Version) (2003 Bonus Track)
---
Excitable boy is excited.
You must have heard at least
one
of Zevon's songs; It's played to death every Halloween. While it is his biggest hit and best known song, Zevo took a stab at cyberpunk music thanks to an interest in William Gibson's works. Of course the album didn't sell, mostly because cyberpunk was still an underground sensation at the time so many didn't understand the concept.
Re-released the same year as his death, Zevon's Transverse City sounds like a brand-spanking-new soundtrack of our modern world instead of a 30 year old slab of classic rock. You don't need to be a Warren Zevon fan nor a cyberpunk fan to enjoy this album, but it might help to be a bit of both for full enjoyment. So let's take a trip down into town to see what's going down downtown…
Transverse City. Warren Zevon plays keyboards on most of the tracks. For the opening title track, his keyboard playing sounds almost Japanese. A rather nice touch to a song about a city past the shiny Mylar towers, past the ravaged tenements, where life is cheap and death is free. You'll also get to hear the hum of desperation, the song of shear and torsion, and Jerry Garcia (the head Dead-Head himself) on guitar.
Run Straight Down.
Zevon sings about walking through the decaying city wanting to head home to watch the decline on T.V. instead of experiencing it first-hand. Pink Floyd's David Gilmour plays lead guitar. If you listen carefully (it's most noticeable at the beginning) you can hear a monotonic, almost robotic voice delivering a rhythmic delivery of 4-Aminobiphenyl, hexachlorobenzene, Dimethyl sulfate, chloromethyl methylether, 2, 3, 7, 8-Tetrachlorodibenzo-para-dioxin, carbon disulfide, Dibromochloropane, chlorinated benzenes, 2-Nitropropane, pentachlorophenol, Benzotrichloride, strontium chromate, 1, 2-Dibromo-3-chloropropane. (That shit sounds dangerous, like some super-adrenaline-and-caffeine-charged-heroin… or that "cream" they put in Twinkies.)
The Long Arm of The Law. Seems like no matter where you go these days, the blue meanies are looking to lay a beat-down on someone. If the first words you remember hearing are Nobody move, nobody gets hurt, you better live like a fugitive and don't protest your innocence, only the dead get off scott free.
Turbulence. Turmoil back in Moscow brought this turbulence down on me. Told from the POV of a Russian soldier in Afghanistan, 1989 was the year of Perestroika in the former Soviet Union, which also lead to the fall of the Berlin Wall. All our soldier wants is to go home, singing in Russian about "missing our mothers" (that's according to a couple of translations of the Russian lyrics).
They Moved The Moon. A bit of a sad song, written after a breakup. Zevon suddenly feels like his everything in his life has been re-arranged so nothing makes sense anymore (They changed the stars around). Definitely a breakup song.
Splendid Isolation. The message of this song is quite obvious: Leave me alone. (Michael Jackson in Disneyland / Don't have to share it with nobody else / Lock the gates, Goofy, take my hand / And lead me through the World of Self). He even goes so far as to put tinfoil over his windows to block the outside world.
Networking. Zevon has been known to have a rather unusual sense of humor. Here, he has a major nerd-gasm while dropping some tech-related puns like I'm user friendly / I install with ease / data processed, truly Basic. He may have even predicted his CDs being file-shared: I will upload you, you can download me. I'm certain many of you have already.

For the re-release, an acoustic demo version is included. The same lyrics, only stripped-down with Zevo, an acoustic guitar, and a harmonica. Sounds something like Neil Young might have tried.
Gridlock. An ode to the evening rush. The morning rush isn't too bad, but the evening rush… can I possibly tell you how much it sucks? Well, Zevon can tell you about it better… and in song form with Neil Young on lead guitar. Stuck on the edge of the suburban sprawl / Everybody's chocking on monoxide fumes / I feel like going on a killing spree / and Roll down the window, let me scream. You have my sympathies, Zevo. Crank this one up to 11 while you're stuck on the interstate parking lot.
Down In The Mall. Nothing like a little conspicuous consumption, especially at a mall seven stories tall with a four floor parking garage. Zevon goes on a shopping spree so he can put it on a charge account we're never gonna pay. Like what people are doing this holiday season…
Nobody's In Love This Year. Prepare to have your heart broken with this down-tempo bit of bitter-sweetness. When lovers no longer communicate with each other, there's no need to wonder why the rate of attrition for lovers like us is steadily on the rise.
Conclusion: Unlike other efforts at cyberpunk albums, both intended and unintended, Transverse City has become a true time-tested cyberpunk work (though it's too early to say anything about recent acts like Dope Stars or Ayria). Then again, this is the only album that was written by a proven musical genius like Warren Zevon. This is classic rock that cyberpunk fans, even those who are not into Warren Zevon, can get into.
At least it beats listening to Werewolves of London for the zillionth time.