Movie Review By: Mr. Roboto
Year: 2009
Directed by: Aleksa Gajic, Nebojsa Andric, Stevan Djordjevic
Written by: Aleksa Gajic
Degree of Cyberpunk Visuals: High
Correlation to Cyberpunk Themes: High
Key Cast Members:
Edit (voice): Sanda Knezevic
Bojan (voice): Nikola Djuricko
Broni (voice): Marija Karan
Profesor Dorijevic (voice): Vlasta Velisavljevic
Edi (voice): Nebojsa Glogovac
---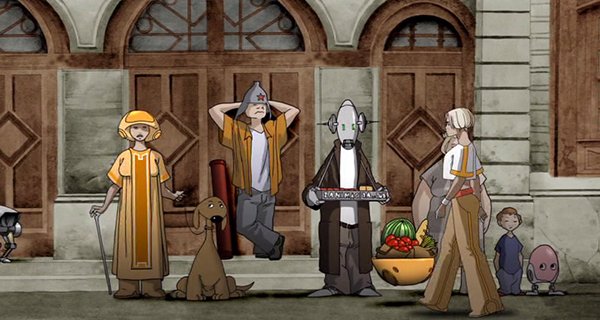 Overview: Not often that a good cyberpunk movie comes down the wires. Lately, the better ones have been coming out of Japan's anime studios. Technotise could be the latest-and-greatest to come from the land of the rising sun… only it came from Serbia, not Japan, although the anime influence can be seen. While not enough to make those famed anime studios nervous… yet… it already has a live-action remake under development.
A sequel based on the comic (readable here, if you understand Serbian), Technotise looks into a bit of the the life of a college girl as she faces a struggle in Belgrade 2074 that could kill her.
The Story: Edit Stefanović is a psychology major in a Belgrade college. Like most students, Edit has had her successes and failures but mostly failures. Now her professor has given her an ultimatum: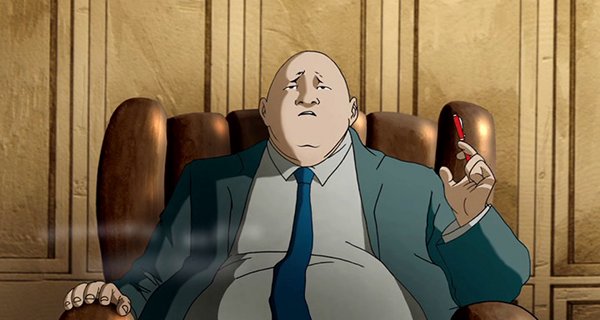 "Pass or GTFO."
After burying her robotic pet, and a fight with her mother, Edit decides to get a memory chip implant to help her pass the exam. She is also an intern at TDR, a research company that's been working on a formula that connects all the energies in the world, aka "A direct line to God." This "formula" can be used to predict the future, but any computer that calculates it becomes sentient before it shuts down. Abel Mustafov discovered the formula before becoming autistic, and when Edit sees a "graph" of the formula, her chip becomes alive and starts wiring itself into her body, making her act weird (like eating large amounts of iron). Now TDR wants Edit and the chip for their future-telling computers, while Edit wants what the chip did to her undone.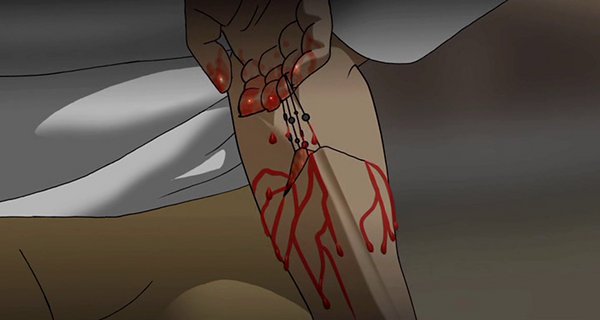 Algorithm Absurd. This phrase is used a couple of times to describe what happens to the computers that calculates the formula. Algorithm - like a computer program; A series of finite steps to generate an output from input. Absurd, the ludicrous, insane, irrational. The phrase is simply another way of saying: "That does not compute." Apparently the computers see the formula like a digital existential crisis, one that says machines are not alive. But Edit's chip doesn't suffer the same fate, probably because of their connection to each other, or maybe because of Edit's study of psychology she was able to "understand" the graph in a way that computers couldn't so she acted as a "buffer" and the chip was able to process her output.
The next GITS? Like GITS, Technotise uses a variety of animation styles to produce some high quality movie fare. 2D, 3D, vector, and realistic static drawings come together for some of the best eye-candy. But without a good storyline, all you can get from eye-candy is diabetes. Fortunately, Technotise has the storyline to back up the visuals. About the only problem is the language is entirely Serbian with English subtitles so you might miss out on some of the vids.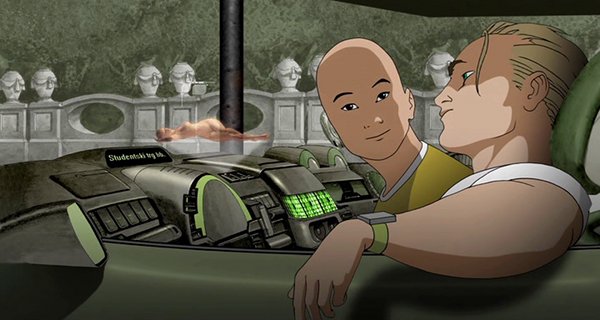 "I have nothing against plastic but sometimes you have to make out with some real meat."
Conclusion: With the themes of the search for "God" via science and our continued interconnection of human and machine, we have some excellent cyberpunk fare to even anime fans happy for the next decade or so. This is one animated movie that can go byte-by-byte with GITS. Just get the DVD and see what I mean…