January 28, 2006
Tron
Year: 1982
Directed by: Steven Lisberger
Written by: Steven Lisberger, Bonnie MacBird
Degree of Cyberpunk Visuals: High
Correlation to Cyberpunk Themes: High
Key Cast Members:
Kevin Flynn/Clu: Jeff Bridges
Alan Bradley/Tron: Bruce Boxleitner
Ed Dillinger/Sark/Voice of Master Control Program: David Warner
---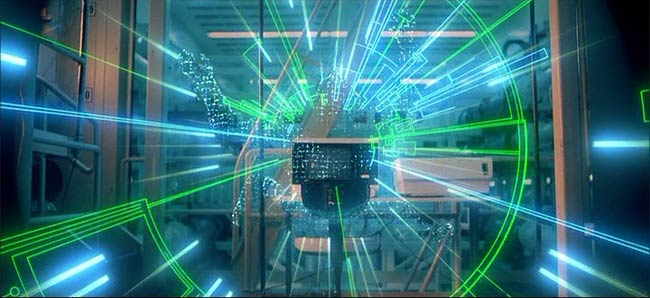 Overview: How could a cyberpunk review site NOT have Tron? We're talking about the first CG movie, and truly, a groundbreaker VR movie. Make no mistake, this is a pre-cyberpunk movie, complete with corporate greed, theft, integration of human and computers, ubiquitous access to information, a dystopian world (inside the program, anyways), and pure cyberpunk visuals and style. While Tron is slightly cheesy in parts, its still a hell of a ride!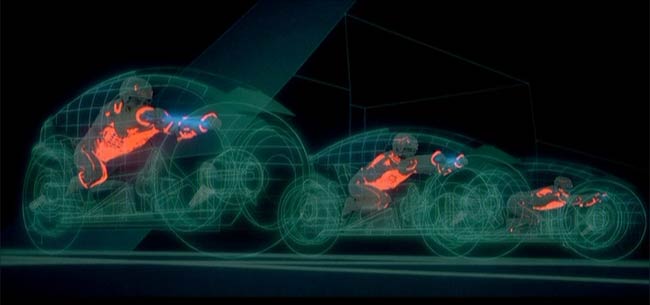 In Tron, a computer programmer (Jeff Bridges) who has his programs stolen from him tries to go back into the corporation to get them, but somehow gets sucked back into the game he developed. From there the fun begins, as Bridges has to square off against contestants and the Master Control Program in order to escape back to the real world. Most of this adventure takes place within the program world, and involves some awesome games and fun chase scenes.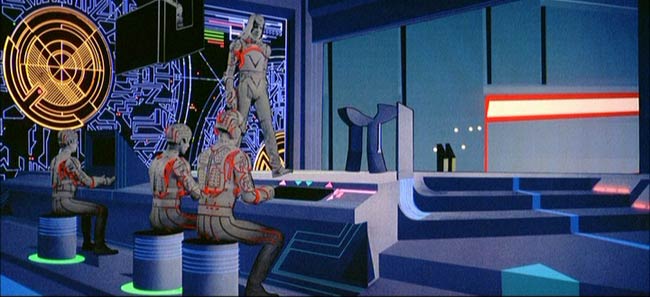 Like the Wizard of Oz before, and eXistenZ and Thirteenth Floor after it, the players in the game bear a striking resemblance to their human users. Some movies call this "residual self image" - others just build this concept into the design of the system. But while this convention existed in fantasy realms, Tron successfully set the pattern for most future VR films - you look the same on the inside of the VR system as you do on the outside.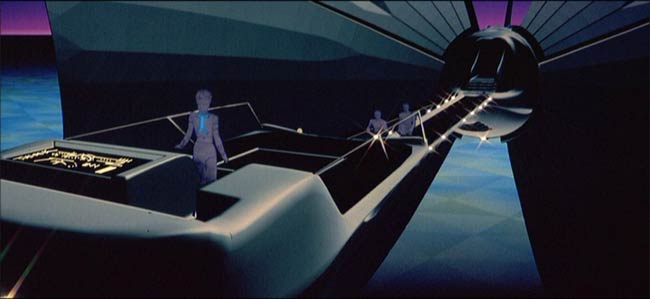 Tron has a rather silly aspect about it in that it continually uses computer terms in non-sensical ways. As steeped in computer-speak as we are today, these stick out like a sore thumb. However, at the time (1982), very few people would have noticed this. The idea was to just get the cyber-atmosphere permeating the movie, which Tron did most effectively. In setting the trend for most most cyberpunk movies that follow, neon colors are "In", as is the idea of a single dominating color the permeates the movie - in Tron's case we get mostly blue, along with red representing the bad guys.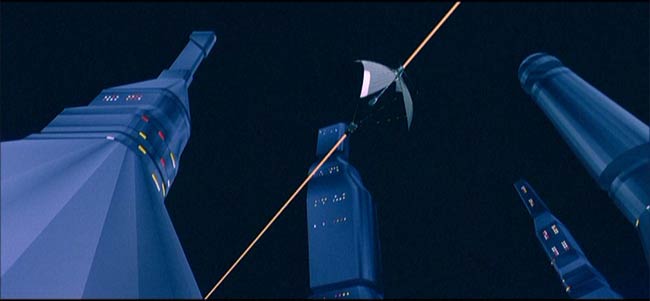 Yes the FX are dated now (God I hope so!). We're talking about the real early days of computer graphics. Still, some of the shots still hold up well, and overall, the visuals are still very enjoyable. Tron is designed to have a sense of wonder about it - this still works. The car race game in particular is still VERY fun! Another thing that still works is the music accompanyment - Wendy Carlos's synthesizer-laden soundtrack fits this movie perfectly.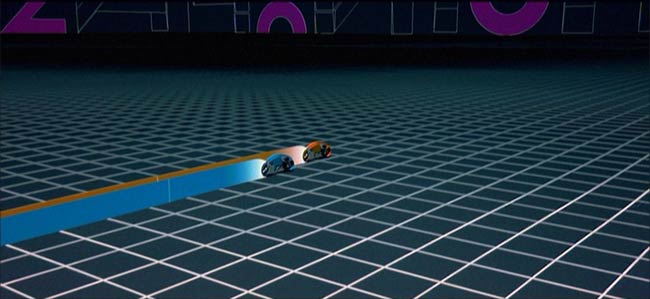 Overview: Jeff Bridges, Babylon Five's Bruce Boxleitner, and David Warner as the evil bad guy (The exec Ed Dillinger, the game player Sark, and the Voice of the Master Control Program) all provide very fun performances. They are able to make this crazy environment work well enough that it still comes across as a rather cool cyberpunk flick. And truly, if you're into VR cyberpunk movies, Tron is a MUST SEE - so much so that one point has added to this review score for its historical place in VR films.
~See movies similar to this one~
Tags: cyberpunk movie review Tron