Source: Library of Congres, National Film Registry (Press Release)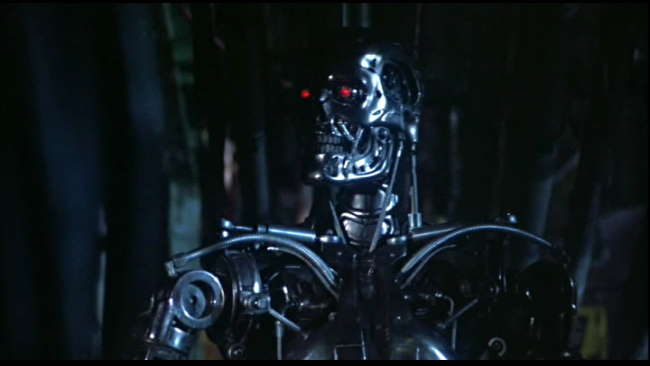 Under the terms of the National Film Preservation Act, each year the Librarian of Congress names 25 films to the National Film Registry that are "culturally, historically or aesthetically" significant, to be preserved for all time. These films are not selected as the "best" American films of all time, but rather as works of enduring significance to American culture.
We knew The Terminator was an unstoppable influence on cyberpunk, and American culture in general, and now it will have its place along side cyberpunk classics Blade Runner and Alien.
From the press release:
The Terminator (1984)

In 1984, few expected much from the upcoming film "The Terminator." Director James Cameron, a protégé of legendary independent filmmaker Roger Corman, had made only two films previously: the modest sci-fi short "Xenogenesis" in 1978 and "Piranha Part Two: The Spawning" in 1981. However, "The Terminator" became one of the sleeper hits of 1984, blending an ingenious, thoughtful script — clearly influenced by the works of sci-fi legend Harlan Ellison — and relentless, non-stop action moved along by an outstanding synthesizer and early techno soundtrack. Most notable was Arnold Schwarzenegger's star-making performance as the mass-killing cyborg with a laconic sense of humor ("I'll be back"). Low-budget, but made with heart, verve, imagination, and superb Stan Winston special effects, "The Terminator" remains among the finest science-fiction films in many decades.
What cyberpunk movies will be included in the future? With T1 now registered for preservation, things look good for Terminator 2: Judgment Day to join it since many consider it to be better than T1. Just don't hold your breath for T3, k?
If you want to see the full list (some 500 movies so far), just head over to the NFR site and take a look-see at what has been selected for preservation. Quite an impressive list, not only including major films but newsreels as well. But some notable cyberpunk movies are absent… at least until next year anyway. Movies like WarGames, Tron, Sneakers (a personal favorite), and Robocop should be included. The Matrix also, though it may be a little early for it to qualify (possibly in 2010?).
There's still plenty of cyberpunk movies yet to review, with possible gems for the Registry to save. And when next year's selections for preservation are announced, and any cyberpunk movies get the nod, we will let you know.
This post has been filed under
Movie News
by Mr. Roboto.