December 24, 2008
Silicon Viagra "Sex Chip" now under development (!)
Source: Telegraph.co.uk, now all over the nets.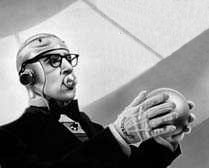 Behold! My big, orgasm-inducing BALL!
Here comes (!) the ORGASMATRON! Oxford University researchers have announced that they are currently developing a chip that will be implantable in the brain and can stimulate certain areas like the orbitofrontal cortex, which has been shown to produce sensations of pleasure from eating… and SEX.
Guess which pleasure sensation they're aiming for…
(Neurosurgery professor Tipu Aziz, said) … current technology, which requires surgery to connect a wire from a heart pacemaker into the brain, can cause bleeding and is "intrusive and crude".

He continued: "When the technology is improved, we can use deep brain stimulation in many new areas. It will be more subtle, with more control over the power so you may be able to turn the chip on and off when needed.
Sex is just one possible use of the chip. They're looking at other possible brain-stimulation therapies within ten years.
Meanwhile, in a secret lab in North Carolina, USA… Another "orgasmatron" has been developed for women (click the pic above to read the full article on io9):
Women who have used the device say they feel as if their clitoris and vagina are actually being stimulated, to quite realistic effect. ("One woman asked me, 'Would it be considered adultery if I gave the remote control to someone other than my husband?' " Meloy says.)

Some volunteers also report fleeting episodes of clenched foot muscles, Meloy says, probably a result of electrical pulses leaving the spine and stimulating nearby motor nerves. (He wonders if the phenomenon might somehow be related to a common orgasm description: "My toes curled.")

And when the device's pulse intensity is cranked up to maximum, Meloy says, some women find their vaginal and rectal muscles squeezing rhythmically in time with the pulses, even before the orgasmic finale.
MERRY XXX-MAS ALL!