Music Review By: Mr. Roboto
Year: 2008
Aritst: Colin Timothy Gagnon
Written by: Colin Timothy Gagnon
Label: N/A
DOWNLOAD FROM THE ARTIST'S SITE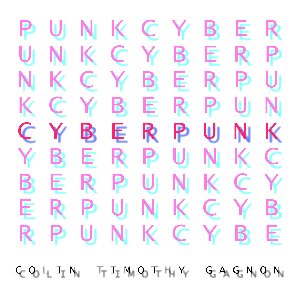 Click the image to download the album from the artist's site.
Track Listing:
1. Quiet - 2:10
2. Asphalt Dawn - 3:06
3. From the Ground Up - 3:08
4. Bad Deal - 1:24
5. Mass Transit - 3:54
6. These Doors Are Open - 1:45
7. It Never Stops Raining Here - 5:05
8. The Path of Least Resistance - 4:29
9. Arena - 1:41
10. Macrocosm - 2:42
11. Insertion Point - 3:29
---
Overview: Cyberpunk music is often described as "music with a feeling of living in a cyberpunk world." Some would prefer that music with lyrics that tell a story; Others prefer just the music. If you prefer instrumental "ambient" cyberpunk, Colin Timothy Gagnon has an album for you to download into your ear canals. Released late last year, here's how he describes his work:
A collection of tracks composed between 2002 and 2008 in the style of late '80s and early '90s video game music. I was reading a lot of seminal cyberpunk fiction when I composed the earliest of these tracks, and I imagine those authors expected the future to sound a little like this.
To me, ambient music is much like the "magic eye" autostereograms from the mid-90s; You may get it right away and the effect is spectacular, or you struggle with it and never get it. Fortunately, Gagnon's site has a built-in player that will allow you to test the tracks to see if you like them. For now, let's see what the individual tracks have to offer.
Quiet. The opening track is more tension than actual quietness, with echoing drums. I can probably hear this tune playing in the background while exploring Neocron's Industrial and Outzone sectors.
Asphalt Dawn. Daybreak over the gritty city. Don't think I quite got this one, but it does sound uplifting, like watching the sun rise.
From The Ground Up. Not sure about this one. Maybe looking up at the towering buildings
Bad Deal. A transaction has gone sour and now you need to run.
Mass Transit. Try listening to this the next time you're on a subway or bus on your way to… wherever.
These Doors Are Open. I can imagine waking past a club and hearing a tune like this near the front door.
It Never Stops Raining Here. The opening does sound like water dripping from the roof after a recent rain.
The Path of Least Resistance. Funky bass line at the start, soaring the rest of the way.
Arena. Music you would expect at any sporting event. Bring on the gladiators!
Macrocosm. A term for how one interprets large-scale patterns, maybe like the rifts in this tune.
Insertion Point. You arrive at a spot, ready for action when the music picks-up the pace.
Conclusion: Whether or not this album is cyberpunk enough depends on how you interpret ambient music. Best advice: Visit Gagnon's site and listen to the tunes via the player application, and make you own call. I'll be listening to this work to see if I can get it.