Movie Review By: Mr. Roboto
Year: 2007
Directed by: Michael Bay
Written by: Roberto Orci & Alex Kurtzman (screenplay & story), John Rogers (story)
Degree of Cyberpunk Visuals: Medium
Correlation to Cyberpunk Themes:Very Low
Key Cast Members:
Sam "Spike" Witwicky: Shia LaBeouf
Mikaela Banes: Megan Fox
Defense Secretary John Keller: Jon Voight
Sector 7 Agent Simmons: John Turturro
Optimus Prime (Voice): Peter Cullen
---
SFAM Note - Change to Review: CPR now has a number of people doing reviews here. Inevitably, there will be differences over whether or not we think of something as being cyberpunk or not. In the case of the Transformers, Mr. Roboto feels that it is, but I do not (nor do many who listed comments below). I have changed the categories to reflect this (its being placed in the "It's Not Cyberpunk" category), but the rest of the review is still Mr. Roboto's.
~SFAM
---
Optimus Prime: Freedom is the right of all sentient beings.
Overview: Anyone growing up during the mid-80's must have played with, or at least heard of, Hasbro's Transformers and watched the animated series that began in 1984. Since then, the Transformers have attained a cult status among nerd types who dreamed of owning a muscle car or heavy duty pick-up that can transform into a kick-ass robot. Now, those fans have a live-action movie to go along with the animated 1986 movie from those heady first-generation days.
I went to see this movie, not expecting cyberpunk themes, but like Optimus Prime and Megatron colliding, BOOM! There they were, though some may say there's a bit of a stretch for them. Like Alien, there will no doubt be some discussion about the themes and visuals and if the movie qualifies as cyberpunk.
Negative Impact of technology on humanity: Decepticons and the power-hungry Megatron will destroy Earth and the humans for the Allspark, and Megatron even shows his disgust for our species as he flicks a human away during the final battle. Also, the ongoing war between the Autobots and Decepticons could be a metaphoric warning about a possible future "robot war" on Earth.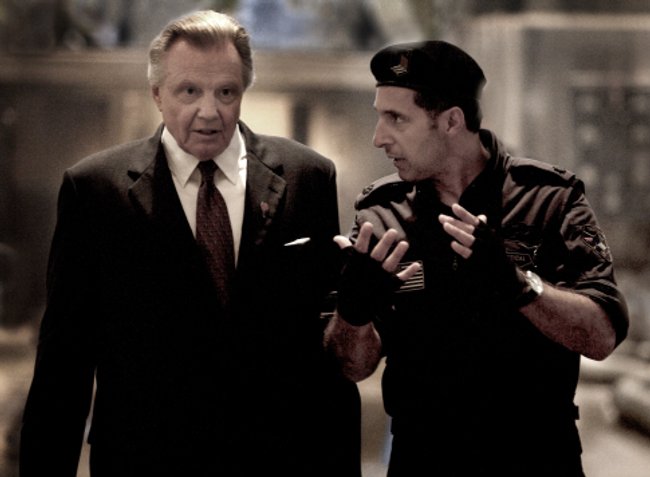 Keller: We're facing war against a technological civilization far superior to our own! Our enemy can take any shape! They could be anywhere!
Since America's technology was based on Megatron, leader of the evil Decepticons, it makes our cyber-present sound like it is the seed of evil, forged by evil, for evil purposes. This origin of our technology causes the Allspark to turn ordinary electronic devices into transformer robots that attack humans.
Fusion of man and machine: There isn't the deep, philosophical aspects of Blade Runner with this theme, but there are signs of lines between man and machine being crossed somewhere between Earth and Cybertron.
At the car lot, Bobby Bolivia (a cameo by Bernie Mac) tells Spike "A driver don't pick the cars. Mmm-mm. Cars pick the driver. It's a mystical bond between man and machine." Spike and Mikaela interact with the Transformers like they were real, even though they're just CGI animations added afterwards.
The Transformers themselves act sentient, even human like, with their own personalities. Optimus Prime acts like a real leader, keeping trigger-happy Ironhide in check, sacrificing Bumblebee when he's captured to get to the Allspark, and even plans to sacrifice himself to protect the humans and destroy the Allspark if needed. There's even dissension among the Decepticons, especially between Megatron and Starscream in their ongoing power struggle since their animated days.
What isn't clear is if the Transformers were created by organic beings, or used to be organics, but found a way to transfer themselves into robot bodies, or if the Allspark just created the robotic race as the opening narration suggests. I would find it interesting to hear of the Transformers' origins (creation or evolution?). Maybe a future "prequel" will deal with that.
Control over society: There doesn't seem to be an "all-controlling entity" present in the film… until Sector 7 enters the scene.
Sector 7 was created by president Hoover when Captain Archibald Witwicky's Arctic Circle expedition stumbled upon a frozen Megatron to keep the find secret. They reverse-engineered the Decepticon's technology to create the technology of modern America and her military.
Story focuses on the underground: Mikaela has a juvenile record, thanks to her father showing her how to steal cars. Not much else here. Moving along…
Ubiquitous Access to information: Early on, the Decepticons try to hack America's military systems, looking for information on the whereabouts of Megatron and the AllSpark. After Blackout's attack on America's Qatar base to access the military nets, the Pentagon tries to decipher the signal used to hack the systems. One of the analysts copies the signal to a memory card and takes it to a hacker friend she knows, who succeeds.
The Decepticon Frenzy, who first appears as a boom-box, furthers the hacking cause aboard Air Force One, and succeeds in obtaining information on Sector 7 and "Project Iceman." He then uploads a virus that causes military systems worldwide to shut down to aid the Decepticon's attack.
Autobot Jazz: What's crackin' little bitches?
Sam 'Spike' Witwicky: Where'd he learn to talk like that?
Optimus Prime: We learned Earth's language through the World Wide Web.
Also, both sides learn of Spike and Captain Witwicky's glasses from his posts as Ladiesman217 on eBay.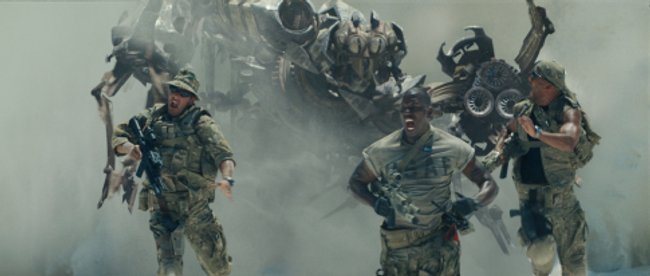 Cyberpunk visuals and style: The desert battle with Scorponok is probably the most cyberpunk visually, with all the sand and the primitive village hosting a high-tech battle between the Americans and a killer robot. There are scenes inside the Pentagon (a cyber-romanticized version) featuring rooms of computers to gather and analyze data. Many scenes take place at night in locations like junkyards and industrial parks. In the final battle in the city, Spike runs through what looks like a long-abandoned rail station. The scenes inside Hoover Dam could be called steampunk.
Do note the color schemes between the bot sides; The Autobots have brigher colors while the Decepticons have darker, militant paint jobs.
A Long Time Ago, In A Galaxy Far, Far Away… (Oops, wrong movie… My bad.) Optimus Prime narrates the opening of the movie; How the Cube of the Allspark gave life to Cybertron (well, ANY planet it came across), and how the evil Megatron tried to abuse its power. The civil war that erupted practically destroyed Cybertron and all life on it, and the Allspark was lost for thousands of years, until it was discovered on an unknown-to-them planet called Earth.
Captain Archibald Witwicky was leading an expedition to the Arctic Circle when he stumbled upon a frozen Megatron and accidentally activated his guidance system, causing the Decepticon leader to imprint the Captain's glasses with the location of the Allspark. The glasses are now in the possession of his great-great-grandson, Sam "Spike" Witwickey, who is trying to sell them to buy a car.
Sam and his father, Ron "Sparkplug" Witwickey, eventually buy an old Camaro that helps Sam attract Mikalea Banes, who knows her way around cars thanks to her father.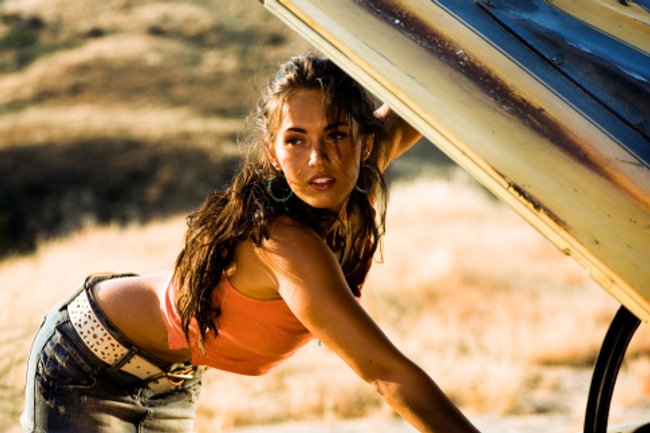 What could be hotter than a babe who knows her way around cars?
One night the car drives away with Sam in pursuit, believing his car was being stolen. The car arrives at a junkyard and transforms into a robot that transmits a signal into space while Sam watches in disbelief. The next day, the car returns and Sam runs believing the car is stalking him. Sam encounters the Decepticon Barricade, in disguise as a police cruiser, who demands the glasses. Sam's car transforms to fight the Decepticon off, and then reveals his role as guardian before taking Sam and Mikaela to the arriving Autobots and Optimus Prime, who reveals Sam's connection to the Allspark.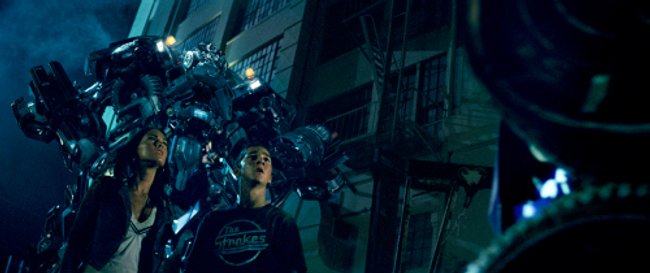 Sam 'Spike' Witwicky: It's a robot. You know, like a super advanced robot. It's probably Japanese.
What follows is a race to get to the Allspark, followed by a huge city-wrecking mech battle between the deadly Decepticons and the heroic Autobots and American military, including survivors of Blackout's attack in Qatar.
Robot Apocalypse? We never see the death and destruction of Cybertron, but it wouldn't be hard to imagine it based on current human events. With two opposing sides fighting over a valuable resource, whether it's energy or the Allspark, such Armageddons are always possible whether anyone wants them or not. And with the Transformers' civil war now being played out on Earth, the humans may become unwilling victims of such an Armageddon, especially if the Decepticons win out.
But what about robots the humans will make? Advances in robotic and computer technology have made "human-like" robots more of a possibility in the near future. Future improvements in artificial intelligence can lead to learning machines, machines that can think and act for themselves, and possibly sentience like the Transformers. At that point, our robots may take sides to be human-friendly or anti-human. That could lead to a robotic civil war that could wipe humanity out and leave the planet unlivable, while the robots take their dispute to the stars, possibly destroying other sentient worlds and life forms.
Fortunately, we're far from that robotic civil war, and the Autobots do keep Earth protected from Megatron's lust for power and the Allspark. The final lines in the movie are spoken by Optimus Prime as he sends an invitation to his fellow Autobots:

With the Allspark gone, we cannot return life to our planet. And fate has yielded its reward, a new world to call home. We live among its people now, hiding in plain sight, but watching over them in secret… waiting, protecting. I have witnessed their capacity for courage and though we are worlds apart, like us, there's more to them than meets the eye. I am Optimus Prime and I send this message to any surviving Autobots taking refuge among the stars. We are here. We are waiting.
Conclusion: While geared for the toy-line fans, Transformers does offer something for cyberpunks to think about, whether it was intended or not. There's little question that it will be this summer's blockbuster, but some might question if it belongs in the Parthenon of cyberpunk movies.
All I can say is: Do watch it and see if you also notice the cyberpunk themes as I did. It's OK, it's a pretty good robot action movie.