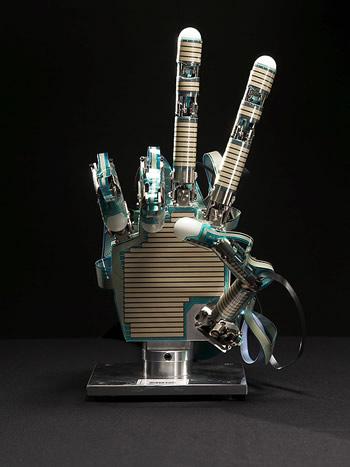 Nesuphyn posted a news item in the meatspace about a cybernetic hand developed in Japan by Yukiyasu Kamitani and colleagues from the ATR Computational Neuroscience Laboratories in Kyoto, and researchers from the Honda Research Institute in Saitama, that is controlled by taking recordings of someone's brain while attempting to move their own hand.
The robotic hand mimics the movements of a person's real hand, based on real-time functional magnetic resonance imaging (fMRI) of their brain activity. It marks another landmark in the advance towards prosthetics and computers that can be operating by thought alone…

Subjects lay inside an MRI scanner and were asked to make "rock, paper, scissor" shapes with their right hand. As they did this, the MRI scanner recorded brain activity during the formation of each shape and fed this data to a connected computer. After a short training period, the computer was able to recognise the brain activity associated with each shape and command the robotic appendage do the same…
This is pretty damn cool. Just in terms of "just so" type information, this means that the researchers can identify the messages the brain generates to move body parts. This in itself is pretty darn impressive. That this can be captured and fed into a remote hand really opens up some interesting possibilities. People who have lost limbs can potentially communicate with the future cybernetic limbs just as they did their real ones.
More interesting from a cyberpunked future standpoint is the idea that at some point, we could have the capability to have remote limbs that we control wirelessly through thought. This significantly alters the invasive notion of cyborgs that we've become accustomed to. Versus requiring direct implants connected to the brain, we could have an ultra-high speed recording device that is linked to a remote flying hand. For some reason, the "Love Glove" from the Beatles' Yellow Submarine comes to mind - just imagine having that thing!
One day, Kamitani believes, the robot hand could be made to respond faster than a user's real one. "The next step for me is to decode faster, even before the person moves their hand, by reading the brain activity related to intention," he told New Scientist.

But he admits that fMRI scanning technology must be improved dramatically before this could be possible, and before the system could be used practically. "We will need several breakthroughs in related technologies, including those for brain scanning hardware, before this type of non-invasive systems will be used in daily life," he says.
Our cyberpunked future is looking more interesting every day!