May 19, 2006
Parasite Dolls
Movie Review By: SFAM
Year: 2002
Directed by: Kazuto Nakazawa & Naoyuki Yoshinaga
Written by: Chiaki Konaka
Degree of Cyberpunk Visuals: High
Correlation to Cyberpunk Themes: Medium
Key Cast Members:
Basil: Kazuhiko Inoue
Reiko Michaelson: Akemi Okamura
Rod Kimball: Somei Uchida
---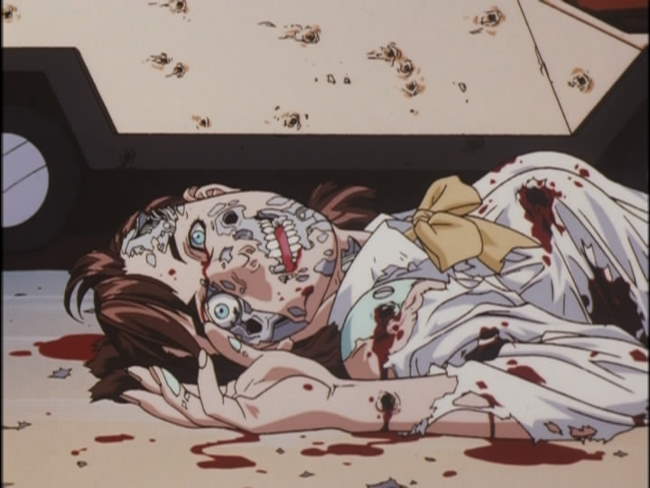 Overview: Parasite Dolls, another cyberpunk anime written by the prolific cyberpunk anime master, Chiaki Konaka (Serial Experiments Lain, Texhnolyze, Armitage III, Malice@Doll, and Bubblegum Crisis 2040), is a visually interesting, VERY adult OVA from the Bubblegum Crisis universe. The androids (called boomers) in this show are fully android (at least regarding their mental processes) unlike in other Bubblegum stories where they seem to be a combination of human and android. While this is a three part OVA, I really like that they are almost integrated like a movie, versus as separate episodes. Fair warning, you get gruesome deaths in the throws of sex, prostitution, lots and lots of gore.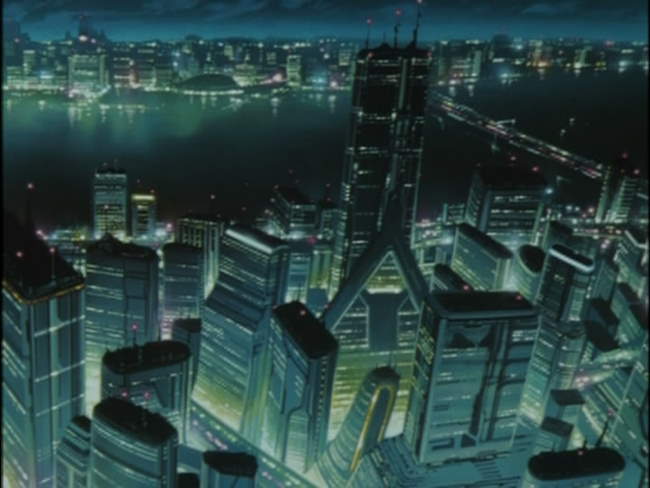 The Stories: There are three separate, interlinked stories on the Parasite Dolls OVA. At the start of the first story, set in the year 2034, where society has become a troubled mix of humans and androids called "Boomers." The Genom Cooperation has created boomers to serve mankind in all aspects, from police support to sex dolls. Unfortunately, problems emerge, both with the boomers and with humanity's reaction to their presence. A clandestine division of the Advanced Police (A.D Police) called "Branch" has been created to investigate human to boomer related crimes. The story follows "Buzz" Nikvest, a policeman with a troubled past, and his partners at the Branch division, which include a very helpful Boomer called Kimball and a stereotyped spunky, sexy, tough cop chick named Reiko Michaelson.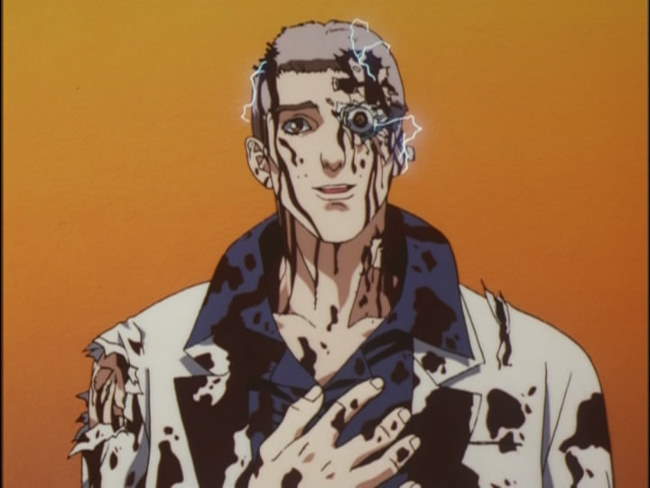 In the first episode, rogue boomers start randomly attacking and killing innocent humans. Buzz and company are brought in to investigate. During the course of their investigation, they find that things at the Genom corporation are not all above board. This story has some pretty cool visuals of shot-up boomers, and a few interesting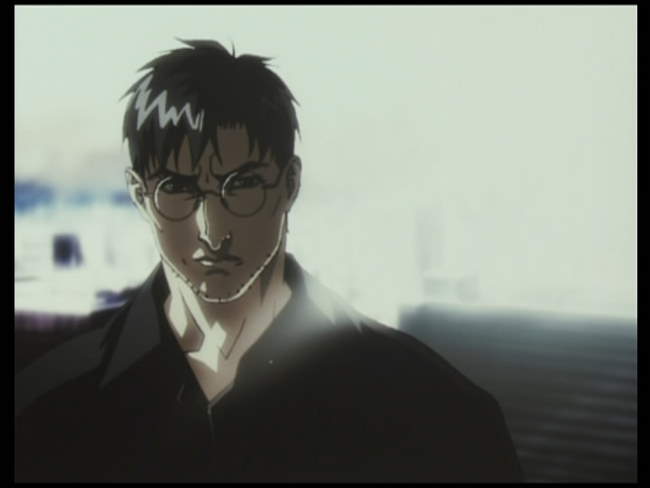 The second episode, which takes place a year later, involves a truly bizarre android monster called the "Boomer Crusher" and a very lifelike boomer prostitute who has feelings and has dreams. Unfortunately, the prostitute is being controlled in her dreams to cause some truly bizarre human deaths. We find out more in the third story of who probably created this monster, but it isn't really stated in the narrative.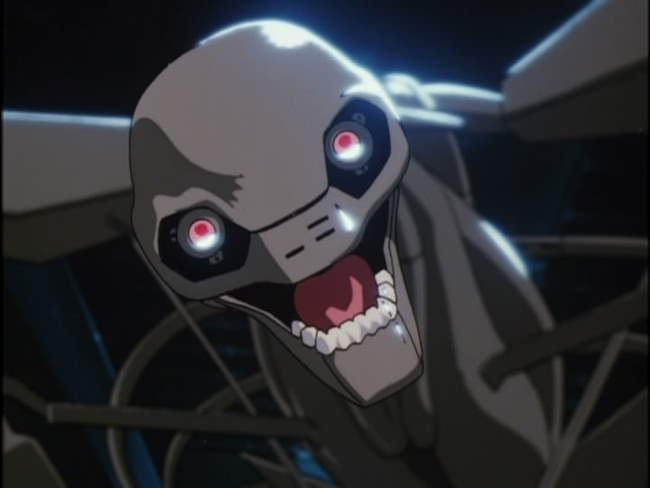 In the third episode, which takes place 5 years later, Takahashi, the head of Branch Division is missing. In searching for their missing box, Buzz, Kimball and Reiko find a connection between Takahashi's disappearance and the recent spate of anti-boomer activity that has grown in recent years. Worse, as explosions go off all over the city, Buzz is framed as the fall guy. As the story unfolds, the viewer is left with the idea that all three stories are related to the same larger plot.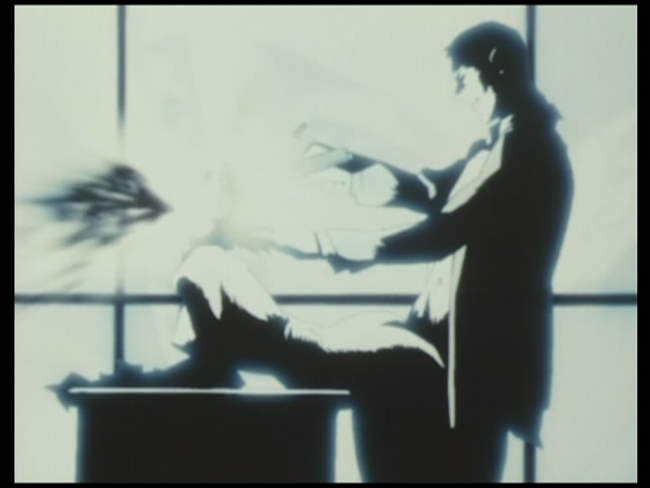 The Visuals: Parasite Dolls has a really nice diversity of looks, often emphasizing extreme shadows in single color light settings. Both blue and gray are used extensively for this, often yielding terrific visuals. In other cases, Parasite Dolls looks like a rather decent, but not spectacular anime. It does best when it strives for the edgy look. Had this been used throughout, Parasite Dolls could have come off as something bordering on special. As it stands, some parts really stand out, while others you almost wait to get through.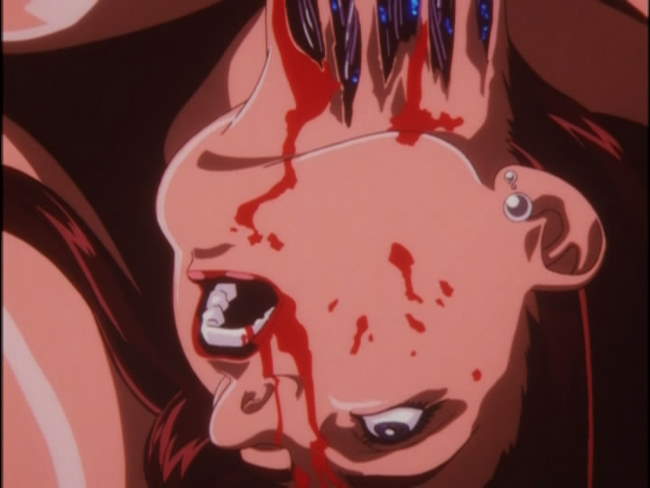 Boomers – property or unique individuals: Nothing new here – Parasite Dolls explores the continually explored question of whether androids are merely property or something more unique. Unfortunately, no new ground is traversed. Instead, the interesting aspects of this come from the seedy visuals themselves. There are a few scenes in Parasite Dolls where the visuals make a far more interesting statement than the narrative. These usually involve truly gruesome Boomer deaths.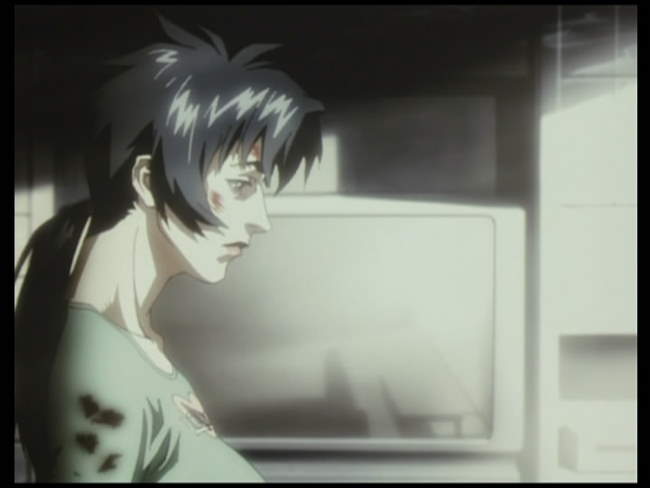 The Seedy Underground: A seedy feeling pervades Parasite Dolls. We get nudie bars, slovenly side-walks, seedy corporate meetings, and absolutely base human behavior. We have hot chick boomers continually debased and abused. Even the weird creatures that appear have an icky feel to them. The constant theme we see here are fallen boomers. They had so much potential, but…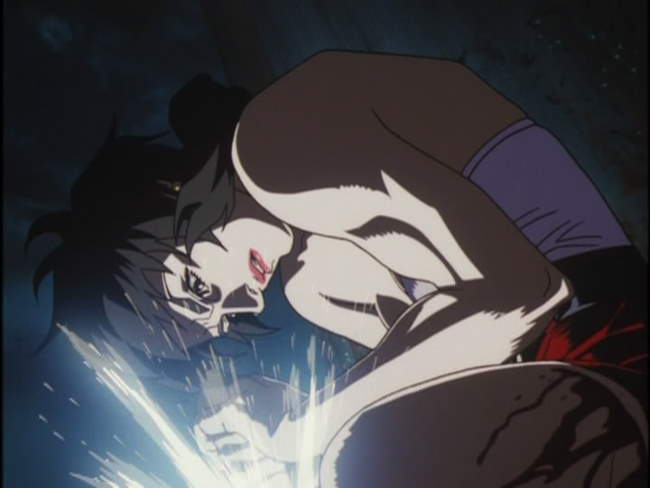 The Bottom Line: The stories themselves are somewhat uneven and problematic, but the visuals are interesting enough to make this worth a watch. While the narrative is more straight forward than many of Chiaki Konaka's stories, it does require a few minutes thought to put the overall picture together – otherwise, all three episodes almost seem disconnection. Even though Buzz is a pretty interesting character, the rest of the characters we encounter are pretty much the cookie-cutter variety. Worse, as the episodes take place over a six-year time period, you would really expect to see growth in the characters, or at least changes in the nature of their relationships. Instead, the characters we encounter at the beginning are the same ones six years later. Still, for a 3 part OVA, Parasite Dolls is worth a watch for the visuals alone.