August 11, 2010
Brainstorm
Movie Review By: Mr. Roboto
Year: 1983
Directed by: Douglas Trumbull
Written by: Bruce Joel Rubin (story), Robert Stitzel and Philip Frank Messina (screenplay)
Degree of Cyberpunk Visuals: Moderate
Correlation to Cyberpunk Themes: Moderate
Key Cast Members:
Michael Brace: Christopher Walken
Karen Brace: Natalie Wood
Lillian Reynolds: Louise Fletcher
Alex Terson: Cliff Robertson
---
Suppose it were possible to transfer, from one mind to another, the experience of another person; Any person, any experience. (From the trailer.)
Overview. Released fourteen months after Tron, Brainstorm continues the theme of virtual reality's effect on humanity. Ever since Tron there have been movies about virtual reality, even though it never really panned out the way many envisioned… with the head-mounted displays being the primary reason why. But that didn't stop Hollywood from envisioning VR. Brainstorm does it a bit better than more recent efforts, even though Natalie Wood died while filming was on Thanksgiving break in 1981. Trumbull was able to complete the movie for 1983 by using body doubles and stand-ins, and offers a dedication "To Natalie" in the credits.
The Story. Doctors Lillian Reynolds (Fletcher) and estranged couple Michael and Karen (Walken and Woods) have created a helmet-like device called "the hat," which can record the experiences… not just sight and sound, but smells, tastes, etc… of a person wearing it. The recording can then be played back on the hat by anyone else who gets to experience the same sensations the recorder experienced. Word of the hat's breakthrough allows the group to have a larger budget and access to advanced technologies to make the hat more compact and easier to wear. It soon becomes something like a headband or Walkman-style headphones without the earpieces.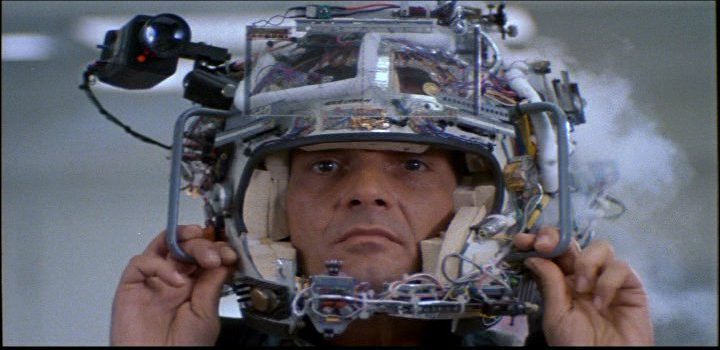 That looks like fun to wear… for a couple of hours.
Soon, the US Military wants access to the technology for yet-to-be-specified reasons (Missile guidance? Remote drone piloting?), but Reynolds refuses. She soon suffers a heart-attack while working alone and make a recording. Michael discovers the tape and replays the experience… and nearly dies from it. Despite that, he wants to see what the rest of the tape is about, but he is denied access to the tape and the labs.
Military using VR. What could possibly go wrong? Apart from the possible military applications of the hat, the obvious problem of addiction arises as a colleague has to retire when he experiences sensory overload on a "sex tape" another made and shared. Later on, Michael experiences a past argument with his estranged wife from her point of view. This shows that not only physical sensations can be recorded and transferred, but feelings as well.
This aspect seems to be what the military is most interested in, as Michael discovers the system has been hijacked for "Project Brainstorm" as a torture and brainwashing system. Unfortunately, his son tries the interface while the torture program is running and suffers a psychotic episode.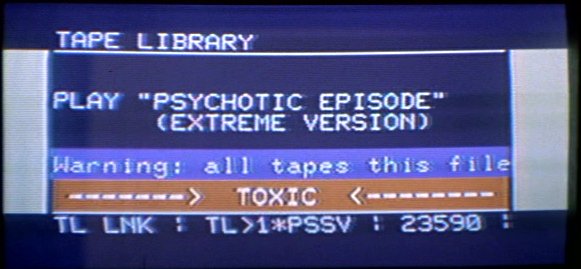 In theory, a person's entire personality and psyche could be permanently altered by using the hat to expose them to another person's past traumas and subconscious nightmares.
But Michael is more interested in finishing Lillian's final tape to "have a scientific look at the scariest thing a person ever has to face." This is where Brainstorm departs from sci-fi to metaphysics; Whether there is an afterlife, Heaven and Hell, and all that. That may not be the most cyberpunk thing to deal with, but then dealing with our mortality is part of our humanity whether it's our own or someone we know.
Conclusion. Somehow, Brainstorm got lost in the shuffle of 80s cyberpunk movies, even though it could have stood up to much of today's "cyberpunk" fare. The theme of life-after-death captured by technology is eerily in sync with Natalie Wood's death during a break in shooting. While the visuals do seem dated, they are effective enough to carry us through Lillian Reynold's final moments.
If you haven't seen Brainstorm before, or haven't seen it since it was first released, you should give it a(nother) view. You might be surprised by this little known classic.