July 2, 2007
We The People Will Not Be Chipped: A grassroots campaign against VeriChip
Early this morning, Bruce Sterling blogged on Wired.com about this relatively new anti-RFID implant group based in Brisbane, Australia called We The People Will Not Be Chipped.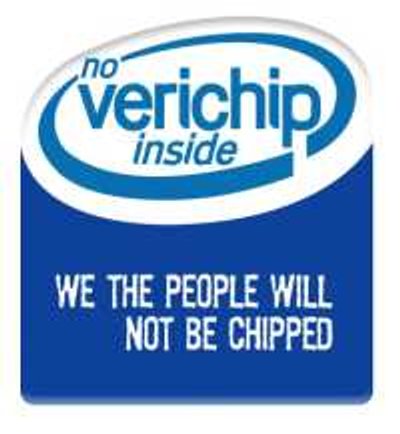 This is how they describe themselves and their mission:
The We the People will not be Chipped - No Verichip Inside Movement, is based on the irrefutable fact, that we believe in mankind's inalienable human rights that are absolute and can not be debased, nor perverted. Human life can not be degraded to a 16 digit RFID chip number embedded under you skin under any circumstance. By uniting on this common ground, we can send a strong message to the IBM funded Verichip that we the people will not be chipped!

If you or your company/organization would like to get involved with the We the People will not be Chipped - No Verichip Inside Movement , we encourage you to get in contact with us. We are looking for contributors , web designers, artists in all fields , printers, multimedia experts, mailing houses, civil libertarians, financial contributors, and freedom fighters to help us take this message to the masses. We will only be treated like inventory when complacency becomes our drug of choice.

As history has a funny habit of repeating itself. Study World War II closely on how IBM backed the Nazi Regime utilizing the Hollerith Machine . The Hollerith Machine was a punch card system that aided in cataloguing the population. This IBM technology gave the fascist, totalitarian state the much needed technology boost to increase it's rate of human data processing . The goal was simple, extreme nationalism which called for the unification of all German-speaking peoples and eradicating the enemies of the state namely the Jews and other non-compliant races.

Fast forward to the year 2006 , we have IBM funding the parent company of the Verichip namely Applied Digital Solutions [ADSX] . The VeriChip Corporation is both FDA approved and patented with the owner of patent (#6,400,338) granted recently to VeriChip's manufacturer, Digital Angel Corporation, with worldwide patents pending.

In the re-active world's state of affairs, we are seeing world governments tightening measures in regard to identity protection, trumpeting our need to be protected from the forces of evil. As we move into the age of paranoia and fear these ideologies, supported by propaganda campaigns, demand total conformity on the part of the people.
While there has been a sort of revolt by states against RFID being used in the Federal "Real ID" cards, this has to be first such NIMBY group against the implants themselves, although this seems to be more focused on VeriChip's activities and experiments rather than the idea of such implants as a whole. For those who are looking to become DIY cyborgs, this will cause a conflict of interest as step one is getting RFID implants.
A warning about Big Brother, or just a bunch of Luddite kooks? Either way, this looks like the kind of battle that makes good cyberpunk lore.