March 5, 2007
Cheney is Really a Fleet of Malfunctioning Cyborgs!
This was too funny not to post. On the Daily Show last week, John Oliver posited that the explanation for Cheney's seemingly contradictory positions is because he's really a bunch of cyborgs. Whether or not you like or hate the current administration, you'll probably find this funny. But enjoy it while it lasts, as it gets pulled from Comedy Central at the end of the month, and has already been pulled from YouTube. Truly, I'm sure that ongoing buzz and publicity is bad for a TV show so I certainly understand their desire to get this off the air quickly.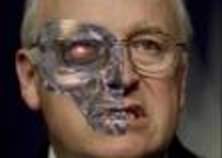 Strangely enough, the "Cheney as Cyborg" mantra seems to be picking up steam as we look around the web. There are pictures, lots of political posts, and even a comment from Scott Adams a number of years back. Hopefully this has more to do with his suspect intellect than just his body replacements. Then again, propping up Dick Cheney as an example of superior cyborg thinking isn't going to endure the world to transhumanity, now is it?