February 21, 2010
Robot Land… opening in South Korea in 2012.
Sources: Wired, via The Korea Herald.
Click the image to get to the official Robot Land website.
BOY, have we got a vacation for YOU!
(Korea Herald) The government said yesterday (12-Feb-2009, by the article's date) it authorized Incheon to build the world's first robot theme park, aiming to boost the regional economy and advance the nation's robotics industry.

The robot theme park in the Incheon Free Economic Zone is to be officially designated today as Robot Land development area by the Ministry of Knowledge Economy under the robotics development law, ministry officials said.

The robot theme park, which the government says is the first of its kind in the world, will feature a number of attractions such as entertainment facilities, exhibition halls, research and development centers, education buildings and industrial support facilities, officials said.
Wired must be slowing down a bit, given they called this a "recent news report." Still, robo-philes must be jumping at the chance to visit a theme park featuring real robots… not the Disney animatronic bots, but real robots like factory bots, service bots, pleasure bots, hunter/killer bots… wait, what?
Better make reservations now. The park is expected to have a price tag of $560M US with groundbreaking planned for this November with the park's opening in 2012, though construction will continue until 2013.
Among the facilities will be a Robot Hall of Fame featuring well known bots from TV and film, an aquarium and water park featuring robot fish, a food court with… yes, robot waiters, and stores where you can buy robots.
It's all fun and games until…
The robotics industry is a future-oriented industry.
In connection to Incheon Free Economic Zone's advanced industrial complexes that can provide foreign funds and easily connect to logistics IT and entertainment businesses, Incheon Robot Land will grow into the Robot Land of the world.
South Korea, like Japan, is watching its population age and is looking at robots to assist the elderly. To this end, they are making Robot Land not only to entertain, but to educate possible roboticists and draw the needed dollars/Won needed. Robot Land will have a Graduate School of Robotics, research and development centers, and corporate facilities for corporate-government contacts. There will also be residential and commercial centers with robot-themed shopping.
Haven't we been here before? You might think of Robot Land as a potential Delos, but the site's photos show no signs of a robotic wild west area, though it may be possible to see a dressed up Yul Brenner-bot in the Hall of Fame. Accidents will happen, but nothing like the Delos tragedy should be expected.
When Robot Land opens to the public in 2012, you can expect a lot of robot stuff, some good, some bad. But remember…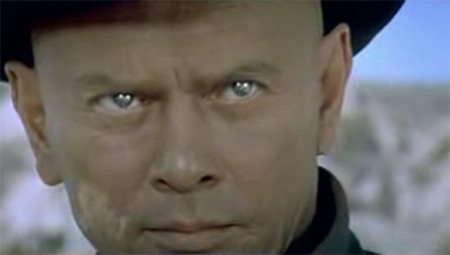 NOTHING CAN PUSSIB… POBABAB… PABABABA… POSSIBLY GO WORNG! RONK! WONG! Ah, screw it.