July 7, 2006
Bionic Limb Breakthrough - No More Infections!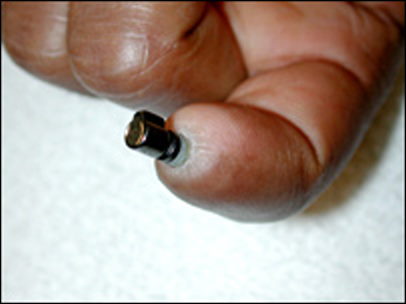 Mac Tonnies over at Posthuman Blues found this nugget at the BBC:
UK scientists have developed technology that enables artificial limbs to be directly attached to a human skeleton.

The breakthrough, developed by researchers at University College London, allows the prosthesis to breach the skin without risk of infection. The team says early clinical trials have been "very promising". It hopes the work - which is to be published in the Journal of Anatomy - may help survivors of the 7 July bombings, as well as other amputees.

The technique, called Intraosseous Transcutaneous Amputation Prosthesis (ITAP), involves securing a titanium rod directly into the bone. The metal implant passes through the skin and the artificial limb can be directly attached to it.
In essence they've imitated the method deer antlers use to resist infection while puncturing the skin. It's rather amazing to track how medical research is moving humanity towards the post-human. Interestingly, post-humans may end up being more human than humans. In the case of those with missing limbs, this breakthrough is one more step toward giving them the ability to get back a semblance of what was once lost forever. This technology will make direct linkages with the nervous system that much more possible.
The work paves the way for bionic limbs which are controlled by the central nervous system.

Currently, artificial limbs are fixed or strapped to an amputee's stump. Risk of infection, which could be caused by bacteria passing from the external limb through the rod to the bone, is avoided because the skin tissue meshes around the rod to form a seal…

The next stage, (Dr Paul Unwin, managing director of Stanmore Implants Worldwide) added, would be to carry out trials on upper and lower limb replacements. He said he expected victims of last year's London bombing attacks who lost limbs to be involved. He said that the technology could be widely used for thumb and forefingers in a few years, and upper and lower limb replacements using this method could be in place in five years.
Truly amazing stuff. It seems like a suite of technologies are coming together to make cyborg technology a real possibility in the very near future.