June 8, 2006
Experiences in Body Modification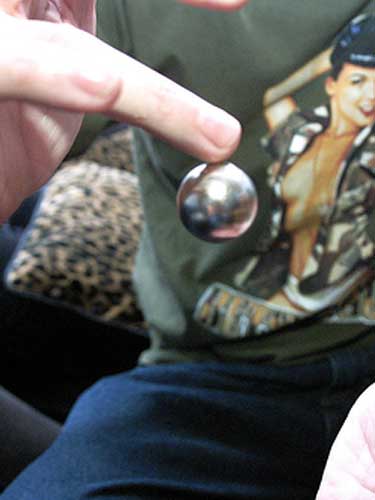 Quinn Norton from Wired has a pretty intriguing article on using magnets as body implants in order to begin to develop awareness of electromagnetic fields. He actually went ahead and got a magnetic implant in his finger.
I took a trip to Phoenix to have Haworth implant a magnet in me last September. Because body-mod artists are not medical practitioners, ice was the only anesthetic available. My finger was soaked in ice water until it began to hurt. After that, Haworth acted quickly to get as much of the implant done as possible while my hand was still numb from the cold.

The initial cut did hurt, but not unbearably. He sliced open my finger with a standard scalpel, inserted a tool to make a gap for the magnet, and tried to insert the magnet in one nonstop motion. The insertion didn't work, and he widened the cut and tried again. This time it worked, and he closed the cut with a single suture. The suture was the most painful step — an indicator that the cold "anesthetic" had worn off. The process took less than 10 minutes. My finger was slightly swollen and sported a blue, knotted plastic thread.

When we were done we sat in Haworth's living room. He brought out a magnet and handed it to me. I brought it near my finger and felt the magnet move for the first time up against the raw inside of my finger. I startled visibly, and Haworth grinned. "Welcome to your new sense," he said…

…The magnets are small, and once encased in skin, all they do is react next to nerves, conveying the presence of sufficiently strong electromagnetic fields. "The magnetic implant is not the most sophisticated or rich sensation, it was just the easiest to implement with our available technology," says Huffman.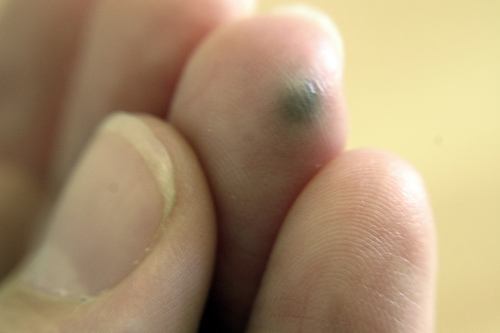 Damn! Soaking your finger in ice and then slicing?? That's true hardcore!! Unfortunately, things don't always go as expected. Often, the silicon coating breaks down, rendering your finger prone to infection. Bezine has an article that graphically shows the removal procedure when things go wrong.
Several months after having the procedure, some people begin to have problems. Some magnets begin to turn dark under the skin, suggesting the bio-neutral silicone sheath is failing. Exposure to the body starts breaking down the magnets.

Two months after my own magnet was inserted, and long after the cut itself had healed, I experienced one of these problems firsthand. My shielding breached and the implant area became infected. The infection resolved, but the region turned black and my sixth sense evaporated.

My family doctor tried to remove the magnet and failed. Instead, the implant shattered into pieces, and I could no longer pick up other magnets with my finger. After months of ESP, all I had left was a sore digit with a dark spot.

I figured that was the end, but it wasn't. Four months after I lost all effect, the spot darkened and the magnetism returned. The magnet — being a magnet — had reassembled itself in my finger. While it's nowhere near as sensitive as it once was, I can once again pick up other magnets.
The interesting thing this shows is that decent percentage of the population are really interested in expanding human capabilities through technology enabled solutions. True cyborgs aren't going to remain solely in the realm of science fiction for long. But um, hopefully they get better anesthetics than ice for this type of operation in the future.