January 14, 2006
Tetsuo (The Iron Man)
Year: 1988
Directed by: Shinya Tsukamoto
Written by: Shinya Tsukamoto
Degree of Cyberpunk Visuals: Very High
Correlation to Cyberpunk Themes: Very High
Rating: 10 out of 10
---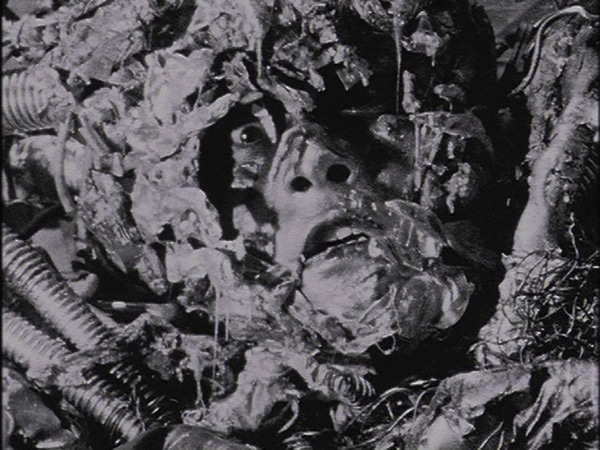 Overview: For another movie that taps out the weird shitometer scale, and the pinnacle of Japanese cyberpunk flicks, Tetsuo is simply terrific! I must warn you that this movie is NOT for everyone. We get a bevy of disturbing images, including extreme body manipulation, anal rape of a guy by a mechanically "enhanced" female, rape in the reverse by a man with a literal "power tool," and truly the most bizarre set of images one can imagine. But in all this, there are some truly interesting messages that emerge. Unlike other Japanese Cyberpunk films such as Rubber's Lover, which is more of a one track film (extreme situations to prompt greater than human abilities), Testsuo provides a wonderful commentary on the direction of mankind.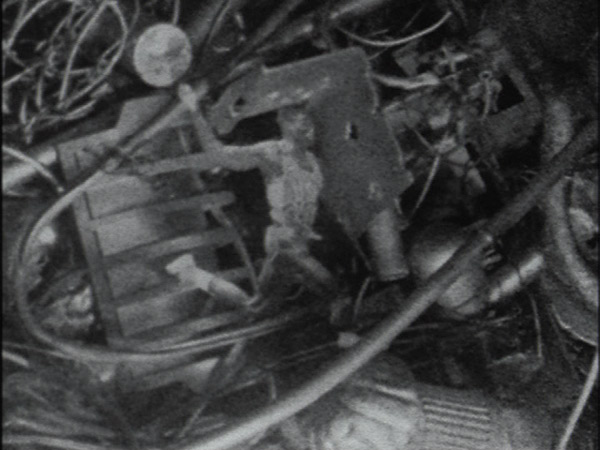 This is one of the best opening symbols for any movie I can remember. It sums up Tsukamoto's message perfectly!
Tetsuo's Message: While Tetsuo is a really bizarre, low budget, surrealist underground Japanese cyberpunk movie, it has a number of interesting themes running through it. On a societal level, Tetsuo explores how man's technological dash to the future has resulted in an acute fear of technology, and that its ever encroaching progress is destroying our humanity. This is symbolically represented by a runner surrounded by scrap metal, and then later, a man in running gear who's slowly being taken over by machinery when competing with another machine man.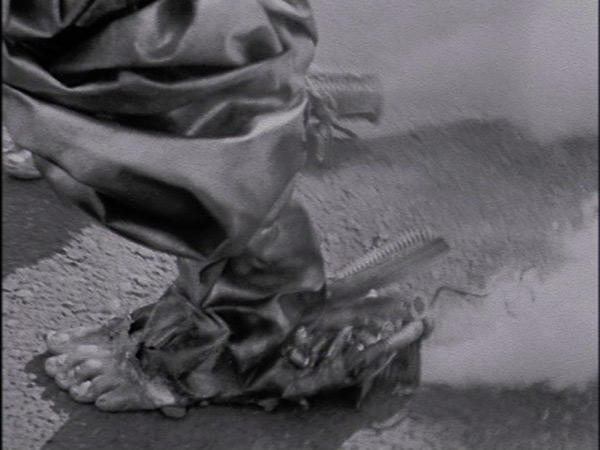 The clear message at the end is that by constantly competing with one another in our strive for perfection in an orderly society, we are destroying humanity at its core. Technology is our tool of choice for this destructive competition. The shot of the augmented foot above really captures this well, as does the race scene below.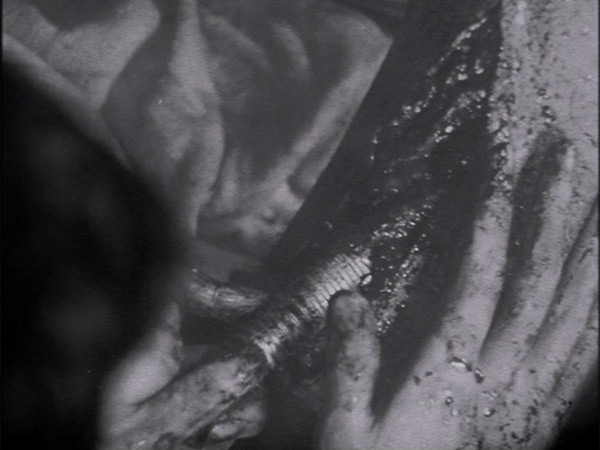 I can't convey how truly disgusting this scene comes across
On a personal level, Tetsuo explores how guilt and repression can turn people into virtual "monsters." In this, we see an instance where an accidental car crash makes someone completely lose all sense of humanity and boundaries. This seems to fit with Asian cultures in that they are usually very reserved, but when they "cross" that line, the level of anger and craziness almost doesn't have a limiter.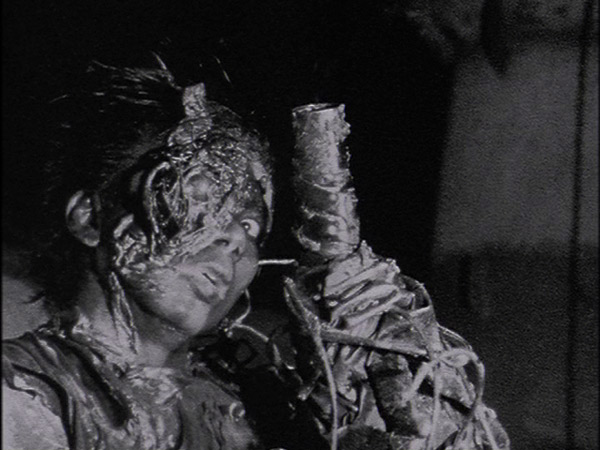 In combining this with the societal thought, Tetsuo posits that we are using technology as a crutch to cover up our own frailties, but that in doing so, we only serve to subvert our humanity. When this subversion is released, it becomes a perversion of immense proportions. In this sense, Tetsuo truly stretches the cyberpunk notion of "no boundaries" to its fullest.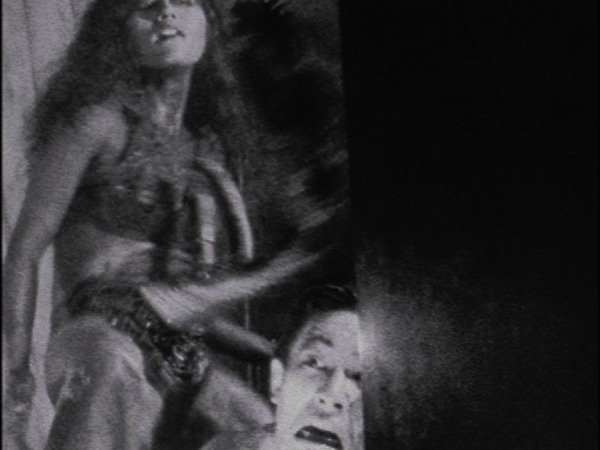 Yes, she's about to do what you "think" she's planning to do with that thing!"
The Bottom Line: Tetsuo is a great example of what a low-budget scifi film can accomplish. I thought the cinematography is absolutely brilliant. We get cool stop-motion animation, incredibly interesting shadows and film angles, and wonderful use of different shot textures. The industrial sound track furthers the truly bizarre mood. Truly, I can't say enough of how impressed I am by this film. Again, Tetsuo is DEFINITELY not for everyone, but it certainly belongs in the top 10 best cyberpunk films ever made!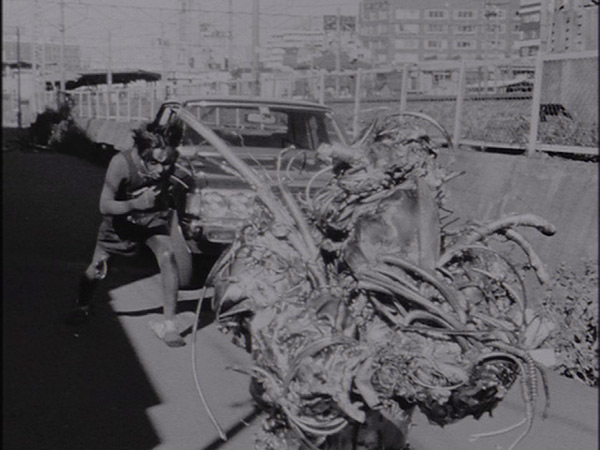 Screen Captures - ADULTS ONLY: I do have a second page of screen captures, but I MUST warn you - these are VERY graphic. They show one of the most intense sex and violence scenes every put on film. If you want to get a sense of he the extent that Japanese cyberpunk fullfills its "no boundaries" approach, take a look. But this page is intended for adults - and truly, only a few select few of those. Don't look if you're not comfortable with watching these things.
Tetsuo Page 2: Screen Caps - ADULTS ONLY–>>