March 2, 2006
The Terminator
Year: 1984
Directed by: James Cameron
Written by: James Cameron, Gale Anne Hurd
Degree of Cyberpunk Visuals: High
Correlation to Cyberpunk Themes: Very High
Key Cast Members:
The Terminator: Arnold Schwarzenegger
Kyle Reese: Michael Biehn
Sarah Connor: Linda Hamilton
---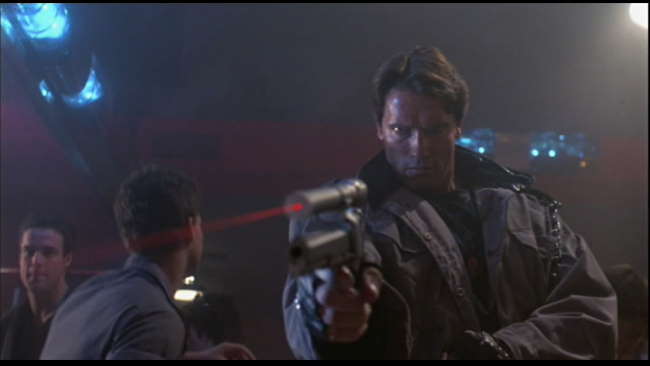 "The Terminator's an infliltration unit…part man - part machine. Underneath it's a hyper-alloy combat chassey…microprocessor controled…fully armored - Very tough. But outside its living human tissue…flesh…skin…hair…blood - grown for the cyborgs."
Overview: No movie has been more imitated in cyberpunk than the Terminator. While most of the imitations have been grade "B" shlock films, they attest to the intense effect that the Terminator had on our consciousness. This film is legendary, and easily ranks in the top 5 or 6 most influential cyberpunk films ever created (Blade Runner, Metropolis, Ghost in the Shell, and The Matrix being the other four, and Alien if you consider that cyberpunk). Terminator is a film with terrific replay value – so much so that I'm guessing all of you have seen it enough times that I don't need to bore you with a plot overview. With a 6.4 million dollar production budget, this is far from a big-budget blockbuster. The reason it's stood the test of time, and in fact comes across as a block buster, comes down to incredible execution by beginning film maker James Cameron and cast.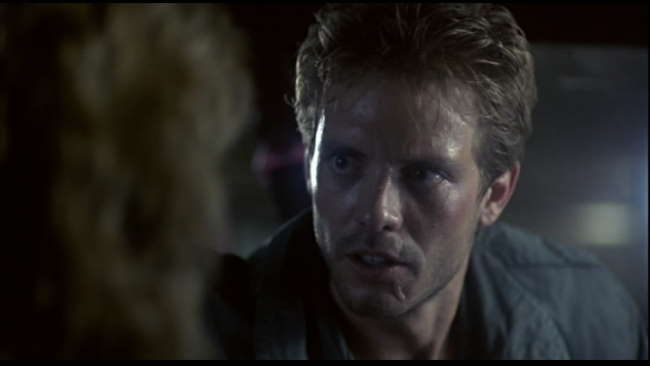 "I'm here to help you…I'm Reece - Sargeant Tech Com BN38416 - assigned to protect you…You've been targeted for termination."
The Acting: From Schwarzenegger's eery style of acting, to Linda Hamilton's growth on screen from a shy teen to tough mother of mankind, to Michael Biehn's tour-de-force performance from beginning to end, the leads flat out carry this movie. That said, the background characters are all terrific, including Bill Paxton at the beginning ("Fuck you, asshole!"), to Paul Winfield (Lieutenant Traxlet), Lance Henriksen (Detective Vukovich) and psychologist, Earl Boen. There are too many memorable scenes to relate here, but the real strength of the acting in this case comes more in expressions and setting mood than it does in delivering the lines, although Beihn's narrative in particular is riviting.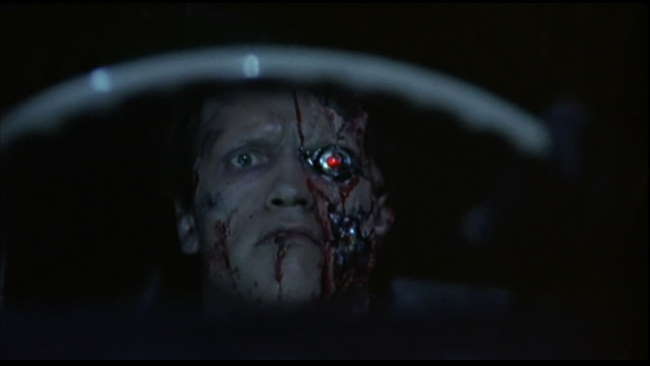 The 600 series had rubber skin. We spotted them easy. But these are new…they look human. Sweat…bad breath…everything…very hard to spot.
Reece's character does straight exposition to explain the story, which is usually a lousy delivery method. However, the mix of action and exposition just works. The dialogue was terrific, and Reece delivered it in the context of a high-tension chase. During this, Hamilton's character literally transforms from a vulnerable, girl-next-door to a hard-edged, do-what's-necessary, take charge kind of gritty leader. Their chemistry is terrific. They have a shy tension, that eventually turns into an intense, believable love affair. It's kind of amazing that the studio originally wanted Arnold Schwarzenegger to play Reece. Schwarzenegger as the Terminator provides us one of the all time characters in all of scifi. He is the ultimate warrior android, and has been imitated far too many times to count.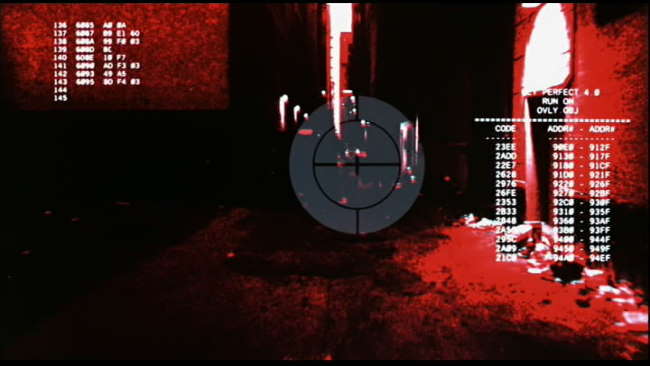 "There was a nuclear war…about a few years from now…all this….this whole place…its gone…just gone… the survivors…here…there…nobody knew how it started…it was the machines, Sarah."
The Pacing: The Terminator's pacing is probably the most copied aspect of this film. The Terminator, from the very first scene to the very last is a chase movie. The tension goes from high to massively high to short breathers, back to massively high tension. You literally feel tired after watching this. While this doesn't seem unusual now, back in the early 80s, The Terminator took the hectic fast pacing of Raiders of the Lost Ark and adapted it to a full scale chase flick. The real magic here was Cameron's ability to embed a fascinating story into the chase, while changing the bad guy from human to robot to basically add a completely new feeling to the chase.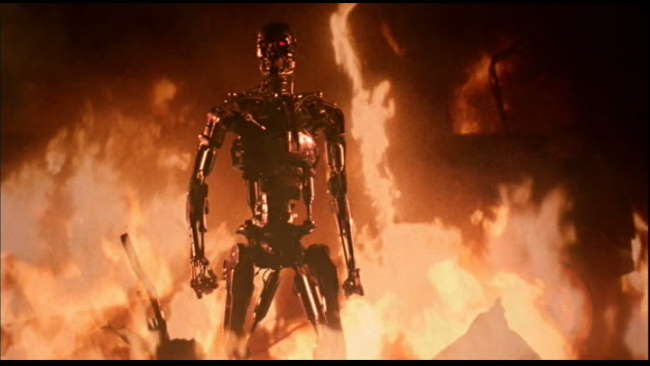 "You still don't get it, do you…He'll find her. That's what he does! That's ALL he does! You can't stop him. He's wade through you, reach down her throat and pull her fucking heart out!"
The FX: For the budget, Terminator's FX far exceeded anything that should have been possible. The Endoskeleton, made up of miniatures, models and stop-motion animation, is now part of movie lore. The car chase scenes still look terrific, as do the explosions. The near-future dystopic scenes are completely riveting, especially the flying HKs! However, a few of the model shots of Arnold do look slightly dated now (most noticeably when Arnold takes out his eye).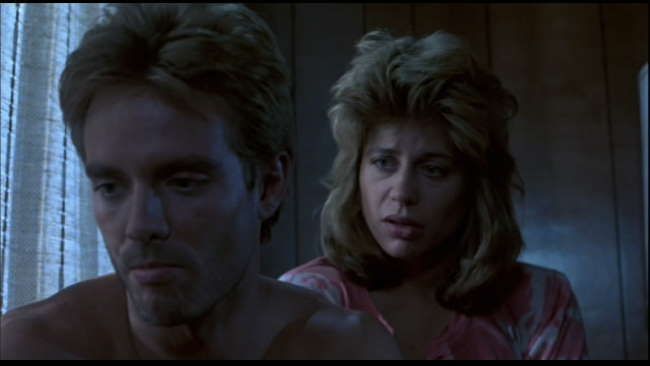 "In the few hours we had together, we loved a lifetime's worth."
The Score: Brad Fiedel's percussive, driving beat that creates an industrial masterpiece that absolutely nails the feeling of The Terminator. You can still here the "dun-dun dun dun-dun" beat and IMMEDIATELY get teleported back to that sense ominous doom of the future that the Terminator portends.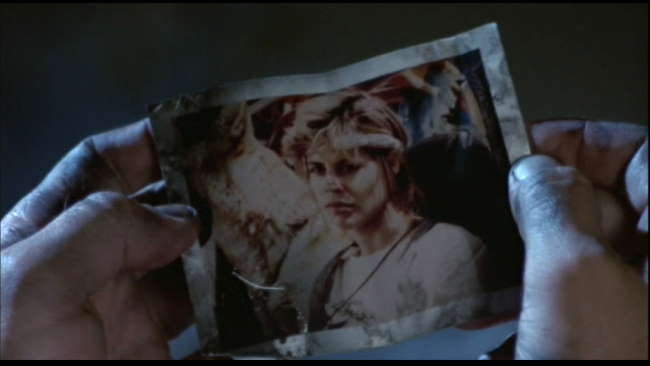 "That was a good hussle, kid."
Time Travel: The Terminator provides us one of the best time travel movies in cinema. It's intelligently done in a coherent way that really sets the picture moving. But the real majesty is in the photograph (see above). I LOVE the picture and everything it represents. There, in that one image, we get the entire love affair of Sarah and Reece, John's struggle relating to someone he knows to be his father (but who cannot know in return), Sarah's future journey, and a wonderful mind fuck to boot! The placement of the time travel elements at the beginning and ending of the story really do add impact to its meaning.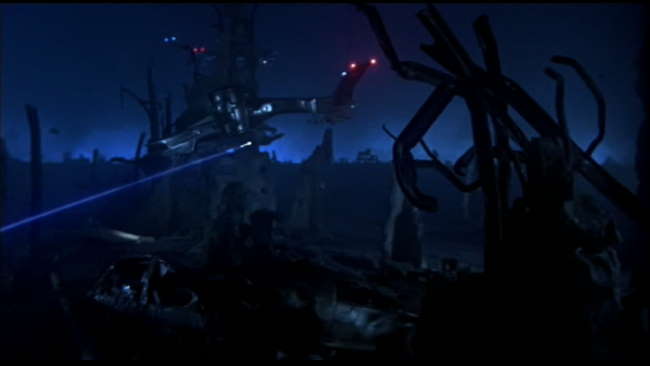 "You stay down by day, but at night you can move around. You still have to be careful because the HK's use infrared…they're not to bright…John taught us ways to dust them…"
Guerilla Filmaking: In watching the most awesome extras on special edition DVD, it's clear that the Terminator was way over-ambitious (thank God!). In post-production, it was clear to Cameron that a number of additional unfunded scenes were needed in order to make a complete picture. Cameron used his weekly director's pay to pay skeleton crews to go out and do additional shots – often which used incredibly low-end effects. For instance, the body bag used at the end was actually Cameron's suit bag. The scene at the beginning where Arnold breaks into the station wagon was filmed with just him and Cameron, worrying about the police seeing them as Arnold breaks the car window (Arnold's clothes for the scene were in his trunk – he had to change in the car!). More incredibly, the last shot of the Terminator, where the red eye slowly fades, was shot later – the smoke you see there was someone breathing cigarette smoke on the eye! In short, everyone gave blood, sweat and tears to make sure this film looked as good as it did.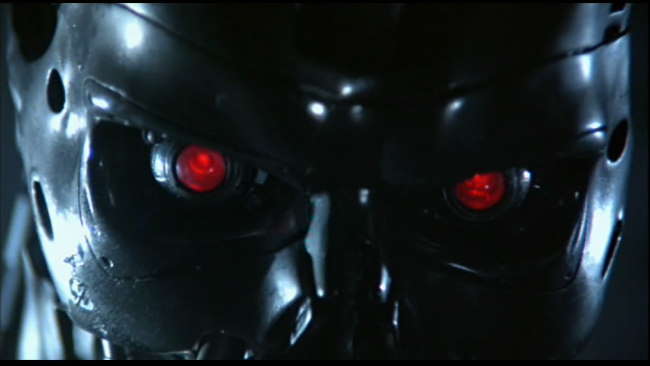 "That terminator is out there…it can't be bargained with…it can't be reasoned with. It doesn't feel pity, or remorse…or fear. And it absolutely will not stop - EVER - until you are dead!"
The Bottom Line: The mood, energy and intensity of The Terminator oozes from every pore of the first shot to the last. If you are one of the very few who has not experienced this movie, you're in for a treat! If you've seen it before (many times even), chances are you'll be seeing it again. The Terminator definitely deserves a place of honor in the pantheon of cyberpunk flicks. One problem this film does give from a categorization perspective - they call the Terminator a cyborg, but he is really an android (even Cameron calls him this on the extras). The definition of a cyborg implies an augmented human, not an android covered with human tissue. I give it 9 stars as a movie, but add an additional star for its overall impact on film making.
Terminator Page 2: More Screencaps–>>