January 19, 2011
Cyber Punk Fiction: Various Artists
Music Review By: Mr. Roboto
Year: 1998
Artist: Various
Written by: Various
Label: Re-Constriction / Cargo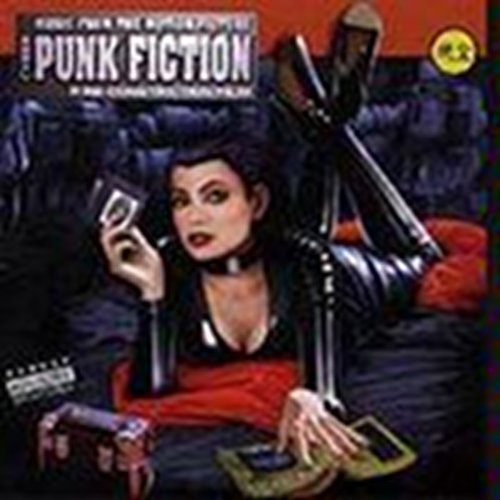 This CD has been labeled a "parody" of… something…
Track Listing:
1. CyberPumpkin and Energizer Honey Bunny / Misirlou - Tinfed - 3:44
2. Electro Body Music - Society Burning - 1:25
3. Jungle Boogie (feat. Arjan McNamara) - Killing Floor - 3:48
4. Let's Stay Together - Christ Analogue - 3:42
5. Bustin' Surfboards - Society Burning - 3:46
6. Son of a Preacher Man - Collide - 4:42
7. Chemlab's Dead, Baby/Bullwinkle Part II - Society Burning - 4:18
8. Mos Eisley Download Contest - Society Burning - 0:31
9. You Can Never Tell - Hotbox - 3:01
10. Lonesome Town - Nimpf - 3:32
11. Girl, You'll Be A Woman Soon - Purr Machine - 4:28
12. If Love Is a Red Dress (Hang Me in Rags) - Society Burning - 4:43
13. Bring Out the Hack/Comanche - Society Burning - 2:55
14. Flowers on the Wall - Non-Aggression Pact - 5:09
15. User Friendliness Goes a Long Way - Society Burning - 1:00
16. Surf Rider - Society Burning - 2:56
17. FAQ 25.17 - Society Burning - 0:48
18. Girl, You'll Be a Woman Soon - 16Volt - 4:37
19. You Never Can Tell (feat. Jude Graham) Hexedene - 4:30
20. Flowers on the Wall - Society Burning - 3:21
---
Introducing the soundtrack to a movie you'll NEVER see!
OK, you may have seen the movie already, or at least heard of it. This CD is a parody of that movie. No, not a "Weird Al" Yankovic-style parody, but a cyberpunk take on the movie's soundtrack. The music is given a cyberpunk/industrial/electronic twist while the spoken tracks (in italics) gets technical enough to make nerds' ears happy. The CD can also be considered as something of a "showcase" featuring Re-Constriction artists, though Society Burning has six of the music tracks and all of the spoken parts. But putting that aside, let's see if this disk is one for your soundtrack, or if it's just a bad joke…
Track one opens with a quick spoken part with a couple of lovers expressing their affection for each other, before they threaten to terminate every last motherfucking job on the mainframe. Then the music kicks in; light, simple, but good.
Track two (Electro Body Music) is the first of four totally spoken tracks. Just two guys talking about buffer overflow on Telnet before moving on to how industrial music in Germany is called "Electro Body Music" and how they use flange instead of reverb on the drums in Belgium.
Killing Floor keeps Jungle Boogie funky, while Christ Analogue gives Al Green's Let's stay together an electro-shock to his soul. Bustin' Surfboards trades surfing ocean waves for electronic waves… or just surfing the nets. While Son of a Preacher Man goes from southern blues to industrial rock.
Some more dialog as a girl finds a sampler, then Bullwinkle Part II takes the same surf-to-industrial path as Bustin' Surfboards. Mostly drums, mostly groves.
The Mos Eisley Download Contest features a robotic voice speaking Japanese (could be Klingoneese?). Meanwhile, Hotbox gives Chuck Berry's You Can Never Tell a shot of rock and… reggae? That's what it sounds like to me. Interesting.
Lonesome Town now sounds like it could be any cyberpunk village you care to mention. Purr Machine gives Girl, You'll Be A Woman Soon new meaning, mostly due to the female vocals. Another version of the truth: I prefer the 16 Volt version. If Love Is A Red Dress sounds a bit more vicious than the original.
Quick dialog before Comanche. Non-Aggression Pact gives us the our WTFF? moment with the bizzare vocals of Flowers on the Wall. I could try to explain but… the FUCK???
User Friendliness features a guy who doesn't use Windows because it's too complicated (ಠ_ಠ). And Surf Rider thrashes its way into our eardrums, literally.
FAQ 25.17 gives us our last bit of dialog, and the funniest moment of the CD. It just one guy talking about how high-resolution modes can strain an 8MB system (remember, this CD came out when graphic accelerators like 3Dfx were considered high-end), and how you need to use eight-bit color lest ye overload your piece-o-shit video card!
The "Bonus Tracks" (tracks 18-20) are rather odd additions since they are actually better than the main versions, especially 16 Volt's version of Girl…
Actually, it was this song/video that brought my attention to this CD.
Hexene gives You Never Can Tell some electro-soul-and-funk to make it good, while Society Burning's offering of Flowers on the Wall has a rocking edge with understandable vocals.
Cover Charges. How you feel about this CD may depend on how you feel about cover tunes and/or parodies. I have a few favorites on this CD. You should find this CD worth a listen, especially if you like cyberpunk/industrial.