November 2, 2009
21st Century Slave: Dope Stars Inc.
Music Review By: Mr. Roboto
Year: 2009
Artist: Dope Stars Inc.
Written by: Victor Love
Label: Metropolis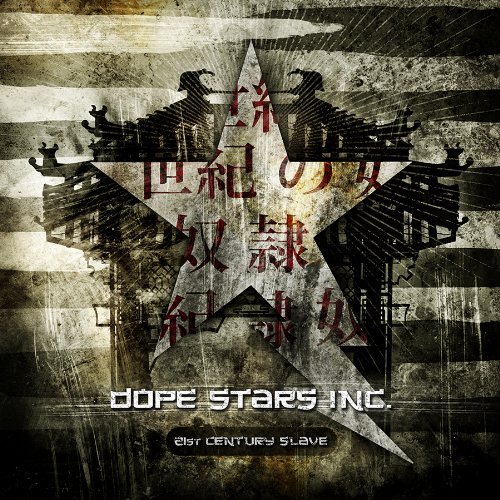 Track Listing:
1. Omegadrones - 6:49
2. 21st Century Slave - 5:36
3. It's Today - 3:27
4. When I See You Smile - 6:00
5. Digital Warriors - 5:25
6. Megacorps - 3:35
7. Criminal Intents - 3:32
8. Neuromantics - 4:43
9. Outlaw Thrones - 5:14
10. The World Machine - 4:34
11. It's For You - 3:40
---
If you've never heard of Italy's cyber-rockers Dope Stars Inc. (DSI for short), you've been sleeping in kool-aid for far too long. Victor Love, Fabrice La Nuit, and Darin Yevonde have been rocking and shocking the system since 2004-05 with a the look, sound, and lyrics that could have originated from any William Gibson / Bruce Sterling novel. Just look for and listen to songs like "Infection 13″ and "Vyperpunk" and you'll see what I mean. For their 3rd full album, DSI has pulled out all the stops with 21st Century Slave, what can be considered a soundtrack for cyberpunk, complete with a manifesto (from DSI's site):
21st Century Slave: A new manifesto for Digital Warriors, Outlaw Technologists and Console Riders of the 21st Century to survive in a World Machine where sheeple are being totally brainwashed and enslaved by Corporatocracy's agenda and vicious propaganda.
Around half a century ago a primitive and promising silicon-form of intelligence, the artificial one, was born to be the guide of a new age. We called it Computer. And the world would never be the same again.
Electronic generated domains are the new frontiers. Cyberspace is the battlefield for the upcoming wars against the old and corrupted system that is naturally fading away. The System is collapsing. The System is obviously wrong. The only working System is the one we know as the computer generated one where we share our common interests and views: among the 0 and 1, among the stream of bit and bytes and an ocean of information that can't be controlled and where all languages, subcultures and lifestyles are merging together. In Cyberspace we are free. In Cyberspace we are the kings. In Cyberspace we are a global Central Processing Unit. No other path to survive: Master Technology.
With technology we'll be no more slaves of our Century. With Technology we'll be no more sheeple ruled by questionable, hypocritical and oppressive authority and its obsolete principles. Technology is the cure: It's the alternative. Technology is our terrific weapon and the network is our realm.
May the words of revolution spread unstoppable at light speed.
Free the energy. Free the information.
And then a day will come
For what you've done
For what it's gone
For every death we'll strike a bomb on Megacorps.
Of course, it takes more than a manifesto to make a CD cyberpunk, and DSI provides the sound and lyrics to make it so:
Omegadrones. The opening track has Victor declaring his readiness for the impending battle (I, the evolved machine / I, the adamant who thinks / I will battle), and features a sample of a famous movie line (from a movie reviewed here). By the sounds of it, he may be a machine who has seen through the corporate lies and has decided to join the humans.
21st Century Slave. Consider the title track a warning about what is being done to the sheeple… and to you. They just tell you: Eat this shit / And the big amount of flocks / Just don't care about this.
It's Today. We're trapped in a world / That still refuses technology / It's better to keep slow / And please corporatocracy. Wake up, sheeple, if you want to change the world.
When I See You Smile. Perhaps a reason for the war against the corporatocracy, other than just revenge? I know I'm not alone and I can fall / Straight down / Into your arms to find the force / And rise up. Certainly would make my cyber-war easier to manage.
Digital Warriors. This was the first track I heard from the CD… and I LOVE IT! This could be the hacker's anthem: We are the children of the zero and one.
Megacorps. They own the crown, and Victor is looking to take it from them. It's war in the streets with flamethrowers, pump rifles, and bombs.
Criminal Intents. The hackers get another crack (no pun intended) at the corporate system as My criminal intents / Will break the mainframe spear / That's killing all you dear.
Neuromantics. All the fighting would drive a person insane if they didn't have a break. For Victor, it seems to come from a bit of VR: A new reality connects through my brain / But all in all that's the way I need to cut my pain.
Outlaw Thrones. A bit of concern shows regarding what "hope" can deliver. It's just a dream / It can't change the world at all.
The World Machine. Death will come for the corrupt leaders, even if it means waiting it out.
It's For You. Another reminder of what he is fighting for: Someone to make the future for. It's for you that is worth to die.
Conclusion. Dope Stars may be following the same path taken by the likes of The Cassandra Complex and Billy Idol, they just don't tread lightly on that path. With several EPs and two albums of practice, DSI has struck a major blow for cyberpunk music. This is one CD you need to have in your collection, especially if you prefer harder music.