November 6, 2008
Trans: Neil Young
Music Review By: Mr. Roboto
Year: 1982 (LP), 1998 (CD)
Artist: Neil Young
Written by: Neil Young
Label: Geffen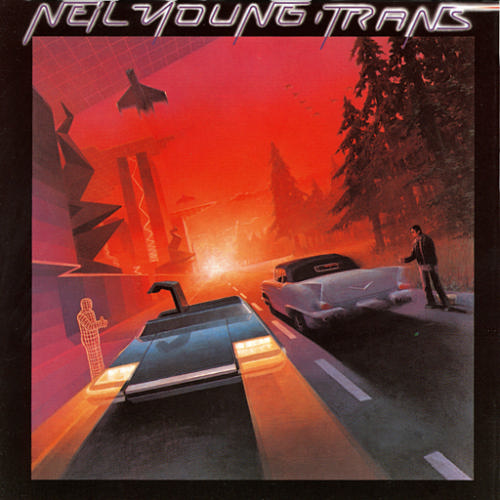 Trans: Latin for "across" or "beyond." Commonly used as a prefix, IE "transcontinental" or "transhuman."
Track Listing:
1. Little Thing Called Love - 3:13
2. Computer Age - 5:24
3. We R In Control - 3:31
4. Transformer Man - 3:23
5. Computer Cowboy (AKA Syscrusher) - 4:13
6. Hold On To Your Love - 3:28
7. Sample and Hold - 5:09 (LP), 8:03 (CD)
8. Mr. Soul - 3:19
9. Like An Inca - 8:08 (LP), 9:46 (CD)
Lyrics via LyricWiki
---
Mr. Shakey does cyberpunk? It would seem to be a stretch for Mr. Young to do cyberpunk music, but he did do a little dabbling with electronica and new wave for Trans. Then again, he has been known to try different genres (like grunge music with Mirrorball), and Trans was another musical experiment, one that left his fans scratching their heads in puzzlement. A legendary musician, known for his work with Buffalo Springfield and Crosby, Stills, Nash, and Young, and for songs like "Hey Hey, My My," "Ohio," and "Southern Man," had suddenly adopted the radical, synthesized sound of the early eighties.
Another version of the truth: Trans actually came about as the result of one of his sons being born with cerebral palsy, leaving him unable to speak. Neil found that by using a vocorder, he was able to get the best response from his son. From this experiment, Neil would record Trans using electronics and a vocorder in several of the songs.
The result: An album that has not only classic sounding Neil Young, but a "futuristic" sound. It's as if Neil was attempting to bridge two rock eras; The classic seventies and the new wave eighties. The album cover also drives that point home, featuring a street with a rustic fifties scene on one side and an ultra-modern scene across it.
Let's see how the music stacks up, shall we?
Little Thing Called Love. Things start off normally enough for Neil Young fans, with a bouncy little number about… well… a little thing called love. Not much for cyberpunk fans to get excited about… not until the next track anyway…
Computer Age.
A fan-made video expressing "the point that technology is taking over the way we run the world but we should question if that is a good or bad thing."
This is the first track to feature electronics. A danceable bit about being at ease with the burgeoning new computer technologies (When I see the light, I know I'm more than just a number). Good stuff.
We R In Control.
Another fan-made video, this time for the quirky toe-tapper
As if a quirky video was needed for this quirky number, we seem to have robots proudly claiming to be in control of everything (We control the databanks / we control the think tanks / we control the TV sky / we control the FBI).
Transformer Man. This track is the most direct result of Neil's experiments in communicating with his son. A touching and motivational number about taking control of your future (You run the show / Remote control / Direct the action with a push of the button) despite not having all the tools needed (So many things still left to do / but we haven't made it yet).
Computer Cowboy (AKA Syscrusher). Something about this track really got my attention. It's a rocking western tune with the vocorder in full effect, about a "computer cowboy" with a herd of "cattle" (a botnet?) who crashes another computer. Considering Trans was released a year and a half before Neuromancer and two decades before anyone ever heard of botnets, could Mr. Young have had the insight to make such predictions about botnets and the correlation between hackers and cowboys? Yippee Yi Ay, mofos!
Hold On To Your Love. Getting back to his more "traditional" sound, Mr. Young tells us not to give up on love despite the problems it may bring. This is the second "Love" song on the album, but there was going to be a third called If You Got Love and there are pics of how the label might have looked if the track was not dropped at the last second.
Sample and Hold. Imagine a dating service run by robots, for robots… and the occasional robo-sexual human who wants to go bot. Don't hesitate to give us a call / We know you'll be satisfied / When you energize/ And see your unit come alive.
Mr. Soul. Going back to his Buffalo Springfield days, Neil re-tools a classic rock number into a funky tune about a fan's letter that says You're strange, but don't change. Kind of sums up Mr. Young.
Like An Inca. The final track returns to Neil's "classic" sound as the lyrics gives an "apocalyptic" vision (Said the condor to the preying mantis / We're gonna lose this place just like we lost Atlantis), yet he seems OK with it (I feel sad, but I feel happy / As I'm coming back to home).
Conclusion. With the electronic gear going on five of the nine tracks, and the technology-based lyrics to those tunes, I have to say Trans is a cyberpunk album. Unlike Billy Idol's effort a decade later, Neil Young probably didn't know he was making cyberpunk music since "the movement" was still underground at the time and Neuromancer was still eighteen months away.
If you're a Neil Young fan who dissed this album when it first came out, you should give it another listen but with different ears this time around. Cyberpunk fans should hunt this CD down and add it to their collection next to Billy Idol's CD. If you live in the US, be prepared to pay a bit of a premium for the CD. Geffen re-released it as a CD in 1998 worldwide, except for the US. So it's considered an import. Plus it's a rare album, making it a collector's item. The lowest price I've seen on the net is $25 US, not including tax and shipping. I'd say it's worth it, unless you want try a torrent.