April 11, 2007
Album Preview - Nine Inch Nails: Year Zero
Music Review By: Mr. Roboto
Year: 2007
Artist: Nine Inch Nails
Written by: Trent Reznor
Label: Nothing/Interscope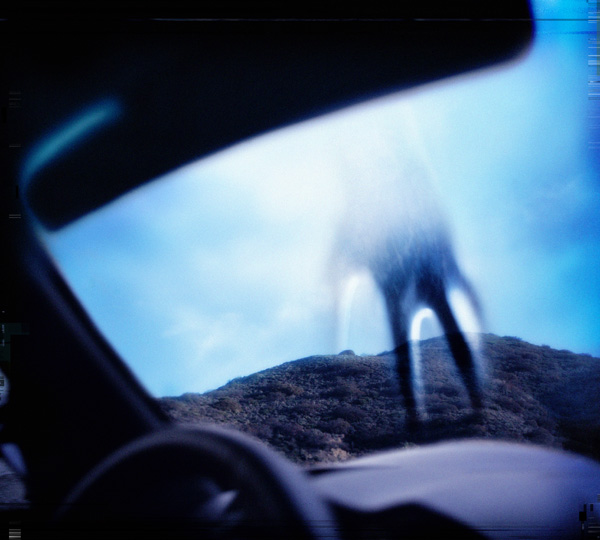 Official Site: nine inch nails: year zero
Track listing:
1. "Hyperpower!" – 1:42
2. "The Beginning Of The End" – 2:47
3. "Survivalism" – 4:23
4. "The Good Soldier" – 3:23
5. "Vessel" – 4:53
6. "Me, I'm Not" – 4:52
7. "Capital G" – 3:50
8. "My Violent Heart" – 4:19
9. "The Warning" – 3:38
10. "God Given" – 3:50
11. "Meet Your Master" – 4:08
12. "The Greater Good" – 4:52
13. "The Great Destroyer" – 3:17
14. "Another Version Of The Truth" – 4:09
15. "In This Twilight" – 3:33
16. "Zero-Sum" – 6:14
---
Credit should go to Vesper who posted this thread about Trent Reznor's upcoming album. As the anticipated release date of April 17 draws closer, there have been numerous sites along with the leaked tracks that have been generating a lot of buzz. So much so that the terminally clueless RIAA has been ordering the sites to stop the viral campaign.
I AM TRYING TO BELIEVE
It started in February with a simple phrase, whose individual letters were highlighted on the backs of concert t-shirts. For those who were able to figure out that it was a website and logged into it, they are suddenly thrust into a Parepin-induced frenzy where an anti-bioterrorism drug is suspected of causing people to see "The Presence." Since then, USB thumbdrives were found in bathroom stalls at NIN concerts, containing unreleased songs. The titles of the songs lead to more websites, and those who did spectrographic analysis of the songs found other clues and signs like a phone number for the "U.S. Wiretap" and "The Presence." Now, all the pieces fit as the album can be heard in it's entirety at the official site, along with a trailer and a video for "Survivalism."
"Survivalsim" video from YouTube. Uncensored for your enjoyment. U.N. Bureau of Cyberpunk.
With all this hype surrounding Year Zero, is there really any reason why it should appear here @ Cyberpunk Review? There's plenty to take away from the websites, and from the song lyrics.
Overview: "Year Zero" is 2022 after the US Government establishes a new calendar system to be used worldwide. A ricin-based "dirty bomb" is set off at the Academy Awards in 2009, and the US retaliates by nuking Iran and North Korea. When the remaining Muslim nations declare a jihad, the government adds a Cedocore-made drug called "Parepin" into the water supplies, claiming it would negate biological and chemical agents terrorists use. The government also begins stripping constitutional rights by passing the "Emergency Measures Act."
To escape the religious insanity, people start using another Cedocore-made drug known as "Opal," which replaces cocaine as the drug of choice. Somewhere between the Parepin and the Opal, people begin seeing "The Presence," a god-like hand that reaches down from the skies and appears to be grabbing the ground or trying to claw it.
Accoring to the NINWiki, Trent Reznor describes how the album began to take shape:
"This record began as an experiment with noise on a laptop in a bus on tour somewhere. That sound led to a daydream about the end of the world. That daydream stuck with me and over time revealed itself to be much more. I believe sometimes you have a choice in what inspiration you choose to follow and other times you really don't. This record is the latter. Once I tuned into it, everything fell into place… as if it were meant to be. With a framework established, the songs were very easy to write. Things started happening in my "real" life that blurred the lines of what was fiction and what wasn't. The record turned out to be more than a just a record in scale, as you will see over time.

Part one is year zero. Concept record. Sixteen tracks. All written and performed by me, produced / programmed by me and Atticus Ross, mixed by Alan Moulder, mastered by Brian "Big Bass" Gardner. Release date: April 17, 2007.

What's it about? Well, it takes place about fifteen years in the future. Things are not good. If you imagine a world where greed and power continue to run their likely course, you'll have an idea of the backdrop. The world has reached the breaking point - politically, spiritually and ecologically. Written from various perspectives of people in this world, "year zero" examines various viewpoints set against an impending moment of truth. How does it sound? You will hear for yourself soon enough, but given the point of this document is to provide information…

This record is much more of a "sound collage" than recent efforts from me.

A lot of it was improvised.

It is very tedious describing your own music.

It's not just music.

It's probably too long, but it felt like the right thing to do to paint the complete picture.

It will sound different after a few listens.

You can think about it and it will reveal more than you were expecting.

You can dance to a lot of it.

You can fuck to a lot of it (maybe all of it depending on what you're into).
OK, So what about the music? Let's start at track #1: Hyperpower! A term used to describe a nation like the United States, who dominate the world's economics and politics. This track gets things off on the right foot with its crunchy drum-and-guitar march, ending with a sonic riot.
The Beginning of the End gives a good rock track, and a bit of a warning of Big Brother's eavesdropping abilities: Watch what you think, they can read your mind.
Survivalism presents mostly drums and electronics while Trent's voice marches through lyrics like Hypnotic sound of sirens\Echoing through the street\The cocking of the rifles\The marching of the feet\You see your world on fire\Don't try to act surprised\We did just what you told us\Lost our faith along the way and found ourselves believing your lies.
The Good Soldier is a bit more relaxed, while a soldier has second thoughts about what he feels about his nation and the direction it's heading (I am trying to believe).
Vessel gives more electronic distortion as Trent describes being a vessel: I can leave all of this flesh behind\I can see right through this whole façade\I am becoming something else\I am turning into God. That should take care of the transhuman element.
Me, I'm Not has Trent fearing the changes: And I'm losing control\I'm not used to this\What you want from me?
Capital G. As in George Bush, Jr. who decides to screw the constitution in 2008 and go for a third term to continue his dirty work. Sounds like a D'uh'bya supporter rapping: Don't try to tell how some power can corrupt a person\You haven't had enough to know what it's like\You're only angry cause you wish you were in my position\Now nod your head because you know that I'm right—all right!
My Violent Heart is mostly soft, but gets power during the choruses. Trent tells the powers that be that he does not intend to go quietly, and if he does, there will others: On hands and knees\We crawl\You can not stop us all.
The Warning has a visit from "The Presence," in verse form: Some say it was a warning\Some say it was a sign\I was standing right there\When it came down from the sky. The last few lyrics are a warning to the powers that be: We've come to intervene\You will change your ways and you will make amends\Or we will wipe this place clean
God Given plays up the "We're right, they're wrong" mentality of religion (Put your faith in me\I sure wouldn't want to be\Praying to the wrong piece of wood\You should Get where you belong\Everything you know is wrong) while inviting you to "Come on, sing along everybody now!"
Meet Your Master holds someone hostage: You'll put on this blindfold\You'll do what we tell you\You'll do as your told.
The Greater Good sound like a Zen exercise put to electronic noise: Breathe us in\Slowly\Slowly… Persuasion\Coercion\Submission\Assimilation.
The Great Destroyer has Trent being interrogated, but holding a deadly secret: I hope they cannot see\ The limitless potential\Living inside of me\To murder everything\I hope they cannot see\I am the Great Destroyer.
Another Version of the Truth is another instrumental track; An eerily quiet piano piece.
In This Twilight has Trent feeling the end approaching, and wonders what he could have done to make things better: As your time is running out\Let me take away your doubt\You can find a better place.
Zero-Sum brings the CD… and the World of Year Zero… to a bitter end. But something about the chorus leaves me thinking that this "reality" was only a simulation: For all we have done\And all we ever were\Just zeros and ones.
Conclusion: This latest offering from Trent certainly has the potential to be a classic concept album like Queensryche's Operation: Mindcrime. All the work to create the future world dystopia definitely gives an intensity to the the tracks. Give Year Zero a listen at the official site and see if you agree.
If you want to see all the sites connected to Year Zero, just head for the NINWiki as your start point, and prepare to lose yourself in Opal, Parepin, and "The Presence."