September 23, 2009
The Surrogates
Review By: Mr. Roboto
Authors: Robert Venditti & Brett Weldele (illustrator)
Year: 2006, 2009
Category: Cyberpunk Books; Graphic Novels
NOTE: This review will cover both graphic novels The Surrogates and The Surrogates: Flesh and Bone.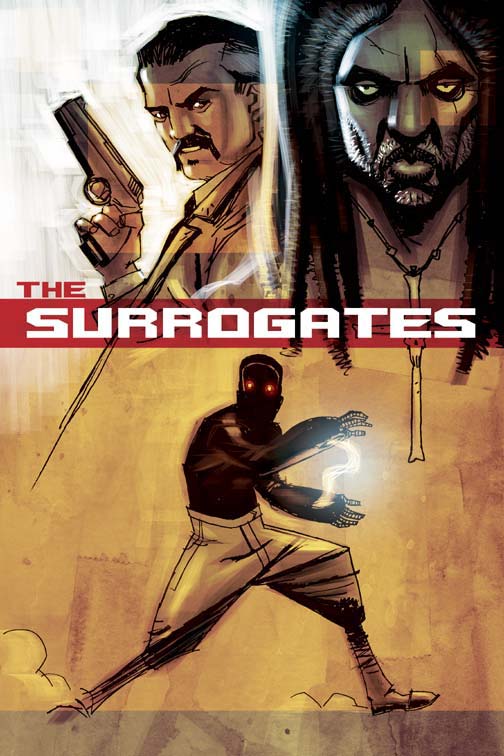 "Live"
---
Coming to a big screen near you.
With the
Surrogates
movies opening this Friday (Sept. 25), I'd thought we should check out the book that it is based on. Originally a five issue comic,
The Surrogates
shows life in 2054 Georgia (US) as a police detective searches for a person who is destroying "surrogates," robotic avatars that people use to interact with the real world from the safety of their homes. There is also a prequel,
The Surrogates: Flesh and Bone.
The two books are combined into the
The Surrogates: Owner's Manual.
Synopsis: Lieutenant Harvey Greer investigates the destruction of two surrogates that is first attributed to a "flash storm." A data-recording unit on one of them shows that they were actually destroyed by an electrical discharge from someone or something that would be called the "steeplejack." Greer suspects that the steeplejack may be working for a religious cult called The Church of The Prophet, aka the "Dreads," who are known to have a history against surrogates.
As Greer delves deeper into the mystery, his own surrogate is destroyed by the steeplejack, who plans to disable or destroy all the surrogates. Instead of replacing it, he decides to continue without it, and does find who is behind the steeplejack and the anti-surrogate plot.
In the prequel, Flesh and Bone, a homeless black boy is beaten and killed by rich white kids using their parent's surrogates. This causes the Dreads' anti-surrogate movement to swell, leading to a riot when the most reliable witness to the beatings is killed before them. After some negotiations, the Dreads are allowed to leave the city and setup a "nation" where they can govern themselves. In this book, Greer is a patrolman waiting to hear back about his detective test.
Back Stories. In between the chapters of ink-on-single color pages come some ephemera that sets a bit of background: A research paper on the benefits of surrogates, a questionnaire, news clippings, and even "pamphlets" from Virtual Self, Inc. (Life… Only Better) and The Church of The Prophet (The Dreads). These add to the story by filling in some back details about how and why the surrogates became so popular and despised. In particular, a news transcript about Zaire Powell III proves quite revealing on how he murdered his baby sister and then set fire to his home killing everyone else. After his release he founded the Dreads movement.
But is it cyberpunk? If you need to ask, you must not be paying attention. I can say with confidence that *YES*, The Surrogates series IS cyberpunk. If the beating at the beginning of Flesh and Bone didn't beat that point home, consider this: Greer's wife commits suicide when her surrogate is disabled.
But, there are still some questions left; Will the movie follow the novel(s)? Probably not exactly, but Blade Runner didn't follow Phillip K. Dick's novel exactly either. Will the movie be any good? I'll let you know this weekend…