March 14, 2007
Hardwired
Book Review By:
David Gentle
Author: Walter Jon Williams
Year: 1986
Category: Cyberpunk Books
---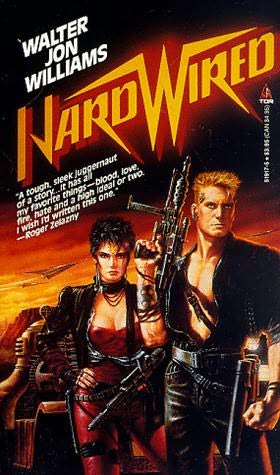 Hardwired was born in the aftermath of Neuromancer and shares that novels idea of a central relationship between a man and a woman in which the man is a techie and the woman the hardass. Fortunately it doesn't share much else, it's tone being less film noir and more dime store western. That's not necessarily a criticism because Cowboy, the central male, clearly sees himself as a product of the dream of the American west. He used to be a pilot flying home-built deltas to make sure the mail got through but when that business got destroyed by the orbital Soviet he and others like him switched over to driving tricked out hovercraft called "Panzers" with which they try to smuggle cargo across "the line", the border between the real west and the midwest.
You'll notice the reference to an "Orbital Soviet", the idea being that the communist Soviet block survives into the middle of the 21st century and prospers in space leaving the foolish and impoverished capitalist nations to wallow in the mud at the bottom of the gravity well. We forget just how unassailable the soviets looked up until the end of the '80s and it's not uncommon in CP literature of the time to find a depiction of a futuristic Communist state because everyone in the world of Cyberpunk literature just assumed they'd keep on being an important Superpower forever and that therefore they had to be depicted.
At one point Cowboy, flying in a delta (a kind of futuristic jet fighter built in a garage out of carbon fibre and epoxy resins) shoots down an unarmed private jet because one of the people on it has been trying to kill him. At no point does he try to find out who else is on the 'plane. He has no moral qualms about it either, he just wishes it had been a more satisfying fight, yet elsewhere we find him worrying about the welfare of children who live (apparently as sex slaves) with his benefactor Rune.
While Cowboy sees himself as a man of principle (despite his unacknowledged lapses) "in it for the ride, not the cargo" Sarah is a prostitute and assassin (tricked out with a bizarre throat mounted cyberweapon) willing to do pretty much anything (undergo extensive plastic surgery to get close enough to an aging man who's been cloned into a young Asian woman's body to kill him/her) to get herself and her appalling brother Daud off of Earth and into orbit where everyone important seems to live. She strikes me as more of a cipher than Cowboy. I don't believe that anyone in her position would be quite as resolute as she is.
The two protagonists come together in the context of a botched delivery, go on the run together and then separately until there appears to be a way to to fight against the particular block of the orbital Soviet that is trying to kill them. There is no commitment romance and economics and a perverted/happy ending. Like a lot of other '80s Cyberpunk it's an extrapolation of then current morals into the future. There's almost moral vacuum where the novel's soul would normally be.
While it's hard to get excited about the tech on display in the novel at our point in the 21st century The handling of Cowboys enhanced sensorium (as when he plugs himself into the Panzer and Delta) are well handled and the idea of people prolonging their "lives" by downloading recordings of their brains into clones of themselves was newish at the time. Also the way economics is used as the most dangerous weapon in the endgame is clever.
Hardwired is several notches above journeyman cyberpunk. Walter Jon Williams may have written space opera and an earthquake novel since he wrote Hardwired but he seems to have grasped most of the essential elements of '80s CP.
It may be coat-tail riding but it's a really good ride.