March 27, 2008
Street: Empathy
Book Review By: Mr. Roboto
Author: Ryan A. Span
Year: 2008
Category: Cyberpunk Books
Website: Street of Eyes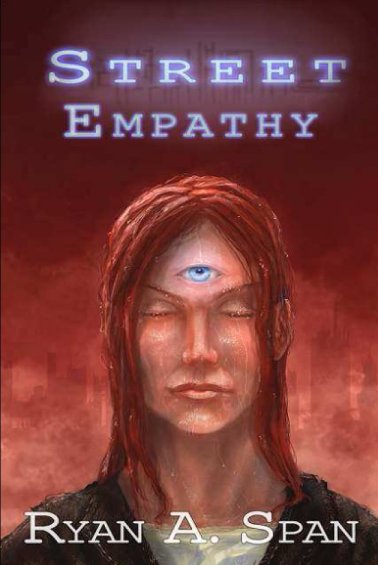 Reports of cyberpunk's death in literature are premature. Even now, there are writers who have been inspired to write their vision of a techno-dystopic near future, like Mr. Ryan Span (aka "Winter"). His Street Of Eyes website has the serialized version of this soon-to-be released book, and a second book in progress waiting to appear on the site.
Much of what you would expect in cyberpunk literature is here: Hackers, cybernetic soldiers, polluted planet, grim future… along with a couple of (relatively) new elements like telepathy and nanotechnology thrown into the mix. To say Empathy doesn't bring much new to the table may not be far from the truth, but that doesn't seem to be the point of the novel. Many have been inspired by the works of Gibson, Sterling, and company, but don't have the talent… or balls… to put pen to paper (or finger to keyboard these days) and write such works. Ryan Span seems to have the balls to do so, and the talent to make a pretty good story out of it.
The cast of characters. Here now is a brief review of the upcoming dead-tree edition, only with a focus on the main characters to limit spoiling the storyline:
Gina: She works the Street of Eyes as a "telepath-for-hire." To activate her power, though, she uses a drug called "Spice." The Spice gives Gina the ability to get into people's heads, but she needs to be careful about the head she connects to; Users of Spice have been known to go insane when they connect to psychos.
Bomber: He finds Gina on the Street and brings her to his boss. Before long, we find out that he is more than just some gopher for a wealthy client.
Gabriel: The head that Bomber's boss wants Gina to look into. What she finds there isn't pretty… but later she falls in love with him.
The Emperor: A Triad (Chinese mafia) lord that Bomber has worked with.
Jock and Rat: Hackers that work for the Emperor. Jock mostly coordinates operations remotely while Rat does the street work. Rat isn't what he appears to be…

Not quite Neuromancer, but definitely worth reading. While cyberpunk fans wait for the next Neuromancer or Blade Runner to get excited about, Street may be something to pique their interest.
And who knows… in twenty years, somebody may write a cyberpunk novel or film a movie based on Street.