June 8, 2010
The Long Tomorrow
Review By: Mr. Roboto
Authors: Dan O'Bannon & Jean "Moebius" Giraud (Illustrator)
Year: First appeared in Metal Hurlant, 1976
Category: Cyberpunk Books; Graphic Novels; Proto-Cyberpunk Media
---
Another piece of the proto-cyberpunk puzzle is found.
So far, proto-cyberpunk media has dealt more with the themes of cyberpunk. But what about the
look,
that
Blade Runner
-esque future with stratosphere busting skyscrapers and flying cars? Did Ridley Scott have that vision in his head all along?
NOPE.
As it turns out, there was a major influence that would spark the future visions of Scott and Gibson: A short comic about a private eye (or "nose" as the main character called himself) who is hired to retrieve a package. The story itself isn't much (too short to call it a novel), but the artwork is what influenced Scott and Gibson.
(From Blade Runner Movie site) "Years later, I was having lunch with Ridley, and when the conversation turned to inspiration, we were both very clear about our debt to the Metal Hurlant [the original Heavy Metal magazine] school of the '70s–Moebius and the others. "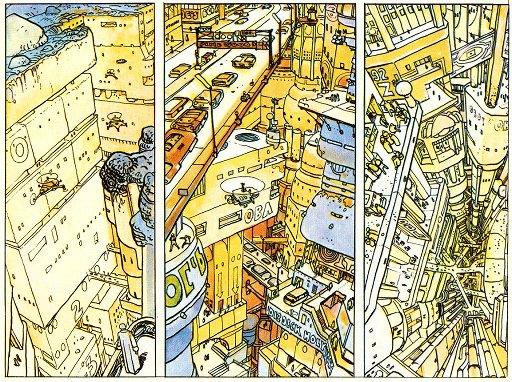 Problem: Metropolis had these city scenes some fifty years earlier! Did Gibson and Scott ever see Metropolis? Apparently not, since they give their props to Moebius:
"So it's entirely fair to say, and I've said it before, that the way Neuromancer-the-novel "looks" was influenced in large part by some of the artwork I saw in 'Heavy Metal'. I assume that this must also be true of John Carpenter's 'Escape from New York', Ridley Scott's 'Blade Runner'", and all other artefacts of the style sometimes dubbed 'cyberpunk'. Those French guys, they got their end in early."
Fritz Lang and the Germans beg to differ.
My advice: Check both out and see who had the future first.