October 4, 2008
First recorded usage of "Hacker" from MIT paper in 1963
Source: Gustavo Duarte
For the record… My day-job has me working at a document-to-data conversion company. That means we take physical paper documents, run them through various types of scanners connected to computers, and crunch the images to make files that can be indexed for searches and/or burned to optical media. Such operations are important to save possibly historical documents that could be lost over time as paper rots away.
Because you never know when you might come across gems like this…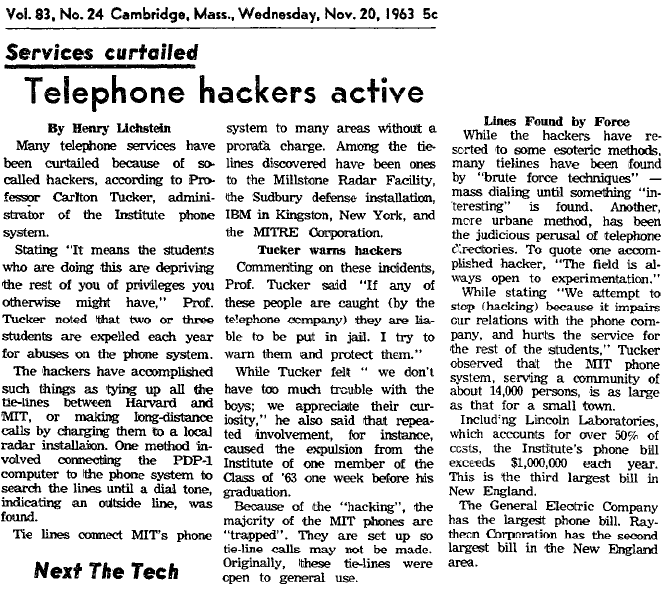 An scanned image of the MIT "The Tech" newspaper where "hacker" is reportedly first used.
The Massachusetts Institute of Technology newspaper, and Professor Calton Tucker specifically, has the claim of first using the term "hacker" in recorded media. This information was found via Yale University's Dictionary of Quotations.
Colored Connotations. As you can see from the article, "hacker" has had black-hat connotations from the start, so the mainstream media really can't be blamed for that, though white-hats have been working hard at correcting that.
What's not mentioned is how Professor Tucker came up with the term, especially since what's being described is considered "phreaking" (though the use of the PDP-11 is definitely war dialing).
Too soon? Or not soon enough? There's nothing that says this is officialy the first use of "hacker;" This is the earliest recording of the term so far. There's still old documents out there waiting to be scanned, maybe something with an earlier use of "hacker" not yet discovered. Though with a couple of the the comments suggesting that "hacker" need not be limited to computers and technology, such a discovery could complicate matters.
A few bytes for interested cyberpunk historians to "nybble" on.