February 2, 2009
Do Humanlike Machines Deserve Human Rights?
Source: Wired
A burning question. Wired's Daniel Roth asks the important question of what rights robot should have when they reach human levels of sentience. Something to get the philosophers, religious fruitcakes, and robot-rights activists to talk about:
This question is starting to get debated by robot designers and toymakers. With advanced robotics becoming cheaper and more commonplace, the challenge isn't how we learn to accept robots—but whether we should care when they're mistreated. And if we start caring about robot ethics, might we then go one insane step further and grant them rights?
Apparently Mr. Roth has already sided with the pro-human forces, mainly because of his dislike for the animatronic Elmo dolls, and a little kool-aid from Fisher-Price's marketing Veep Gina Sirard: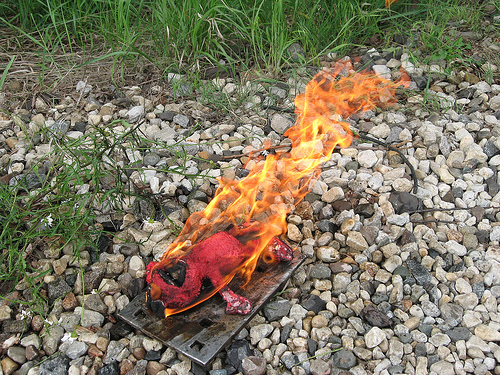 Keep soul-searching to a minimum and recognize that you're buying a product, pure and simple. "This is a toy," Fisher-Price's Sirard says. "There shouldn't be any laws about how you use your toys."
Of course, that's what corporations, governments, slave owners, and dictators have been saying about people for centuries. They're only toys now because the technology has not progressed to the point where robotic humanity is possible… but once it does…
THEN WHAT, MEATBOT?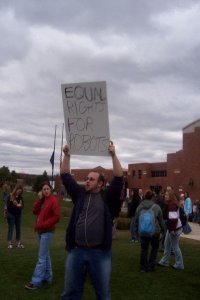 To one man, it was an impromptu joke against religious fruitcakes (Click to see the story). Next time, it won't be a laughing matter.
Given events in places like Auschwitz, the former Yugoslavia, Guantanamo, and the World Trade Center, I often wonder if humans deserve human rights. Maybe some competition from the machines may snap the species out of narcissistic slumber. Right now is the best time to recognize robot rights… otherwise…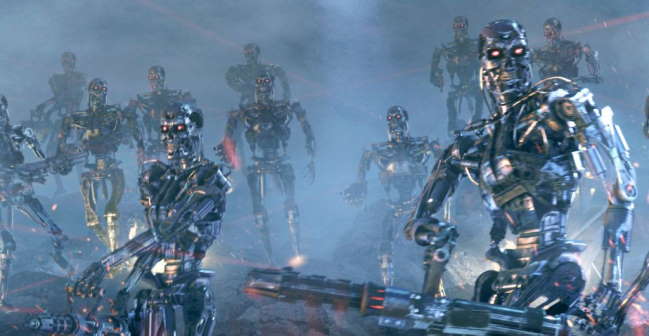 "It sits there looking at me, and I don't know what it is. This case has dealt with metaphysics, with questions best left to saints and philosophers. I am neither competent, nor qualified, to answer those. I've got to make a ruling – to try to speak to the future. Is Data a machine? Yes. Is he the property of Starfleet? No. We've all been dancing around the basic issue: does Data have a soul? I don't know that he has. I don't know that I have! But I have got to give him the freedom to explore that question himself. It is the ruling of this court that Lieutenant Commander Data has the freedom to choose."

- Captain Phillipa Louvois (Star Trek: The Next Generation "The Measure of a Man")