January 31, 2009
Hungry, Hungry Robots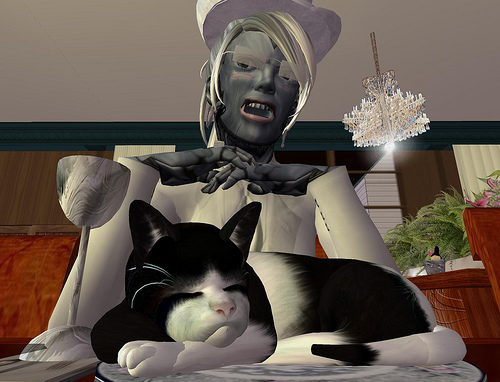 This should give you an idea of what DARPA's latest robot nightmare project is about; The EATR Project seeks to create robots that can "consume" organic matter for fuel.
Appetite for Destruction. A Potomac, MD, US company called Robotic Technologies Inc. (RTI) has just contracted Florida-based Cyclone Power Technologies Inc. to develop engines for a new DARPA robot project. These engines will use biomass as their fuel source. Doesn't sound like major news… unless you know that the project is called EATR: Energetically Autonomous Tactical Robot (EATR(TM)).
The EATR is an autonomous robotic platform able to perform long-range, long-endurance military missions without the need for manual or conventional re-fueling. The system is designed to obtain its energy by foraging — engaging in biologically-inspired, organism-like, energy harvesting behavior which is the equivalent of eating. The patent pending robotic system can find, ingest and extract energy from biomass in the environment (and other organically based energy sources), as well as use conventional and alternative fuels (such as gasoline, heavy fuel, kerosene, diesel, propane, coal, cooking oil and solar) when suitable.
In other words, the EATR-bots will power itself by doing something nature has been doing for millions of years: Ingest "food" by grazing (herbivore), hunting (carnivore), and/or scavenging. A PDF presentation of the project can be found/downloaded here.
Terabytes… or TERROR BITES? It's not hard to imagine a pack of hungry, hungry robots being let loose in a densely populated area like a big city or a Midwest farm where their appetites can cause a major catastrophe, unless you program them to not eat certain targets. They can also be used in "clean-up" work such as clearing brush to prevent or control forest fires, cleaning up landfills, or even the recent turmoil in Gaza…
Then you have to figure what the kooks at PETA may try to do to "convince" the EATRs to go vegan. Maybe a spin-off like RETHA: Robots for the Ethical Treatment of Humans and Animals? And it may also lead to another question: What sauce do you use to serve a PETA member to an EATR?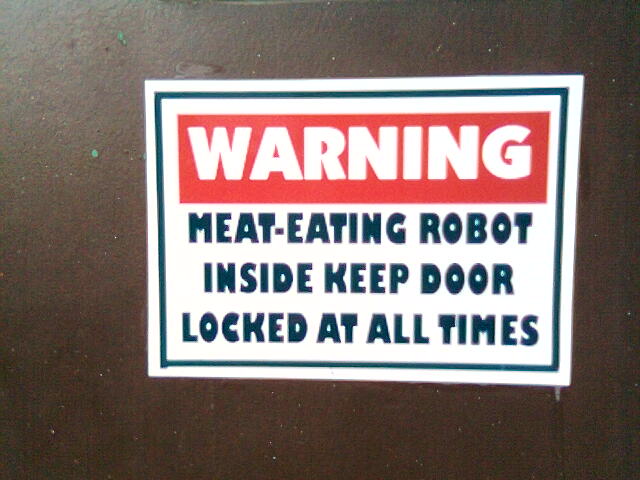 I ate that PETA branch with some fava beans and a nice chianti. They had flava'. Om nom nom nom nom nom!