June 4, 2009
Terminator Salvation
Movie Review By: Mr. Roboto
Year: 2009
Directed by: McG
Written by: John D. Brancato & Michael Ferris
Degree of Cyberpunk Visuals: High
Correlation to Cyberpunk Themes: High
Key Cast Members:
John Connor: Christian Bale
Marcus Wright: Sam Worthington
Kyle Reese: Anton Yelchin
Kate Connor: Bryce Dallas Howard
Blair Williams: Moon Bloodgood
Dr. Serena Kogan: Helena Bonham Carter
---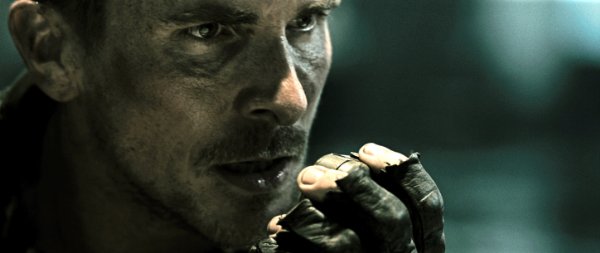 "I knew it. I knew it was coming. But this is not the future my mother warned me about. And in this future, I don't know if we can win this war. This is John Connor."
Overview: After the train wreck that was Rise of the Machines, one would think that, with "salvation" in its title, this would be a return to the glory days of Judgement Day.
Not quite there.
Note: The Star rating is based on the cyberpunk content of the movie, not it's quality. Personally, it would only be a 4 or 5 out of 10.
Salvation is better than T3, but still falls short of T2. Maybe it's because of the way it is presented. From the trailers one gets the impression that Salvation would be about John Connor's rise to leadership of the the human resistance. In actuality, Connor's rise is more of a side-story…
The Story: The movie starts in a death-row jail cell in 2003, where a murderous convict named Marcus Wright awaits execution. He is being visited by Dr. Serena Kogan who wants Wright to donate his body to "science." Wright agrees and signs the papers (with Cyberdyne letterhead) before being put to death.
Now, it is 2018, and John Connor leads an assault on a Skynet facility. Connor's team is exterminated while he barely escapes, but someone else manages to leave the facility after the devastation, Marcus Wright. Wright wanders the wastelands until he reaches what's left of Los Angeles, and encounters a young teen named Kyle Reese. Meanwhile, Connor has his own problems with the current leaders of the human resistance, then learns that he is on Skynet's hit list, number two behind Kyle Reese.
Wright tries to get help Reese find Connor, but Reese and his deaf-mute friend are captured, leaving Wright to try to find Connor and possibly find a way to save Reese. When the two finally meet, we learn that Wright isn't human… only Wright himself doesn't know it …
Who's Salvation Is It Anyway? Like said before, Salvation isn't about Connor's or humanity's salvation. Rather it's about Wright's salvation; His trial by post-nuclear fire in the robot ruled wastelands to learn that he is not a monster we are first lead to believe…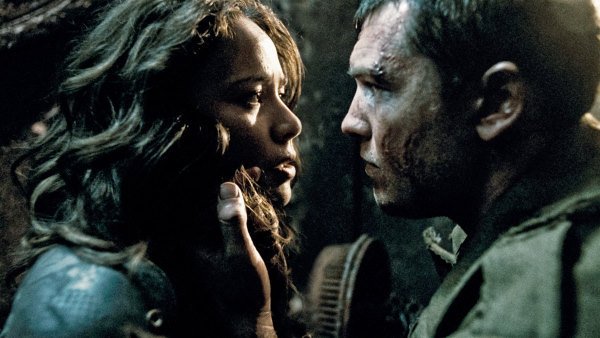 "He saved my life. I saw a man, not a machine." - Blair Williams
After being shot down by Skynet's forces, Blair Williams finds herself and her parachute tangled in a high-tension wire tower. Marcus finds her and helps her down to the ground. She asks if he is one of the good guys, but he says no. She tells him "You're a good guy. You just don't know it yet." She soon falls in love with Wright as they travel back to Connor's base, and even helps him escape when his mechanization is revealed.
Later, after helping Connor rescue Reese (and some other captured humans), Connor is critically hurt and needs a new heart. Wright offers his. The last words we hear from him are along the lines of "there's something about the human heart that can't be programmed into a chip" (Quotes are still coming in). This act of sacrifice would complete Wright's transformation from death row douchebag to a hero for the resistance. If only the same can be said for the rest of the movie.
The Bottom Line: It's hard to say that Salvation is bad. It's not T3 bad, but no where near T2 level. Maybe if McG focused more on Wright's story than Connor's… that story would seem be more about salvation than Connor's rise to resistance leader.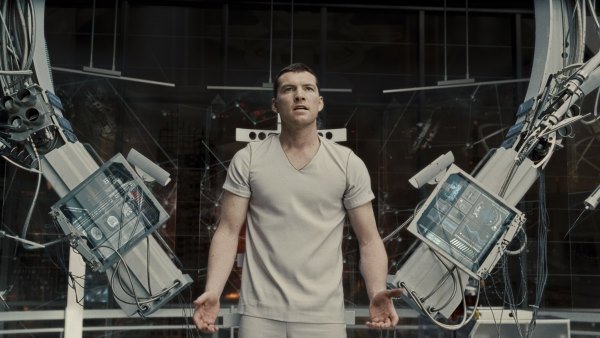 "Humans have a strength that cannot be measured. This is John Connor. If you are listening to this,you are the resistance."