March 3, 2006
Ultraviolet
Year: 2006
Directed by: Kurt Wimmer
Written by: Kurt Wimmer
Degree of Cyberpunk Visuals: High
Correlation to Cyberpunk Themes: Low
Key Cast Members:
Violet: Milla Jovovich
Six: Cameron Bright
Garth: William Fichtner
Daxus: Nick Chinlund
---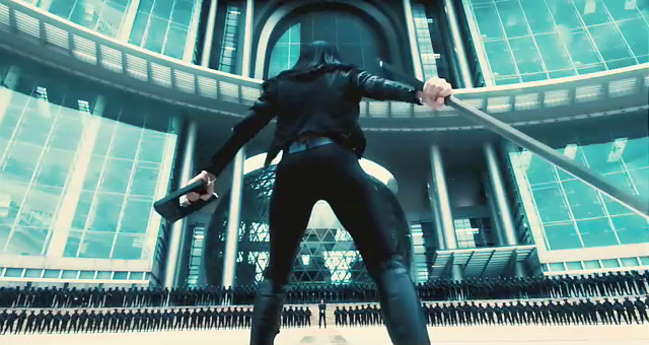 Overview: Ultraviolet is the ultimate example of style over substance. At every juncture, the goal is to create a futuristic music video piece more than it is to convey an interesting story. That said, some of the visuals are pretty damn cool! The pacing generally tries to stay fast enough to help the viewer forget about the plot holes, and even though the overall movie is predictable, you still find yourself smiling in spite of yourself and enjoying some of the way over-the-top fight scenes.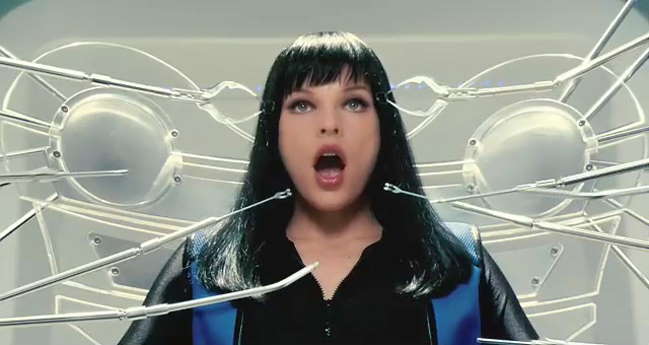 The Story: Ultraviolet takes place in the near-future, a time where terrorism is no longer the scourge of society – now it's viruses. The worst virus is one that turns humans into Hemophages - this virus, created in a laboratory designed to create super-soldiers, is now air-borne, and has forced the population to take extreme precautions including wearing bird-flu virus masks at all times. Hemophages have vampire-like teeth and been genetically modified, giving them enhanced speed, incredible stamina and acute intelligence. Unfortunately, with these extra-human capabilities, they need blood to replenish themselves (this is barely mentioned in the movie), and their bodies slowly wasteaway.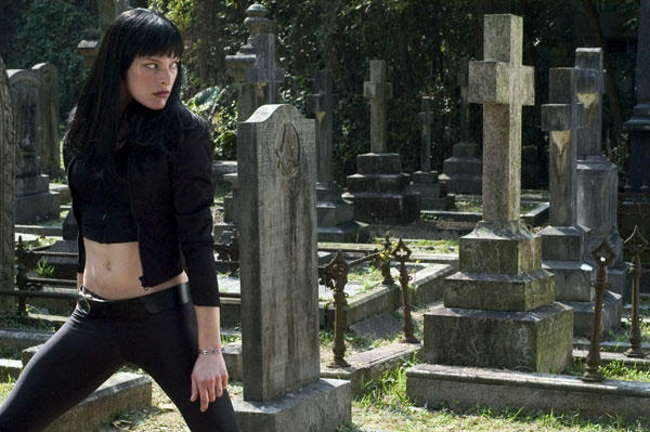 To the government's dismay, more and more of the population are being transformed, and, as a civil war looms, they have set out to rid the world of this new race that they now deem menaces to society. Violet, a former nurse at the facility, ended up losing her husband and unborn child when she accidentally contracted the virus. After being a live ginea-pig for the Medical control facility (who also control the new secret police force), Violet escapes and joins the underground Hemophage resistance in attempting to overthrow the medical control police, who are led by their Arch Cardinal, Daxus (played by Nick Chinlund) – and yes, the evil Christian symbolism is in full force here.
Although Violet has entered the last stages of her sickness, she is given one more mission – to capture the Medical Control's latest weapon from their headquarter facility and either bring it back or destroy it. After some insane action and escape sequences, Violet succeeds, but discovers that the "weapon" is in fact a small boy named "six" (Cameron Bright). This boy supposedly has genetically altered blood that, if released in the atmosphere, will wipe out all hemophages forever. Her maternal instincts kick and, and she betrays the Hemophage resistance, and is no pursued by both the resistance and the police. The only one she can turn to is her trusted friend and genetic doctor, Garth (played by William Fichtner). But the boy is dying and all options appear hopeless. Because of this, Violet (and the audience) continually says, "What am I doing?"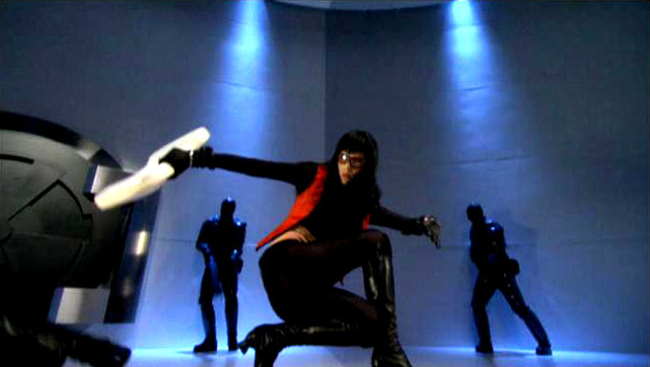 The Action – Gun-kata is Back! Equilibrium fans will be happy to see Gun-kata return with a vengeance. Mila Jovovich generally looks terrific doing it – better than Christian Bale (her belly, which is always visible when kicking butt is definitely CUTE!). It's clear that Mila has trained hard for the part, and looks good on both the gun and sword fight scenes. The problem though is that an unbelievable MI:2 feeling saturates the action scenes. Mila's powers border on supernatural, and her nazi-like opponents make the OT Storm Troopers seem like special forces! They are ALWAYS flat-out incompetent in every way possible. Additionally, even though it looks cool, there is never a reason for the sword fights which becomes all the more apparent when, literally seconds later, people come in with Uzzis and spray bullets everywhere.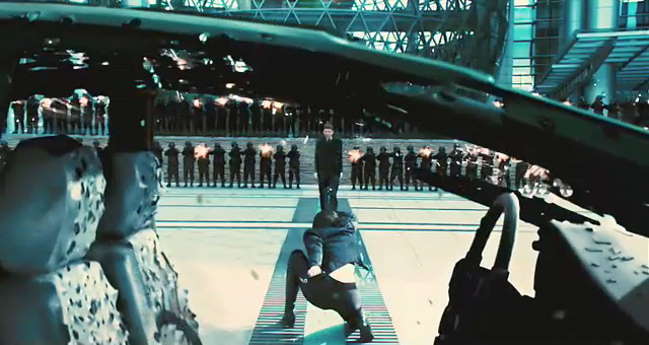 The FX: The FX in Ultraviolet are truly hit or miss. It appears as if pretty much the whole movie (or vast chunks of it) has been filmed on blue-green screens. This in itself is not a problem. The problem comes in that some scenes are rendered wonderfully while others come off as half done. It's almost as if they ran out of money during the post-production phase and had to wrap up what they had and package it as best they could. This is a shame because the shots that are completed look wonderful. The attention paid to the colors palettes in virtually every seen is extraodinary. Sometimes I caught myself staring slack-jawed in enjoyment; yet others I was almost holding my nose in disgust.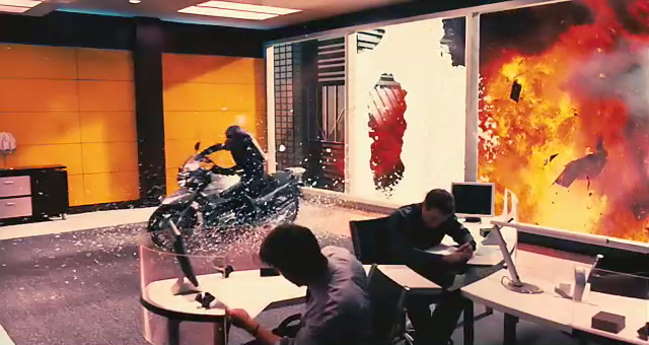 The Soundtrack: From beginning to end, Ultraviolet plays like a music video. You get awesome action mixed with high-energy soundtracks. Sometimes you get the wasping highpitched chants, similar to Gladiator or MI:2, and for other scenes, we get bass-thumping, percussive tracks which help move the action along.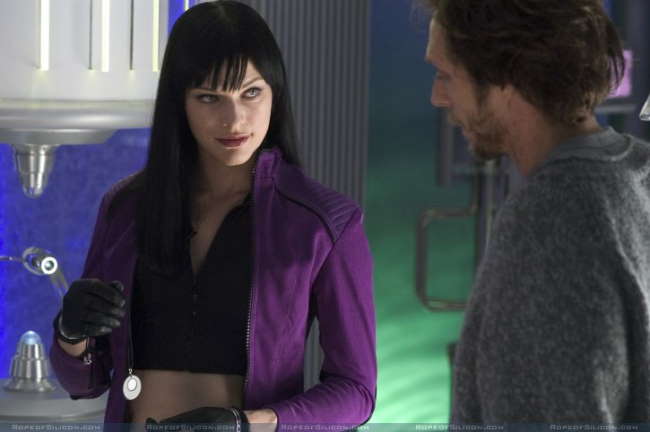 The Acting: Both Jovovich and Cameron Bright are serviceable. William Fichtner is decent for the little screentime he has, but Nick Chinlund is just sour. He has a constant snear, and his performance continually serves to solidify the already one-dimensional "evil bad guy" nature of his character. But truly, Wimmer just does not give his stars much to work from. Virtually the entire story is a sequence of visuals. While Jovovich seems to excel in this mode, keeping mostly believable facial expressions for the bulk of her acting, Chinlund pretty much sucks at it, and seems to struggle in finding the appropriate demeanor.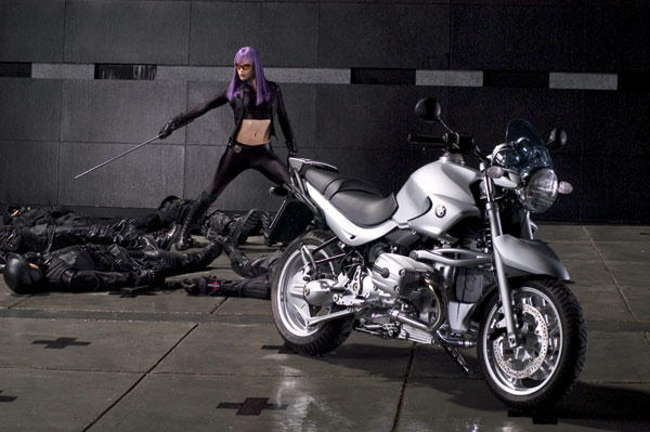 What's Missing? The whole front end of the story for Ultraviolet seems to have been cut, and in its place, we get a synopsis similar to what we see on TV shows recapping episodes that related to the current episode (e.g., "Previously, on Lost…."). Truly, the amount of time it took you to read my two paragraphs above on the story equals the amount of time they devoted to the front-end exposition. It looks like a good 20 minutes or so was boiled down into a 2 minute quick-cut scene to allow us to jump into the action headfirst. But by doing so (again, I'd bet money that this stuff was shot, and furthermore, that we get it on an extended DVD), Ultraviolet significantly cheapens an already weak storyline. Any depth in the characters are lost. Additionally, some of the adds, the BMW adds in particular, really are a bit too overt.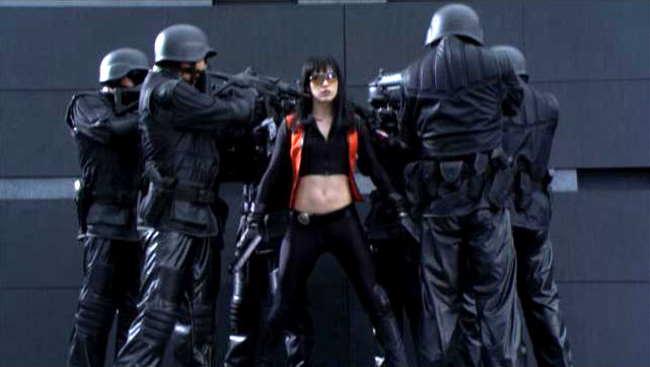 The Gadgets: As weak as the story is, some of the gadgets in Ultraviolet are just awesome! They really do add a pretty fun dimension to the movie. They include things such as:
Disposable Cell Phone Dispenser: I LOVE the idea of a disposable cell phone dispenser - cell phones are "wafer-thin" and bendable – you insert your credit card, and similar to a paper receipt, a cell phone sheet comes out with a certain number of minutes on it.
Virtual Storage: Ultraviolet also has a believable looking D&D "Bag of Holding" that can be embedded in the body. I think the idea is that Nanotechnology allows the molecules to break down into some other substance, but can be put back-together into guns and swords.
Multi-colored clothes: I fully expect this idea to take hold. Similar to the nano-couch in One Point O, clothes and hair in Ultraviolet can change color at will.
Sunglasses: Yes, Ultraviolet WILL prompt sunglasses sales – bank on it! They are the symbol for "coolness" in movies now, and ultraviolet raises the bar here by making them multifunctional.
HologramsThe holograms, used to making moving imitations of people, similar to those in Ghost in the Shell, are terrific. Wimmer creates some great "break-up" FX for them that really seem to add to their believability.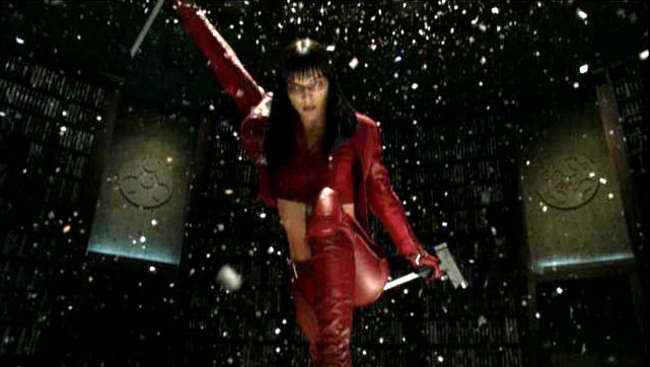 The Bottom Line: If you're looking for cool style over substance, Ultraviolet is one to watch. But while some of the sequences in Ultraviolet are breathtaking, the movie as a whole is not a good one. What little story there is seems to have been lost in editing. Still, some of the visuals are pretty cool, and may be reason enough for you to go watch this. If you're a Jovovich fan, or want to see more cool Gun-kata scenes, you will enjoy Ultraviolet. But if you're looking for a deeply textured cyberpunk story, look elsewhere. One point extra granted for the cool gadgets.