January 29, 2006
Ultraviolet, starring Mila Jovovich - Came March 3!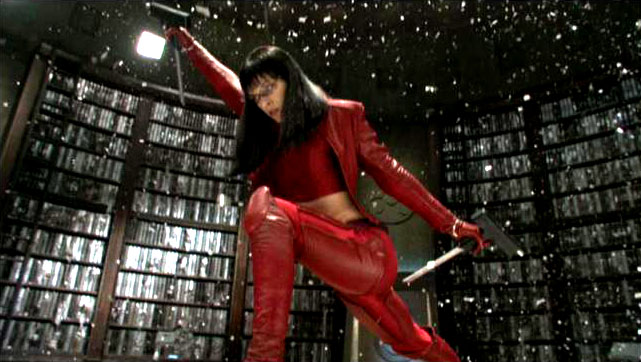 ~~~UPDATE: REVIEW FOR ULTRAVIOLET POSTED~~~
Yeah, OK, it appears pretty darn derivative (the trailer even has music from the original Matrix in it), but it definitely looks cool! What can I say? Hawt chicks in leathers kicking butt just work for me. Mila Jovovich looks like she fills the tough cyberpunk chick role well. If I'm guessing on how I rate this, I'm thinking it'll garner high on the cyberpunk visuals and low on the cyberpunk themes scale.
Fangora has a description of the plot: Written and directed by Kurt (EQUILIBRIUM) Wimmer, ULTRAVIOLET takes place in the late 21st century, where a subculture of humans called Hemophages (i.e. blood drinkers) has emerged. The Hemophages have been genetically modified, giving them enhanced speed, incredible stamina and acute intelligence. To the government's dismay, more and more of the population are being transformed, and, as a civil war looms, they have set out to rid the world of this new race that they now deem menaces to society. One rogue warrior is bent on protecting her people and seeking revenge on those who changed her life forever. With fierce martial-arts skills and chameleonic abilities, Violet (Jovovich) sets out to destroy a government-designed time bomb that will wipe out all Hemophages.
Check out the trailer for Ultraviolet in HD - definitely fun stuff!
And there's a whole site of cool screencaps to check out. I'll post more on this as we get closer to launch (March 3).
EDIT: Ultraviolet has been pushed back to March 3rd.