August 10, 2006
Renaissance September 22 Release Date: Only NY & LA?
It appears as if Cyberpunk Review has reached another milestone - we're now officially a minute cog in the massive Hollywood movie marketing machine! Yesterday, I was contacted by Jennifer, a Miramax representative who was eager to assist me with hyping Renaissance, a pretty innovative looking animated movie that was released in France back in March and is only now starting to make its way to the US. I'm hoping this change in status to machine cog is at least partially a good thing, in any event I'll roll with it this time. Jennifer has given me a number of goodies including movie stills, trailers, and a jpeg of this really nifty large scale movie poster (1200×1778).
Also, in case you haven't seen it, here's a detailed summary description of the plot:
In 2054, Paris is a labyrinth where all movement is monitored and recorded. Cut off from the world for its own protection, the city has nonetheless continued to expand. Now, 21st century skyscrapers overlay centuries-old architectural masterpieces. And below street level, a sophisticated network of streamlined plazas push up against the city's ancient, deteriorating tunnel systems. Casting a shadow over everything is the city's largest company, Avalon, which insinuates itself into every aspect of contemporary life to sell its primary export – eternal youth and beauty.

When 22-year-old Ilona (Romola Garai), one of Avalon's most promising scientists, is abruptly kidnapped, Avaloncalls on Barthélémy Karas (Daniel Craig), a Paris cop with a hard-fought reputation for finding anyone, no matterwhat sacrifices he has to make along the way. As the trail gets hot, Karas senses he's not the only one looking for thebeautiful enigma, and every witness he digs up seems to turn up dead.

To find Ilona and unlock the secrets of her disappearance, Karas must plunge deep into the parallel worlds of corporate espionage, organized crime and genetic research – where the truth imprisons whoever finds it first and miracles can be bought but at a great price.

"Renaissance" is a bold never-before-seen vision of a stark near future drenched in hidden secrets and technological frontiers. Directed by Christian Volckman, Renaissance takes film noir to its most stylized edge, utilizing live actionmotion capture, animated in 3D and rendered in high contrast black and white to create a graphic novel come-to-life.

Limited Release on September 22? The sparse marketing sheet I have in my possession seems to indicate that the September 22 release is only for those blessed folks who live in New York and Los Angeles. Then again, considering the rest of the world saw this as long as six months ago, we're all pretty much last place losers in the US as far as this production goes. Still, it appears that us truly unfortunate souls who aren't in either NY or LA will have to wait at least a week or more to see Renaissance. I've got a query into Jennifer now about this. I'll let you know any updates assuming she doesn't comment directly on this.
EDIT: Just an update on the release date: the cities it will be shown in on the 29th will include Philadelphia, DC, Boston and San Francisco. The rest of the country comes after that.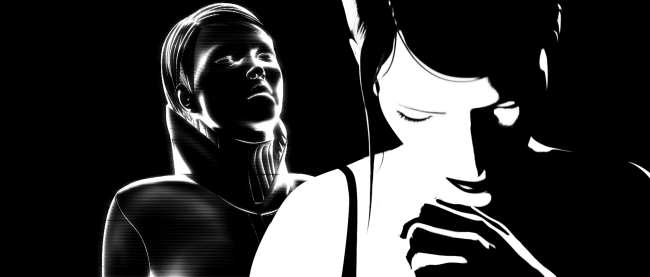 Renaissance Trailers in English: Here's the Renaissance trailer in English at 480×272 pixels (the largest size I was given). Pick your favorite format: