June 16, 2007
Blade Runner Final Cut - It's the Unicorn!!!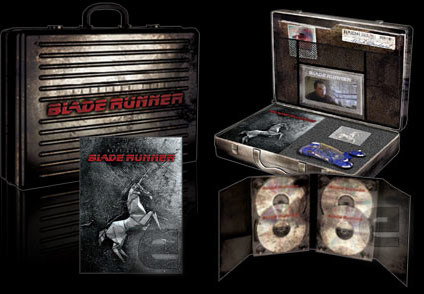 erc1452 in the Meatspace Forums found this little tidbit from a blog named Binary Bonsai - turns out that the details about what is now called the Blade Runner Ultimate Collection DVD have leaked online. Best yet, the cover has a unicorn! As the poster Ak!mbo (the poster formally known as NekOtaku) commented, "There shall be flamewars, they shall be of epic proportions.."
Considering Harrison Ford states he never thought he was an replicant, one wonders what additional scenes Scott might insert to end this discussion in his favor. Still, the details look pretty sweet, if this is to be believed:
Disc 1 - The Final Cut (2007):

Ridley Scott's definitive new version of his science-fiction masterpiece includes added & extended scenes, added lines and new and cleaner special effects.

Disc 2 - 3 Complete Film Versions:

'82 U.S. Theatrical version
'82 International Theatrical version

Disc 3 - "Dangerous Days: Making Blade Runner" Documentary

Newly created documentary: Through interviews with the cast and crew, critics and colleagues, this feature-length documentary provides a mainstream-friendly yet meaningful in-depth look at Blade Runner's literary genesis, its challenging production and controversial legacy. When all is said and done, this will be the definitive documentary on the film.

Disc 4 – Enhanced Content Bonus: (TBC)

INCEPTION - Featurettes and galleries devoted to Philip K. Dick, the birth of Cyberpunk and adapting the novel Do Androids Dream of Electric Sheep.
PRE-PRODUCTION - Featurettes and galleries devoted to script development, conceptual design and abandoned sequences.
PRODUCTION - Featurettes and galleries devoted to principal photography and locations.
POST-PRODUCTION - Featurettes and galleries devoted to deleted scenes, music and visual effects.
RELEASE - Featurettes and galleries devoted to marketing and reaction including Trailers, TV Spots and Promotional Featurettes
LEGACY - Featurettes and galleries devoted to the film's resurrection and impact.

Disc 5 - Work Print Version & Enhanced Content:

Including the rarely seen Work Print version and potentially the 52 min. Channel Four (UK) documentary which was the first serious documentary created for the film.

Additionally, the set will come packaged in a limited "Blade Runner" briefcase holding the five-disc digipack with foil-enhanced and embossed slipcase. The goodies inside will include a lenticular motion image from the original feature, a collectible model spinner, an origami unicorn, a collection of photographs and a letter from Ridley Scott.
Personally, I might be almost as excited about the featurettes as I am the latest version (well, OK, maybe not "that" excited). While the international '82 version is something I've never seen, the "Birth of Cyberpunk" looks pretty cool; and while they don't specifically list it, I'm betting money there's one on "Is Deckhard a replicant?" And while these may be juicy, the ones I'm going to be most interested in are those dealing with the cinematography and set designs. It's this more than anything else that has influenced just about 80% of every cyberpunk movie since then. As powerful as Roy Batty's speech was, it's the look and feel of Blade Runner that has truly changed cinema.