September 22, 2010
Batman Beyond
Review By: Intel (Reviewer forum)
Year: Jan 10, 1999 - Dec 18, 2001
Produced By: WB Television Network and DC Comics
Degree of Cyberpunk Visuals: Very High
Correlation to Cyberpunk Themes: High
Key Cast Members:
Batman/Terry McGiness: Will Friedle
Bruce Wayne: Kevin Conroy
Max Gibson: Cree Summer
Dana Tan: Lauren Tom
---
Another gem from the forums. I actually watched the series when it first came out on TV. Never really thought of it to be cyberpunk, but Intel not only believes it to be, but also thought it to be very good as well, and responders agree with him. I'm going to see if I can acquire the series, so let's see what intel Intel has…
List of some cyberpunk themes:
Distopic future
Megacorporations
Man-machine interface
AI
Genetic engineering
Hackers
Etc…
Story: 20 years after the last batman episode, Batman now has an advanced exoskeleton-type suit, but is suffering from age. While fighting a group of kidnappers, he has a heart attack and is forced to use a gun to fend of the criminals. He then give up his batman identity and the story jumps ahead 20 more years to year 2039.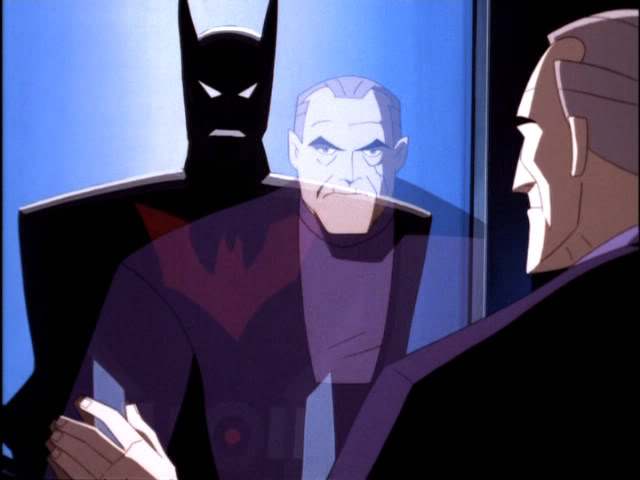 Bruce knows he can't be the Batman forever. Sooner or later, he needs to pass the torch… and the suit.
Now we shift over to Terry McGinnis, an athletic 16-year-old high school student and ex-troublemaker with a sense of justice. In the pilot episode, Terry saves a fellow passenger on a commuter rail from a member of the Jokerz gang, and then takes on an entire gang of Jokerz to defend his girlfriend, resulting in a high-speed motorcycle chase. The chase ends on the grounds of Wayne Manor, where Terry runs into the elderly Bruce Wayne. Bruce and Terry fend off the Jokerz together, but the fight causes Wayne's heart condition to act up. Terry helps Bruce back to the manor and, while staying there, he discovers the entrance to the Batcave. Chased out by Bruce, Terry comes home to discover that his father had been murdered by the vengeful Jokerz, and later returns to "borrow" the Batsuit to avenge the death of his father. As crime and corruption are beginning once again to rear their ugly heads in Gotham, Bruce ultimately allows Terry to assume the mantle of Batman.
Overview: We now find gotham to be a huge, sprawling metropolis of skyscrapers, metro-rails, and hover-cars. the wealthy live in the penthouses and crime a poor are left to the ancient alleyways. criminals are now high-tech assasins, genetically-engineered low lifes, CEO's of megacorporations, and even a few rampant AI.
Click the pic to visit LegionsofGotham.org to see more Batman Beyond background images like this one.
Visuals: the show is full of grungy buildings, neon signs, and power cables. It also has an interesting mix of japanese and english written on many of the signs. The hover cars and metro rails add a nice touch to the scenes. The show usually takes place at night, adding to the mood, and shows lots of scenes of batman soaring through the skyline with his new flight capabilities.
Conclusion: It is by far one of the darkest shows to ever run on a daytime children's cartoon channel,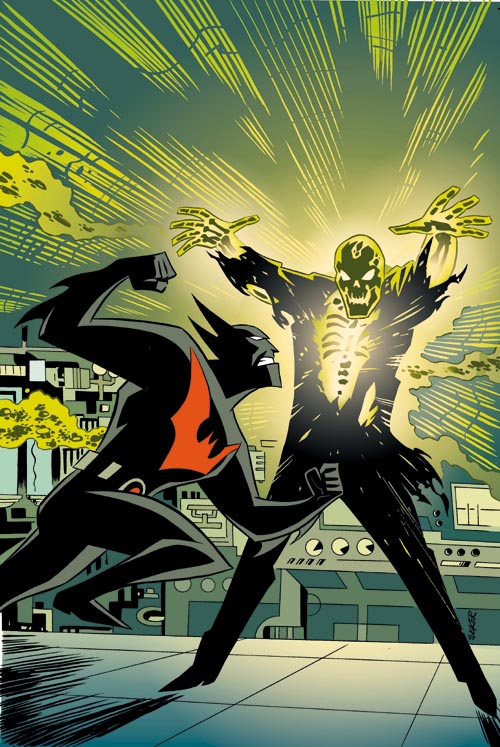 "Dark" might be an understatement…
and had surprisingly complex themes for its young viewers. If you've never heard of it, just watch the opening video here to see what I mean:
Postscript from Mr. Roboto. A couple of things to watch for while watching this series. First off, some of the old enemies reappear in some form, either as "aged" forms or as "trophies" Bruce keeps.
Mr. Freeze shows he's ahead of his time. [rimshot.wav]
Second, there's a season two episode called "Project: Zeta" which lead to a spin-off series, The Zeta Project. It's about a killer robot who chooses not to kill and runs away with a girl who teaches it how to be human. This series I have got to acquire to review… unless I see it in our reviewer forum first…