January 17, 2006
Cherry 2000
Year: 1987
Directed by: Steve De Jarnatt
Written by: Michael Almereyda, Lloyd Fonvielle
Degree of Cyberpunk Visuals: Low
Correlation to Cyberpunk Themes: Low
Key Cast Members:
Glu Glu Lawyer: Laurence Fishburne
---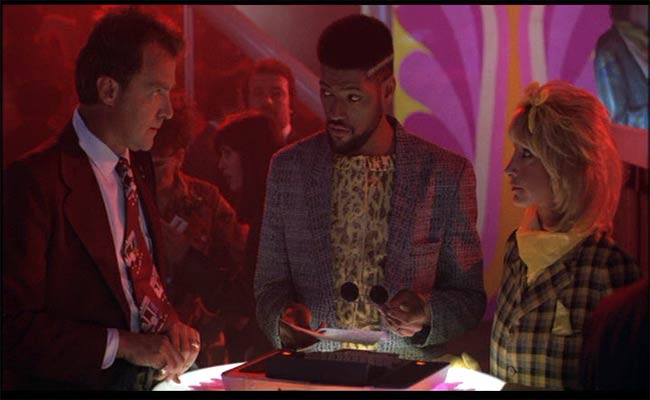 Overview: Cherry 2000 is about a guy named Sam Treadwell (David Andews) who gets too hot and heavy with his perfect android wife while wallowing in soap suds - unfortunately Cherry 2000 doesn't take to water well and gets fried. After trying his hand at post-modern dating, Sam decides he needs a new body for his Cherry chip - unfortunately the only place they exist now is in a wasteland ruled by thugs. Sam hires Melanie Griffith as his tough-chick guide to navigate through the wasteland to get his new girl.
Truly, the majority of the movie is just not that good. In fact it's worse than not good, and passes the border to unwatchable. The acting is absolutely horrendous, as are the outfits (intentionally though), as are the set pieces, as is the dialogue, as is the pacing, etc.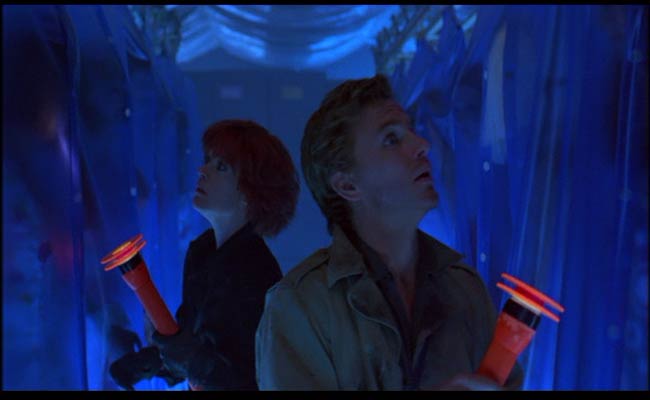 The Bottom Line: If you want to see Melanie Griffith's worst acting performance, get Cherry 2000. But truly, the reason you might want to get this is, aside from the cool fried cyberchick love scene at the beginning and maybe the "select a love-babe" scene, is for Cherry 2000's most awesome commentary on dating in the future. Dating in the future requires a lawyer (played wonderfully by Lawrence Fishbourne - the ONLY performance in the movie that shined) and LOTS of negotiations. That scene alone, also thankfully right near the beginning, is almost worth the price of the movie.
~See movies similar to this one~
Tags: cyberpunk movie review