March 16, 2007
Sneakers
Movie Review By: Mr. Roboto
Year: 1992
Directed by: Phil Alden Robinson
Written by: Phil Alden Robinson, Lawrence Lasker, Walter F. Parkes
Degree of Cyberpunk Visuals: Low
Correlation to Cyberpunk Themes: Medium
Key Cast Members:
Martin Bishop ("Marty"): Robert Redford
Donald Crease: Sidney Poitier
Erwin Emory ("Whistler"): David Strathairn
"Mother": Dan Akroyd
Carl Arbegast: River Phoenix
Liz: Mary McDonnell
Cosmo: Ben Kingsley
---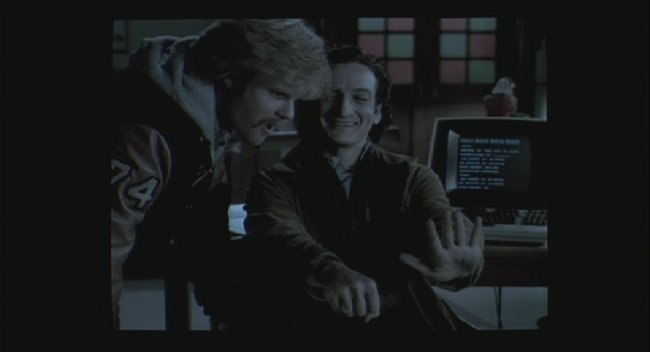 December 1969: Marty and Cosmo just helped the Republicans make a donation to the Black Panthers. Right on!
OVERVIEW: Martin Bryce is a fugitive since December 1969 when he left for pizza while his friend, Cosmo, was arrested for their hacking activities. Now living as Martin Bishop, he leads a "tiger team" that tests security systems. Two men claiming to be from the NSA want to hire Marty's team to retrieve a "black box" developed by a brilliant mathematician for a project called "SETEC Astronomy." They succeed in retrieving the box, but when they discover what it is, that's when the real danger begins…
Note: Not an actual screen shot. Animation of key Scrabble moment in movie.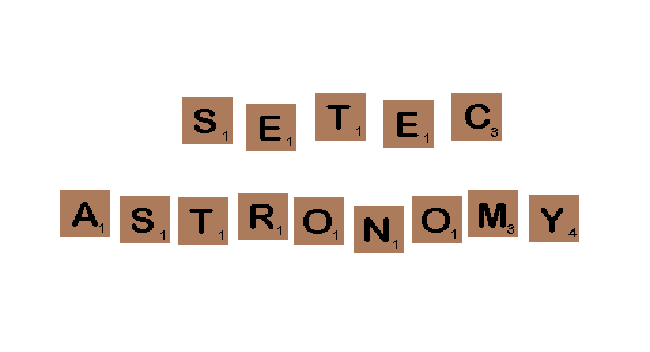 Remember: When playing Scrabble on Monterey's Coast, keep score on My Socrates Note or you'll end up with Cootys Rat Semen!
Sneakers is an intellectual cyber-caper movie that features an all-star cast with a slick production. There's little question about this being a great movie to watch…
… But is it cyberpunk?: Some might question whether Sneakers qualifies as a cyberpunk movie. Other cyberpunk sites do list it as such, but does it make the grade here? Let's compare it to SFAM's idea of what makes a movie cyberpunk:
Negative impact of technology on humanity: The "black box" is capable of breaking the most secure encryption codes without the need for a key. Whoever has this device can essentially read any e-mail, site, or whatever they want, without needing a decryption key. Sound pretty negative to me.
Fusion of man and machine: In literal terms, no such fusion occurs here. The closest would be Whistler using his braille terminal, though one might say that Marty's team does work like a well-tuned machine.
Corporate control over society: Things are a bit hazy here. While there's no such control apparent, one can imagine what the wrong people can do with the "black box."
Story focuses on the underground: Mary and Cosmo are hackers from the 60s. Cosmo works with organized crime ("Don't kid yourself. It's not that organized."), and Marty's team is mostly made from people who got into trouble with some type of technical activity.
Ubiquitous access to information: The ability to decrypt and read any site or message. 'Nuff said.
Visuals and style: Being set in modern San Francisco (circa 1992) makes it impossible to depict a near future, but there are scenes where single colors and contrasting schemes are apparent: The red brick of the team's office during the Scrabble scene, the darkness of Marty's ride in the trunk of a car, Cosmo's bluish office with the bright white "soundproof" room.

The movie itself has an intelligent style that often make viewers think about the consequences of the "black box" decrypter, politics, privacy, and the role of the NSA.
The Bottom Line: This is definitely one that needs to be in your collection alongside WarGames. It's a fun, intelligent, and even humorous (sometimes darkly humorous) adventure into our privacy at stake. As to whether it can be called cyberpunk…
WHO CARES?
You'll definitely like watching Sneakers and trying to decide for yourself
And while you watch this gem, keep this almost Matrix-like observation in mind: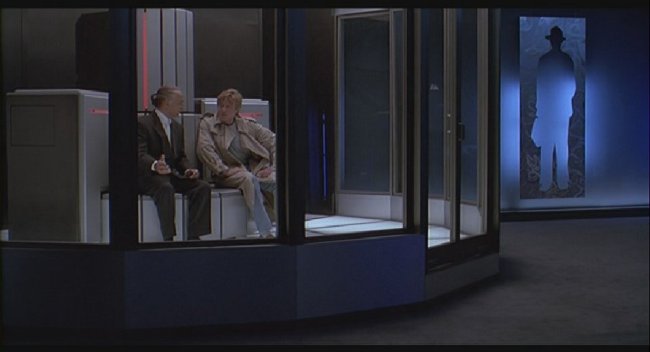 "… I learned that everything in this world, including money, operates not on reality. — But the perception of reality."