March 13, 2006
Terminator 3: Rise of the Machines
Year: 2003
Directed by: Jonathan Mostow
Written by: John D. Brancato & Michael Ferris (story & screenplay), Tedi Sarafian (story)
Degree of Cyberpunk Visuals: High
Correlation to Cyberpunk Themes: Medium
Key Cast Members:
Terminator: Arnold Schwarzenegger
T-X: Kristanna Loken
John Connor: Nick Stahl
Kate Brewster: Claire Danes
---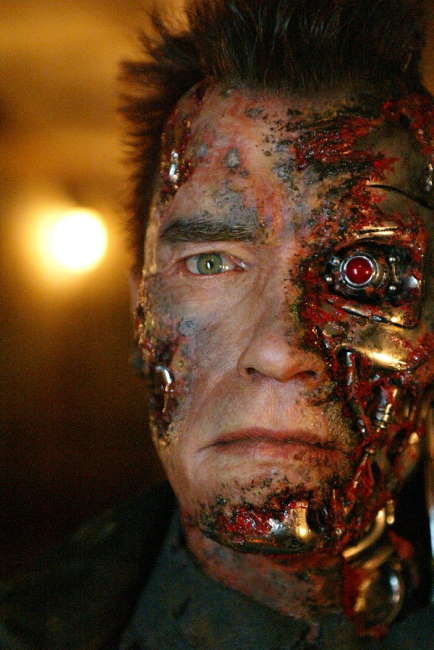 Overview: What happens if you take the original Terminator idea, morph it with T2, get rid of any semblance of a coherent, cool story, but add a really hot chick in leathers kicking butt to it? Answer: Terminator 3: Rise of the Machines! Director Jonathan Mostow really kicks the FX up a notch, but unfortunately, the story fades into more of a prop than the centerpiece it was in the first two movies. While the key cast members are all fine (terrific in the case of Lokken), they can only work with what they're given.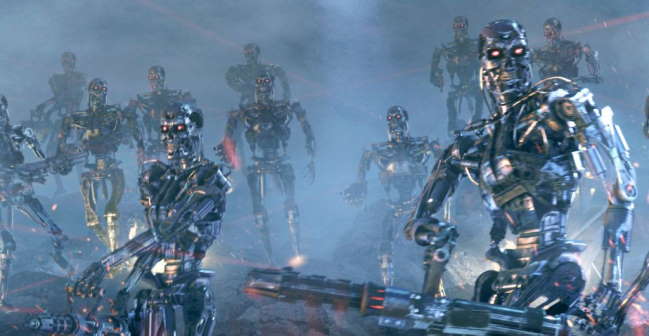 The Story: In Terminator 3, 10 years have passed since John and Sarah Conner destroyed Cyberdyne Systems and stopped the Skynet apocalypse. Unfortunately, it seems that the future is not what we make of it (As Desirina reminds us in the T2 comments), instead, fate is now predetermined. Why? Who knows…roll with it, buddy. You'll get no well thought philosophical time travel notions here. Instead, the Terminator mystique is just that – a façade to get us to the juicy action sequences!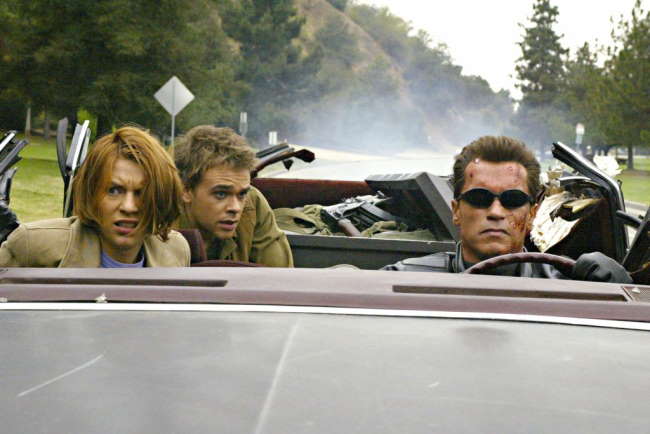 Over the years, John Conner (Nick Stahl) has turned into a drifter – he never really believed that the end of the world was abated, so he has spent his life leaving no clues as to his existence (no phones, bank accounts, and FORGET that damn phonebook!). He wrecks on his motorcycle, and due to his fear of hospital records, decides instead to break into a local veterinarian's office and take some random medicine in the hopes that it's a pain reliever (apparently, in the future time of 2003 the west has forgone local clinics that treat illegal aliens without recording their names and addresses). It just so has it that Conner has broken into a vet where Kate Brewster (Claire Danes), a former junior high fling of Conner's, works.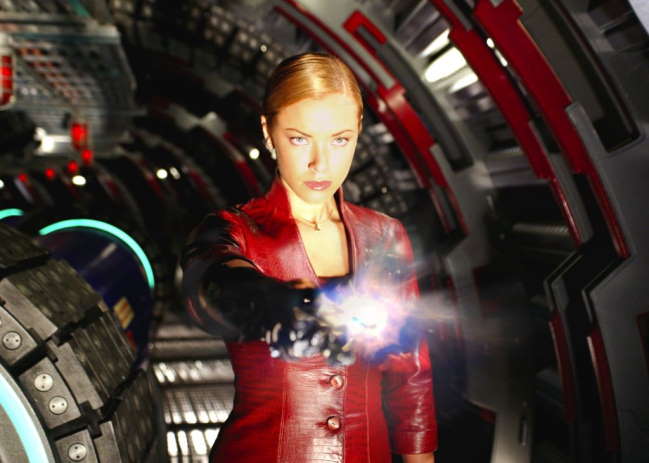 While this is going on, The TX (Kristanna Loken), or Terminatrix as Conner refers to her, arrives from the future. The new Terminatrix is nanotechnology enabled, and can control all computer networks and most electrically powered machines - in short, she's a badass. Because Conner has all but disappeared, her mission is to bump off his lieutenants, and if possible, to then locate and terminate Conner. Arnold Schwarzenegger as the obselete CYberdyne Systems 101 model is once again captured in the future and dispatched in an attempt to save John Conner, and his future wife from the nuclear holocaust, and if possible, protect them from the Terminatrix.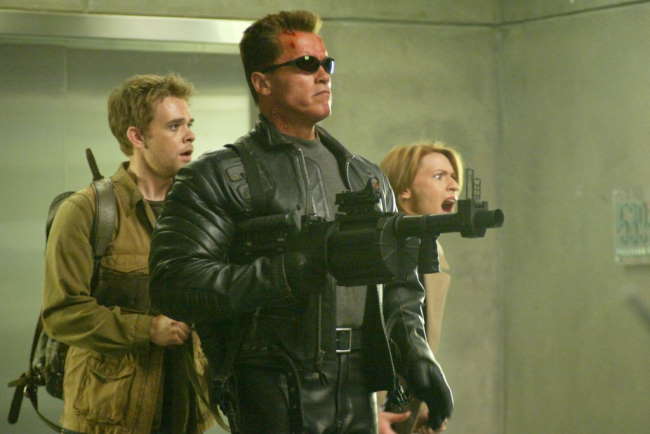 Philosophical Problems: I understand the desire to "go to the well" once more in the Terminator series, but it seems like they could have been a little more sophisticated in how they went about it. For instance, why, if Skynet is going to keep sending Terminators from the future, doesn't it send them all back to 1984? Even a little throwaway line, similar to Star Trek's magical matter-anti-matter converter, telling us that this isn't possible would have helped this. Also, there's the problem that Skynet's grid was smashed in T1 – which was the whole purpose for the last ditched desparate attempt at a retroactive abortion. If the grid has been smashed (which if Skynet is an AI, what does this even mean?), how is it that Skynet can keep on producing newer Terminator models? Clearly, things are going all that badly for Skynet. I almost envision Skynet being in it's "last throes" as similar to another conflict in today's time. 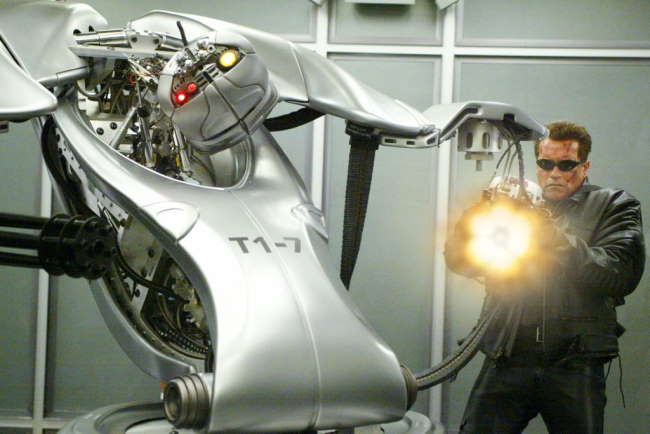 In T3, we get to see the first model Terminator.
More harmful than the problems above is the issue of fate being predetermined. Um, OK, sure, I suppose it could be, but couldn't they have tried to justify this a bit more? The Original Terminator provided us a wonderfully nuanced time loop; Terminator 2 at least still kept a pretty solid story with the idea that the future is what we make of it. Terminator 3 basically says, "Fuck it. You'll all screwed anyways, so lets just throw down!" And throw down they do.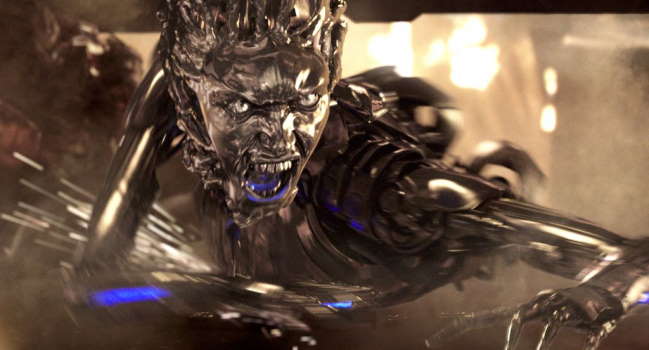 The FX: Although the story takes a significant hit in T3, the special effects do indeed rock in an over-the-top sort of fashion. I thought the truck-car race was a bit too over-done, but I LOVED the Terminatrix's FX. And truly, Kristanna Lokken played her wonderfully. I loved her facial expressions and demeanor. She knew what the part was supposed to deliver (a hot android terminator chick kicking ass) and did it wonderfully. The FX surrounding her from beginning to end are reason enough to watch this movie.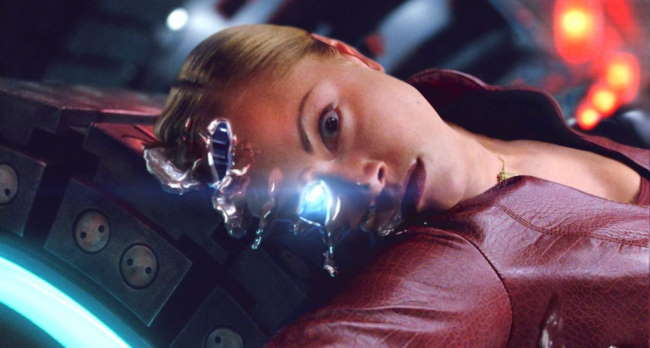 The Bottom Line: While this movie rates highly as a "hot chick kicking butt" flick, it suffers in comparison to its two predecessors as the ending to a trilogy. Terminator 3 certainly was enjoyable, but not in the sophisticated sense that the first or second one was. The sliding scale I see with this series is as follows: Terminator had an awesome story and pretty great visuals for its time; Terminator 2 delivered a very good story, and provided awesome visuals – the type that raise the bar on future movies; The third does away with the cool story but at least still delivers the visuals. In short, Terminator 3: Rise of the Machines is a bubble-gum chewing summer blockbuster, pure and simple. But on that level it works fine. However, based on the downward quality trend, if Abbot & Costello were still alive, I'd say that the next movie should be titled "Abbot and Costello Meet the Terminator." Regardless, 5-6 stars is a reasonable place for a movie that delivers extremely well on the visuals but falls off on the story. In this case, 6 stars seems appropriate. Watch it for the FX and Kristanna Loken-Arnold battles, not for a continuation of the story.