January 16, 2006
Wonderful Days {Sky Blue}
Year: 2003
Directed by: Moon-saeng Kim, Park Sunmin
Written by: Moon-saeng Kim et al.
Degree of Cyberpunk Visuals: Very High
Correlation to Cyberpunk Themes: High
---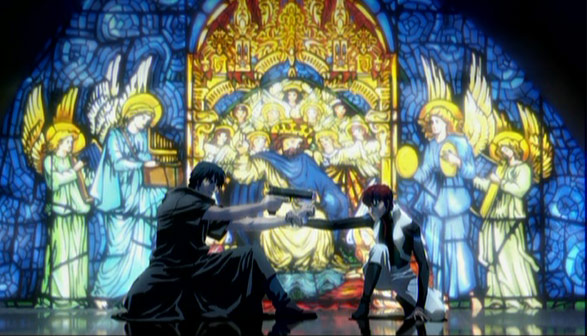 Overview: More often than not, most of the best scifi movies are coming from other countries. Anime is no exception. Wonderful Days (Called Sky Blue in some US locations) is a visual masterpiece of 2D/3D blended animation. While movies like Sinbad, with its wonderful background, but completely stuck on 2D characters shows us the low-end of this spectrum, Wonderful Days is a terrific example of the best in 2D/3D blended animation. This futuristic cyberpunk tale is not the most original, but is done more than well enough to allow to you be totally "wowed" by the visuals and incredible 3D positional sound.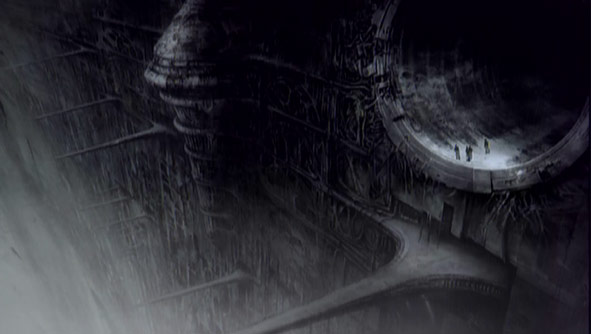 Wonderful Days takes place in a dystopic future in the year 2140. The world has been decimated and ravaged by war, reckless exploitation of the earth and over-pollution. Clouds have all but blocked out the sun and human civilization is on the brink of elimination. In this chaos, a group of elites have developed a method of using the pollution to create an energy source, and have used this to build a magnificent city called Ecoban.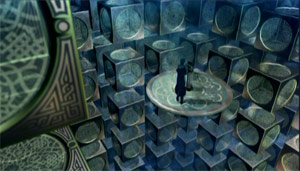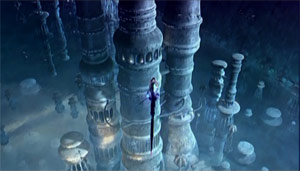 Thousands of Refugees have flocked to the Marr, the outskirt wasteland of this Ecoban in the hopes of gaining entrance, but unfortunately this has become a society of the elite and the masses. Instead, the citizens of Ecoban use the Marr as their personal slave labor to work the machines which keep Ecoban running. Life is cheap for the Marr, and the Ecoban elite care far more about their power generation than they do the welfare of the Marr. Unfortunately for the citizens of Ecoban, it appears as if the earth is starting to recover, and the level of pollution is dropping. The governing council has decided to use any means possible to maintain pollution levels to keep their hold on power.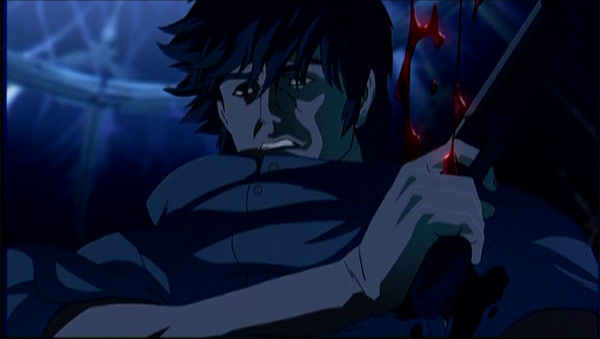 On a more personal level, this story revolves around three people, who knew each other as children living in Ecoban, but are now adults.
Jay - a cute female captain of the Ecoban guard, who has begun to
doubt the system she supports.
Shua - who was cast out of Ecoban as a child under dubious circumstances, only wants to show his adopted kid brother of the streets, Woody, what a blue sky looks like. He saw this once as a child with Jay, and has spent his life trying to overthrow Ecoban in order to see it again.
Cade - the security commander of Ecoban, who is deeply in love
with Jay.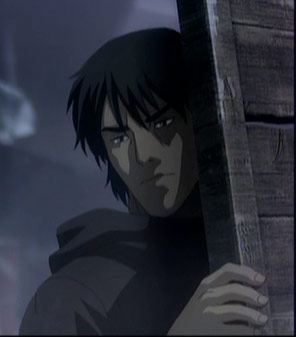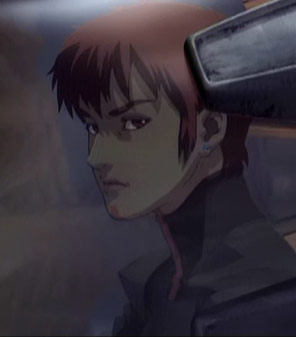 Shua, with the help of a aging Ecoban Engineer-turned resistance leader named Dr. Noah, who was involved in the creation of Ecoban's power source, has infiltrated Ecoban's key computer, the Delos System. There he hopes to get information to learn how to destabilize and destroy Ecoban. Unfortunately, he sets off alarms, and is forced to escape, and ends up facing off against his former best friend Jay. After he escapes, Jay seeks him out in the Marr, and they eventually re-establish their friendship, and eventually their love for one another. Meanwhile, Cade, with the help of the Malevolent Commander Locke will stop at nothing to protect the city he loves. When he finds out that his former rival Shua is involved, and that he is re-established contact with Jay, he only has one course to pursue - the total destruction of Shua and the resistance.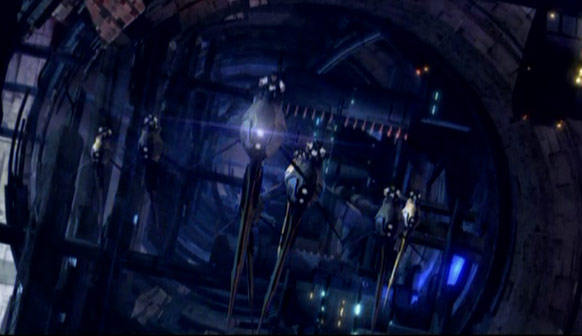 The Cinematography:While the story is by no means original, the cinematography is simply stunning on every level. Wonderful Days uses real film-like effects to increase the "realness," believability and engagement far more than any animation I've seen. We get everything from the use of out of focus backgrounds, changing focal points, lens flares, jerky camera movements, and incredibly interesting perspective shots. On top of this, we get wonderfully rendered raindrops, rendered under-water explosions intermixed with hand drawn fire, and the most incredible array of deep and vibrant color effects in virtually every scene.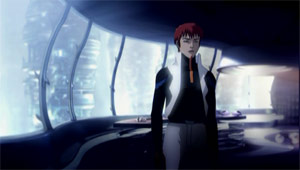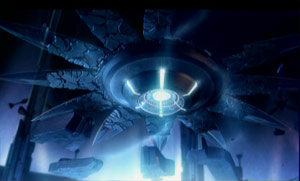 And while all this is astounding, what truly blows you away is the quality of the intermixing of 2D and 3D animation. Its almost hard to explain how well the 2D animation is blended, especially if you've seen something like Sinbad, which almost just layers the 2D on top of a background like velcro puppets on a background. Here we get blended effects that truly serve to tie the 2D with the 3D animation. Wonderful Days is simply the best out there at this type of animation.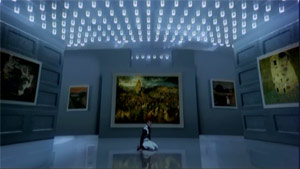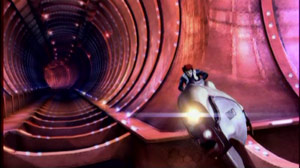 Sound Effects: While the cinematography is the real crown of this movie, the sound effects aren't far behind. Truly, this is the best use of positional surround sound I've heard in an anime. We have wonderful "swoop" sounds by the motorcycles that are as good as live action racing movies, realistic explosions complete with pieces flying at you, detailed gunfire and wind sounds, and more importantly, a clear level of care throughout that rarely is equaled. As an interesting effect, the selections in the score are almost disconcerting in how different they are. We have everything from rock music to a wonderful use of opera at the end for emotional building.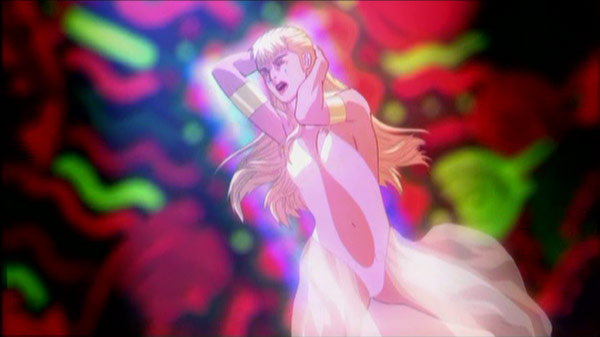 Is this Cyberpunk? You bet it is. While we don't have the traditional merging of man and technology, all the other elements are here in spades. We get a glorious depiction of a the seedy underground, the powerful elite, impressive hacking, a wonderfully rendered dystopia, flawed heroes, and most importantly - style in abundant quantities!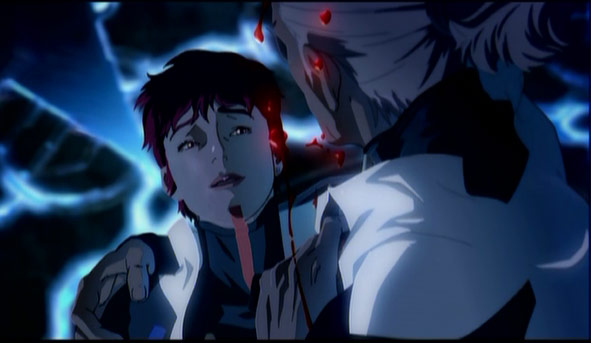 ]
The Bottom Line: If you're interested in seeing the best in immersive scifi anime, Wonderful Days is a fine choice. While it doesn't have close to the philosophical depth of Oshii's movies, the story moves along and the immersive action is simply breathtaking. You truly do think you're watching a continual piece of art go across the screen. And again, while the story is neither complex nor innovative, it is decently well done, especially if you dig cyberpunk-type themes. However, the quality of the cinematography and the intense care given to this film easily raises Wonderful Days up one of my favorite all-time cyberpunk movies.
Get this for the visuals and overall cyberpunk style. Wonderful Days truly deserves to be seen by all.