September 25, 2009
Surrogates
Movie Review By: Mr. Roboto
Year: 2009
Directed by: Jonathan Mostow
Written by: Michael Ferris & John D. Brancato
Degree of Cyberpunk Visuals: Low
Correlation to Cyberpunk Themes: Medium
Key Cast Members:
Greer: Bruce Willis
Peters: Radha Mitchell
Elder Cantor: James Cromwell
The Prophet: Ving Rhames
---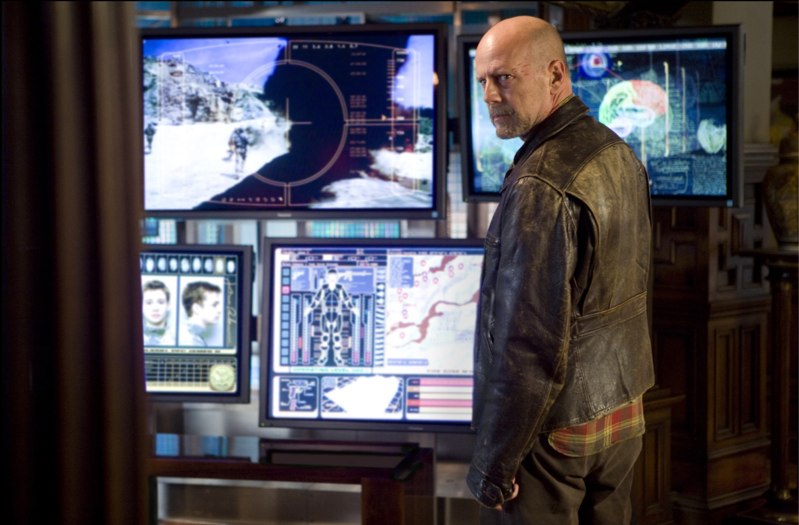 "What??? Only six stars? What happened?"
Overview: After reading the graphic novels, I thought I was ready for the movie. Unfortunately, Hollywood decided to "tweak" certain elements until there's little left resembling the books. Not that ink-on-single-colors would work for a live-action film, but they could have left the action in Georgia instead of moving it to Boston, and leaving Greer (Harvey, not John) as a city detective as opposed to an FBI agent. While some "tweaking" might not have hurt, totally deviating from the books doesn't. This could probably be traced to the trio of Mostow, Ferris, and Brancato, who were also behind the train-wreck of Terminator 3.
The good news is the message remained intact.
The Story: In a near future (no exact year given), humans spend all their time at home jacked into stem-chairs while piloting their surrogates, robotic avatars that interact in the real world now abandoned by humanity.
Two surrogates are destroyed by a mag-pulse type weapon. The destruction kills the operators, one of whom is the son of the surrogate's inventor. FBI agent Greer searches for the weapon and is lead to the walled "Dread Nation" where his surrogate is destroyed by the anti-surrogate group. He continues without it as he probes deeper into a conspiracy that involves the military, Virtual Self Inc., the company behind the surrogate phenomenon, and the surrogate inventor, Dr. Cantor.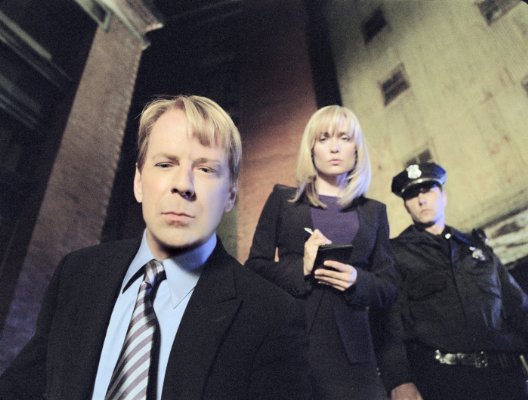 William Shatner, you are not.
What else went wrong? Another problem, other than the deviation from the books, is the look of the movie. Other than scenes showing the stem-chairs and a couple of scenes showing the "central control" of the surrogate grid, it is virtually impossible to tell if it is 2053 or 2009. Having live actors playing the robotic roles only adds to the confusion, though there were times where they not only looked like robots, but acted like robots. That was a surprisingly interesting touch.
… And the message? You can hear just as the movie starts: Does living life through a surrogate mean you're actually living? Does being a robot make you less of a human? Have you been so plugged into your surrogate that you can't unplug? And once you are unplugged… then what?
Those kind of questions about humanity being (over)connected to technology are what cyberpunk writers and fans have been asking since William Gibson's first draft of Neuromancer.
Conclusion: If you've already read the books, the movie may only disappoint you with how far off it is. Bruce Willis fans and fans of action films may get a kick out Surrogates. Cyberpunk fans should find the message familiar, though you would be better off with the books.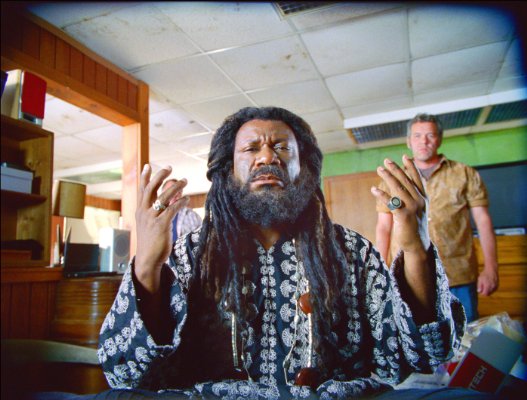 "Holy father, I pray that you keep Jonathan Mostow, Michael Ferris, and John D. Brancato from ever making another cyberpunk movie, lest they cause the universe to collapse on itself."