October 11, 2009
Augmented Reality: Looking at the world through bionic eyes… darkly.
Source: Wired's Beyond the Beyond, elsewhere as indicated.
Imagine being able to look at something or someone and having instant access to its information right in your eyes. This is the basic idea behind Augmented Reality: Using computerized information over reality.
NOTE: Click the pic for more information on Augmented reality on HowStuffWorks.com
For the past five months Bruce Sterling has been blogging about the emerging augmented reality technology. With the first story being about an AR geisha, there has been a rapid progression of the technology, and with it the proliferation of applications for portables that are making AR more probable than VR.
Here's an demo of an AR zombie blast-a-thon game.
We're not just playing games here. Browse through the 12 pages of Augmented Reality articles from BtB and you'll see more than just zombie blasters. There are city guides, movies, presentations, world maps, … even T-shirts are getting into the AR craze. All are currently… or soon will be… available for your portable devices.
But, they're currently working on AR without the need for portables.
In the eyes of the beholder…
In the Terminator movies, Arnold Schwarzenegger's character sees the world with data superimposed on his visual field—virtual captions that enhance the cyborg's scan of a scene. In stories by the science fiction author Vernor Vinge, characters rely on electronic contact lenses, rather than smartphones or brain implants, for seamless access to information that appears right before their eyes.
Source: IEEE Spectrum Work is currently underway to create contact lenses that can beam information AR-style directly onto the retina. The circuits will be small and/or transparent enough to not interfere with normal vision, while radio frequency waves will provide power.
These lenses don't need to be very complex to be useful. Even a lens with a single pixel could aid people with impaired hearing or be incorporated as an indicator into computer games. With more colors and resolution, the repertoire could be expanded to include displaying text, translating speech into captions in real time, or offering visual cues from a navigation system. With basic image processing and Internet access, a contact-lens display could unlock whole new worlds of visual information, unfettered by the constraints of a physical display.
A single LED is only the beginning. In 5-10 years, they are looking to incorporate bio sensors into the lenses, with possible full AR capabilities by then.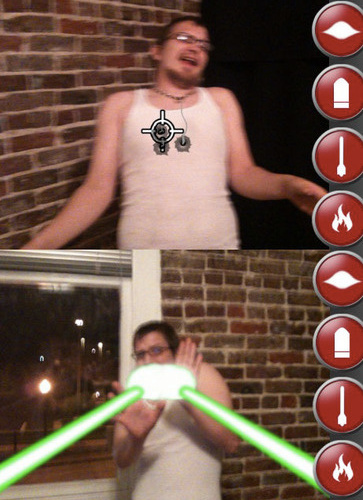 Somehow, AR shooting with an iPhone doesn't quite compare to using an AK-47.
Is AR the future, or is it another VR? Before you go googling for the latest AR development system or learning how to program in ARML, you might want to refresh your memory banks regarding the "potential" that virtual reality (VR) had in the 90s, especially while you read stuff like this:
"First, Mobile AR is going to be bigger than the web. Second, it is going to affect nearly every industry and aspect of life. Third, the emerging sector needs aggressive investment with long term returns. Get rich quick start ups in this space will blow through money and ultimately fail. We need smart VCs to jump in now and do it right. Fourth, AR has the potential to create a few hundred thousand jobs and entirely new professions. You want to kick start the economy or relive the golden days of 1990s innovation? Mobile AR is it.

Don't be misguided by the gimmicky marketing applications now. Look ahead, and pay attention to what the visionaries are talking about right now. Find the right idea, help build the team, fund them, and then sit back and watch the world change. Also, AR has long term implications for smart cities, green tech, education, entertainment, and global industry. This is serious business, but it has to be done right. I'm more than happy to talk to any venture capitalist, angel investor, or company executive that wants to get a handle on what is out there, what is coming, and what the potential is. Understanding these is the first step to leveraging them for a competitive edge and building a new industry. Lastly, AR is not the same as last decade's VR."
Not the same? We'll see about that, once the consumers have had their say…