April 9, 2006
Gunhed
Movie Review By: SFAM
Year: 1989
Directed by: Masato Harada, Adam Smithee
Written by: Jim Bannon, Masato Harada, Adam Smithee
Degree of Cyberpunk Visuals: Medium
Correlation to Cyberpunk Themes: Low
Key Cast Members:
Brooklyn: Masahiro Takashima
Texas Air Ranger Sgt. Nim: Brenda Bakke
---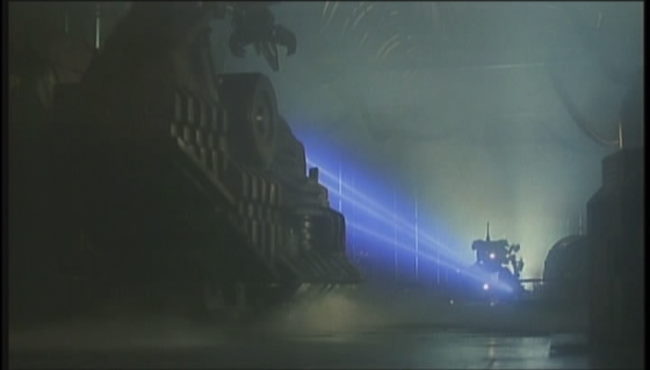 Overview: Gunhed is a Japanese live-action Mecha-Transformers movie done up in low-budget, gritty cyberpunk style. Unfortunately, it gives us a set of almost irreconcilable issues. On the one hand, the low-budget robots are pretty cool, as are a number of other low-budget FX. Yet, these are packaged in a barrage of incoherent plot points and truly strange sound decisions (the Japanese actors speak Japanese while the American actors speak English). When you see "Adam Smithee" in the director's spot, you know something has gone wrong – in this case, the answer is clearly the editing. Gunhed may qualify for the worst editing of all time.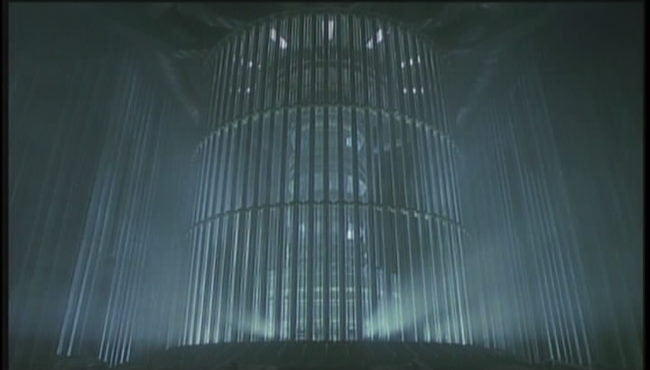 The Story: A Robot War ensued an a small robot production island in the Pacific in the year 2025, where sentient supercomputer, Kyron 5, has decided that Mankind was irrelevant. A mecha battalion of Gunhed warriors – huge transformer style tanks – were dispatched to eliminate Kryon 5. They didn't succeed, but Kyron 5 was essentially marginalized, so no more force was sent. Now, 13 years later, due to a depletion of world resources, the key component that creates supercomputers, Texmexium (I shit you not – this is the name!), is in short supply, as are spare microchips. A group of scavengers have decided to enter the "forbidden zone" and go to the Island in the hopes of collecting Gunhed chips, which are now worth more than gold.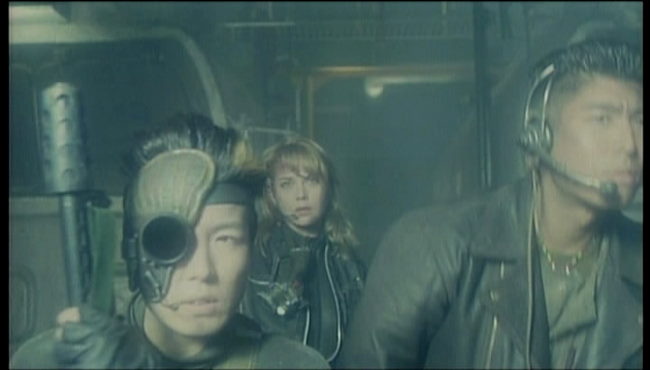 When the get to the Island, they quickly learn that Kyron 5's protections are degraded but still seem in place. At first Kyron 5 doesn't recognize their presence (you'd think it would notice a plane landing, but I guess not – nor do we find out why they didn't just bomb the Island from the air back in 2025). But quickly it's defenses, headed up by a fly-eyed looking "bio-droid" come to challenge the scavengers. Along the way, the find the remnants of a Texas Air Ranger helicopter, which still has a passenger, Sergeant Nim (Brenda Bakke). As things progress, most of the scavengers die in gruesome ways, until only Sergeant Nim and a mechanic named Brooklyn (Masahiro Takashima) survive – but due to the Island's defenses, they are stuck there unless they can destroy Kyron 5. Also, they have stolen the Kryon 5's supply of Texmexium (perhaps this is constructed from stale tacos), and now the Biodroid wants them back.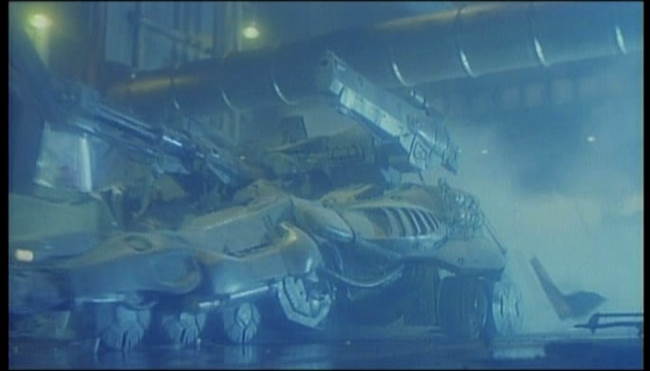 But that's not all! Apparently some kids live on this Island (where they came from, we have NO idea), and they've decided to help Brooklyn and Sergeant destroy Kyron 5. But wait – there's more! It turns out that one of the Gunhead tanks from 2025 appears salvageable, so Brooklyn attempts to revive Gunhed while Sergeant Nim goes off to do something unspecified (but at least it looks important). An incoherent sequence of actions ensues, whereby Brooklyn tries to bring the Gunhed to destroy Kyron 5. As he gets close, their biggest challenge awaits – Kyron 5 has resurrected a Gunhed of his own!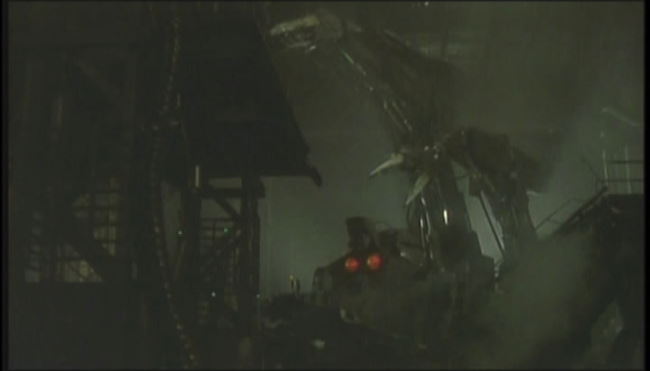 The Editing: Gunhed could have potentially been a decent, low budget movie, but the editing kills it. Continually, we see random actors popping out in places that don't make sense, and whole streams sequences are rendered incoherent based on completely haphazard editing choices. I'm going out on a limb and guessing that at some point, the script was relatively simple and straightforward, but due to the editing, Gunhed was transformed into an absolute mess. But perhaps this is just the English version - does anyone know if the Japanese version is different?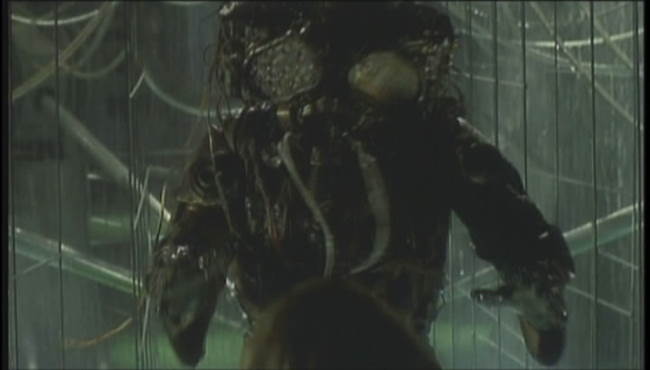 The FX: Yes, the effects are all low-budget, and yes, it appears as if the entire movie takes place in a small factory, where the same locations are used over and over again only with different camera angles, and no, the tanks really don't have any flexible movement. Still, even with the problems and all Gunhed has some enjoyable shots. The biodroid is pretty low quality, but the factory looked realistic enough, and every now and then, you get some cool, low budget effects. The Mecha-transformer fight is especially fun. .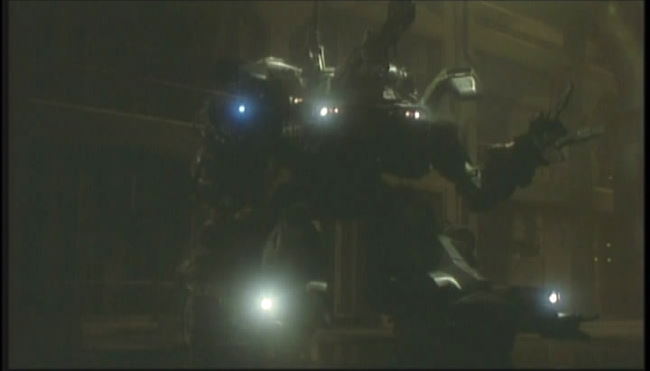 The Bottom Line: The fact that the actors speak different languages but apparently understand each other perfectly really describes the state of Gunhed – it's interesting but never seems to hang together well. Most egregious is the Biodroid, which has swallowed one of the scavengers whole, and now has to deal with someone inside itself stopping it from killing the rest of the people (the hows and whys of this are never explained). The appearance of the kids pretty much destroy all possibility of a believable story. On the other hand, we get Brenda Bakke doing her best sultry Lauren Bacall impression, which works somewhat well. Unfortunately, her partner, Masahiro Takashima isn't up to taking a leading role. Watch this for the Mecha fight if you like, but the movie as a whole just doesn't work.