January 14, 2006
Armitage: Dual Matrix
Year: 2002
Directed by: Katsuhito Akiyama
Written by: Naoko Hasegawa, Hideki Kakinuma
Degree of Cyberpunk Visuals: High
Correlation to Cyberpunk Themes: Medium
---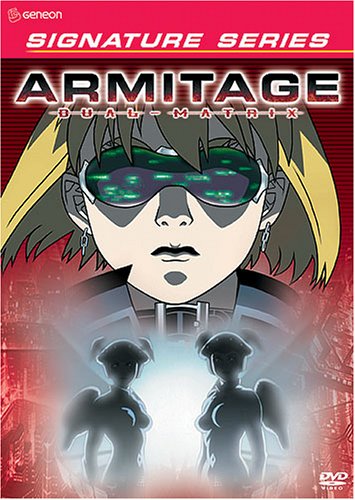 Overview:
While the budget for the animation is better than the original Armitage, the story is SIGNIFICANTLY worse. The place where Armitage III shines (identification with the characters) is exactly where the sequel is most lacking. They ramp up the cool explosions and fights while substituting mannequins for the lead characters. This was a sequel without a story - the message had already been communicated in the first one, and now there's nothing left to do but rehash it, only with more incoherently and with more explosions. And really, I find the animation style in the first one lots better, especially for Armitage.
However, the two hot Armitage replicants in wings and skin-tight clothes are pretty cool. In fact, they were definitely the highlight of the movie for me.
Also, as an unintended plus (or minus, really), if you check out the English track, you get to hear the voice of Jar Jar Binks (Ahmed Best) reprise his famous role as a side-kick. Only this time he's a cyborg doctor (but still sounds the same).
~See movies similar to this one~
Tags: cyberpunk movie review