March 22, 2007
Spotlight - The Art of Dan Ouellette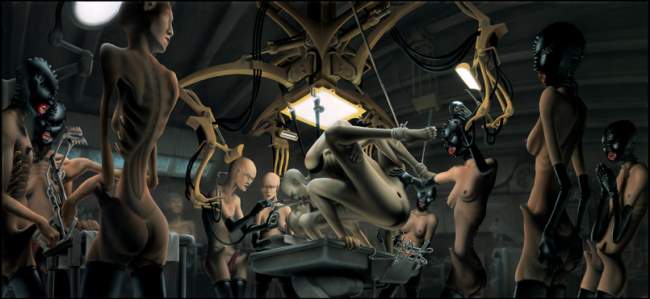 Titled: "Separation of Lovers"
Background: Just a while ago I had the pleasure of receiving a book of erotic cyberpunk fiction by very successful erotic fiction author, M. Christian. By way of thansk, I wrote a post to highlight M. Christian and his book, which gave me the opportunity to conduct a very interesting online interview through the blog. Since then, artist and director, Dan Ouellette sent me a terrific set of prints of his artwork. He's a frequent commenter here on CPR, and wanted to show his appreciation for the work I've put into his site. I really dig him sending me the prints (more than a few of these prints will be hanging in my office once I get them framed). And again, I don't do any advertising here at CPR (I tend to find ad placements at odds with the whole idea of celebrating cyberpunk), but I'm more than willing to be happily bribed by artists, authors, film makers or musicians who want to show their appreciation to the site by sending me cool stuff like M. Christian and Dan have done. That's enough of an intro - on to the art of Dan Ouellette!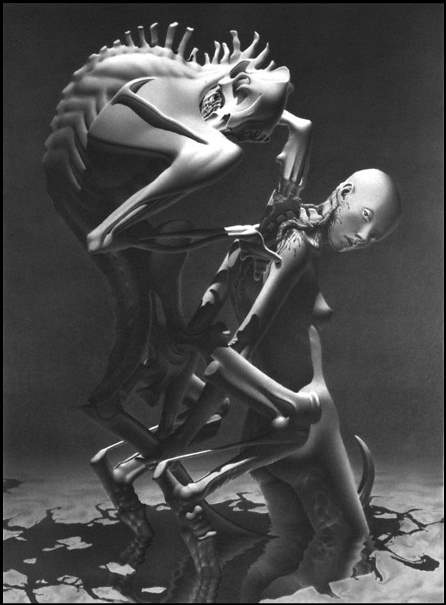 Titled: "What Little Girls are Made Of?". Dan's artwork has a number of interesting shots were it the spinal cord is either removed or is protruding from the body.
Dan Ouellette Bio: Dan Ouellette is an established artist and production designer in NYC. He has designed many independent feature films, commercials and music videos. As an artist he has exhibited widely. He has been published in numerous anthology art books including Bio-Mannerism which also features work by H.R. Giger and Beksinski, and he has been featured in magazines internationally.
Music Video: Android Lust - Stained
More recently he has branched off into directing as well. His music videos for Android Lust (see "Stained" video above) and The Birthday Massacre have been very favorably received and have aired internationally on TV as well as getting heavy play on websites like Youtube. He has numerous sci-fi and horror projects in development.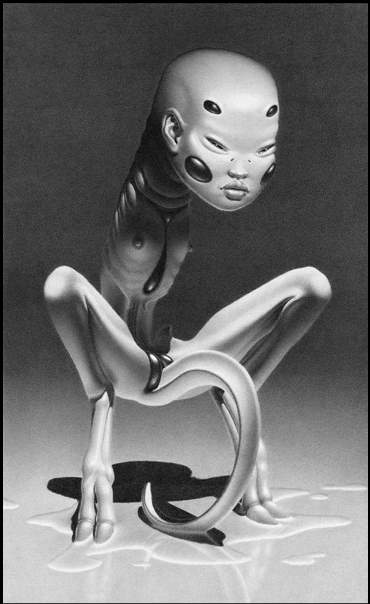 Titled: "The Mewler". I just love the face on this. It captures an interesting surrealistic punk sentiment. And the hoofed feet plus the dual sex organs provide a pretty interesting devil/gluttony vibe.
Dan's aesthetic leans heavily toward the biomechanical and psychosexual. He is equally influenced by both mediums, film and fine art, often with elements of both blending into one another. His website is www.neuroticadivine.com.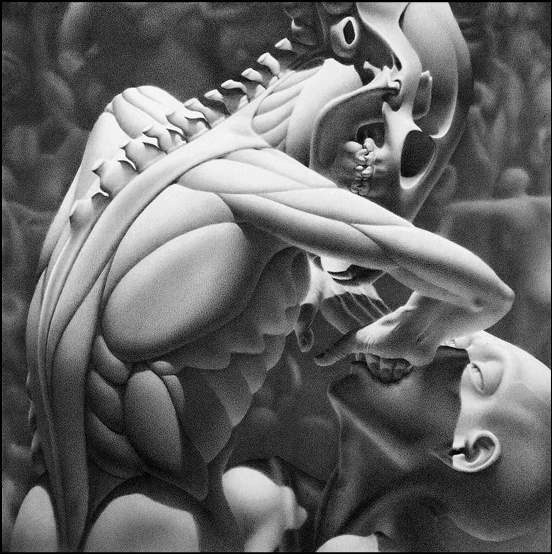 Titled: "Cephalic Infection"
What Others Have Said About Dan's Work: David Bowie commented while looking at Dan's art that he has noticed a strong influence of sci-fi on contemporary art… this from The Man Who Fell To Earth! Giger saw a different aspect, saying simply "Very bony."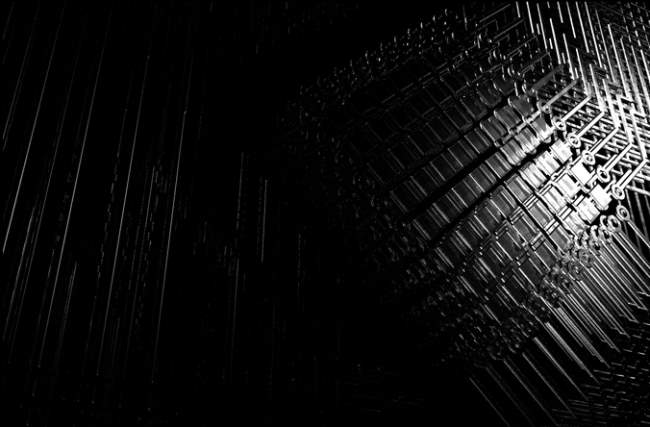 Titled: "Circuitry". Dan has also done some 3D work. This one has interesting depth.
Final Thoughts: A number of Dan's shots are significantly more psychosexual than those chosen here (all images here are obviously copyrighted by Dan Ouellette ). I definitely see a Giger influence in his work. More importantly, his artwork prompts a nice, if somewhat disturbing cyberpunk contemplation. Definitely good stuff! I intend to use the comment feature below to ask Dan questions on his artwork and movie making. PLEASE feel free to join in - if you have questions for Dan on the artwork here or of other shots on his site, please ask!